【重要】事務室移転に伴う事務室閉室のご案内
【IMPORTANT】Office closure due to office relocation
March 01, 2023
国際企画課は、2023年3月17日(金)に現在の上野校地音楽学部側本部棟1階から国際交流棟の3階へ移転いたします。
そのため、3月17日は事務室の引っ越しに伴い、事務室を終日閉室とするため、終日、窓口、電話及びメールでの対応業務等はお受けできません。
国際企画課事務室へ来訪が必要な方は、3月16日(木)までは本部棟1階学生課隣の事務室へ、3月20日(月)以降は国際交流棟3階コミュニティサロン前の新しい事務室へお越しください。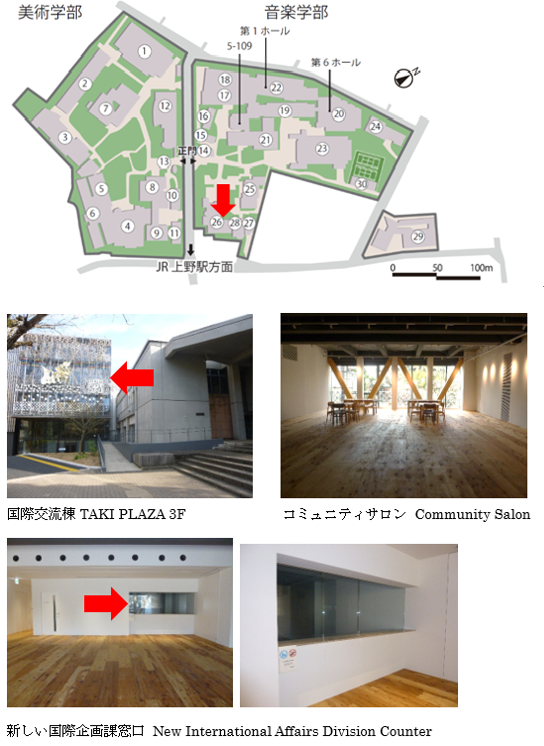 The International Affairs Division will move from the current first floor of the Administration Bureau Building on the side of the Faculty of Music on the Ueno Campus to the third floor of the TAKI PLAZA on Friday, 17 March 2023 on the same campus.
Due to the moving of the office, the office will be closed all day on 17 March, and therefore no correspondence services at the counter, by phone or by email will be available all day.
If you need to visit the International Affairs Division Office, please come to the current office next to the Student Affairs Division on the first floor of Administration Bureau Building until Thursday, March 16, and to the new office in front of the Community Salon on the third floor of the TAKI PLAZA from Monday, 20 March onwards.