学長主催 留学生懇談会2015
Welcome party for international students 2015
May 22, 2015
東京藝術大学は、新入留学生を歓迎し、留学生同士および藝大教職員との交流を促進することを目的として、5月14日(木)、大学会館1階キャッスル食堂において、学長主催の留学生懇談会を開催しました。
日頃より日本での留学生活を援助してくださっている団体から来賓の方々をお迎えして開催された本懇談会には、今年度新たに加わった留学生と昨年より引き続き本学に在籍する留学生をはじめ、学長、理事、副学長、その他多くの教職員が参加しました。
はじめに学長から歓迎の挨拶が行われ、留学生に対する励ましの温かいメッセージが送られました。続いて、留学生を代表して挨拶を行った台湾出身の大学院生からは、来賓の方々や本学教職員に対する留学支援への感謝の気持ちと、新入生である留学生に向けた「つながりを大切にしてほしい」というメッセージが述べられました。
活発なコミュニケーションが図られる中、懇親会の中盤には、留学生による演奏も行われました。中国出身で声楽専攻の大学院生は「河川の永遠の流れ」(江河万古流)のオペラを独唱し、力強い歌声を披露しました。同じく中国人留学生で音楽音響創造専攻の大学院生は、二胡を演奏し、「競馬」という曲目で勇ましく駆け抜ける馬の様子を表現しました。また、ピアノの伴奏も留学生が担当しました。
最後に、留学生のチューターを務める博士課程の日本人大学院生のリードにより、「ふるさと」を出席者全員で合唱し、盛大な会となりました。


左:留学生代表挨拶 右:学長と歓談する留学生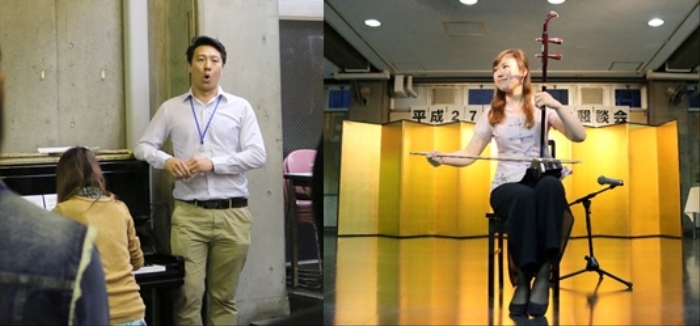 留学生による演奏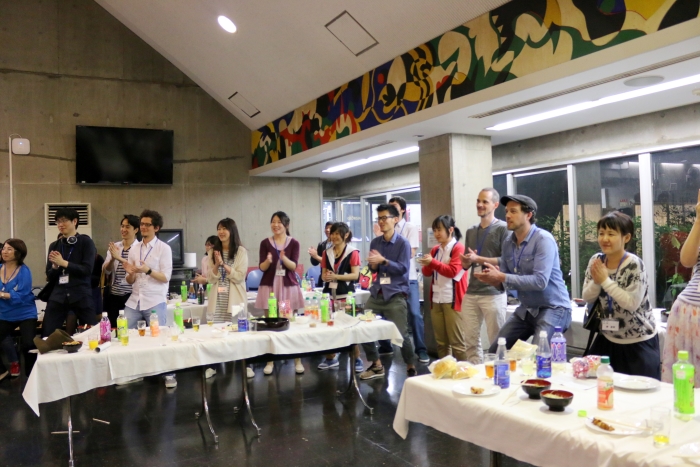 参加者全員で一本締め
With the aim of fostering closer relationships, on May 14, a welcome party for international students, hosted by President Miyata, was held at Tokyo University of the Arts Castle Dining Room, located on the first floor of the University Hall Building.
With the presence of guests from organizations providing support for international students studying in Japan, this party was attended by both new and continuing international students, as well as university officials including President, Trustee, Vice President, along with other university staff members.
The party began with a welcome speech by the president, who offered warm words of encouragement to international students. Following the president's speech, a graduate student from Taiwan delivered a speech on behalf of all the international students attending the party. She thanked the guests and staff for the support they provide to international students, and spoke to newly-enrolled international students about the importance of personal connections they make while in Japan.
As the party was warming up with lively conversations, two performances were given by international students. A graduate student from China in the vocal music program sang opera, "Forever Flows the River," with his powerful voice. Another graduate student from China, who studies creative music and sound, played "Horse Race" on her erhu, the Chinese two-stringed instrument, describing dashing horses. The piano accompaniments for the two performances were also played by international students enrolled at the university.
The party concluded with a Japanese folk song called Furusato (which means hometown in Japanese). Everyone sang the song in chorus, led by a Japanese doctoral student who currently serves as a tutor for international students. The event ended in a great success.