ロシアからの贈り物
A gift from Russia
May 26, 2015
去る5月1日、本学に一つの国際郵便が届きました。
発信元は国際交流基金モスクワ事務所、内容物はソ連国立交響楽団(現ロシア国立交響楽団)の首席指揮者もつとめたソ連~ロシアの名指揮者、エヴゲニー・フョードロヴィチ・スヴェトラーノフ(1928~2002)の演奏録集、108枚のCDでした。
この演奏録集は、グリンカ以降のすべてのロシア及びソ連の作曲家の手による交響楽を自らの指揮で録音するという、スヴェトラーノフがライフワークとして取り組んだプロジェクトの結晶といえます。同一指揮者の手によるこの規模での録音資料はほかに例がなく、同コレクションはロシア音楽史にあって特異な位置を占める遺産となっています。
チャイコフスキー作品など、一部の著名作曲家の録音は日本でも市販されてきましたが、「ロシア交響楽選集」のコレクションを所蔵する機関はいまだ我が国にはなく、非常に貴重な資料といえます。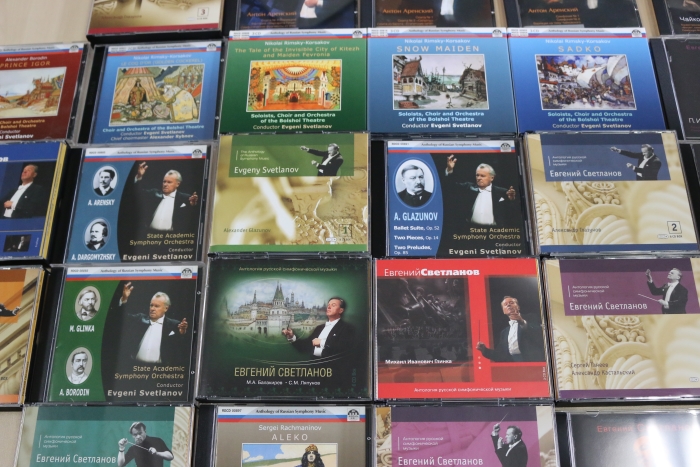 寄贈いただいた108枚のCDの一部
本演奏録集は、生前御夫君が愛した日本に御夫君の思いの詰まった作品集を寄贈したいとして、ニーナ夫人が国際交流基金モスクワ事務所に託したものであり、保管に加えて活用の観点から、日本国内の然るべき機関に移管したいと考えた同事務所より、この3月末に来学したモスクワ音楽院世界音楽文化センター長のカラトゥイギナ先生を通じて、本学に対して寄贈の打診があったものです。
日本を何度も訪れ、N響でも客演した名指揮者の貴重な作品を御寄贈頂いたニーナ夫人と寄贈先として本学を推薦頂いた国際交流基金モスクワ事務所に対して心より御礼を申し上げます。
現在、公開情報として全国から活用できるよう、ロシア語で記載されているCD情報を英訳し、「OPAC(オンライン蔵書目録検索システム)」に登録する作業を本学音楽研究センターにおいて進めています。
CD公開まで、今暫くお待ちください。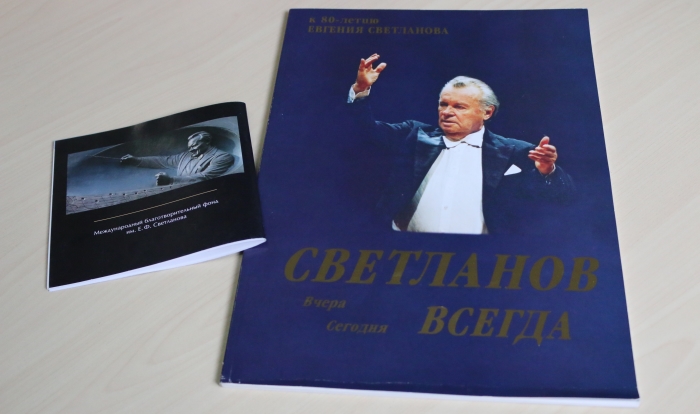 On May 1st of this year, our university received a parcel from abroad. It was from Japan Foundation's Moscow Office, and inside the parcel were 108 CD recordings of symphonies conducted by Evgeny Fyodorovich Svetlanov (1928-2002), the Russian Maestro who served as chief conductor of the Soviet State Symphony Orchestra (now the Russian State Symphony Orchestra) from 1965 to 2000.
This record collection, the Anthology of Russian Symphony Music, is a culmination of his lifework, and was donated by the Maestro's widow, Ms. Nikolaeva-Svetlanova. During his time with the state orchestra, the Maestro conducted and recorded a thorough range of symphonies that have been written by Russian and Soviet composers, from Mikhail Glinka to more contemporary works. No one else has ever produced a vast record collection that is as comprehensive as his, and it holds a unique place in the history of the Russian music.
Some of the recordings of works written by well-known composers, such as Chaikovski, were made available for purchase in other countries, including Japan, but there is no institution in this country, except Tokyo University of the Arts, that holds the Anthology of Russian Symphony Music. This is thus a rare and valuable collection.
The collection was originally handed to Japan Foundation's Moscow Office by Ms. Nikolaeva-Svetlanova, who was longing to donate the records to Japan, the country her husband loved. The Moscow office then decided that it was best to give it to an institution most appropriate for preservation and utilization of the collection, and consulted with Dr. Karatygina, Head of the Scientific and Creative Center "World Music Cultures" at Moscow State Conservatory, who visited our university at the end of this past March, and through whom we learned of this generous donation.
We would like to express our sincere gratitude for Ms. Nikolaeva-Svetlanova for donating such a valuable works by Maestro Svetlanov, who visited Japan many times and had an experience working with the NHK Symphony Orchestra as a guest conductor. We are also grateful for the Japan Foundation Moscow Office staff, who recommended our university as a recipient of this wonderful gift.
Tokyo University of the Arts Music Research Center is currently working on translation of the CD content information written in Russian and adding data to the OPAC catalogue.
Please wait several more months until these records are made available for use.