グローバルアート共同カリキュラム特別講義
Special Lectures in International Joint Curriculum for Global Art
June 02, 2015
平成27年度グローバルアート共同カリキュラムの3つのユニットチームのひとつ、「東京藝術大学×パリ国立高等美術学校(エコール・デ・ボザール)」は、5月13日(水)、美術学部にてエコール・デ・ボザールの教員による2つの特別講義を開催しました。
特別講義1「関係性の美学」そして「ポスト・フクシマのアート」
・講師:クレリア・チェルニック(Clélia ZERNIK)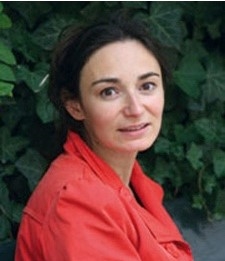 エコール・デ・ボザール教授。哲学者、美術批評家。芸術と科学の関係性、現象学や心理学との連関を研究テーマとし、日本美術にも大変造詣の深い研究者。早稲田大学に博士研究者として留学経験をもち、日本映画批評として黒澤明の「7人の侍」についての論文もある。
・講義内容
チェルニック氏の特別講義では、前半に、美術批評家ニコラ・ブリオ(エコール・デ・ボザール現校長)が1998年に刊行し、世界中を席巻した『関係性の美学』についての基本理論が紹介されました。また、後半には、チェルニック教授自身の研究テーマである「ポスト・フクシマのアート」について、3.11以降、アーティストの表現がどのように変化したのか、海外研究者の視点から講義が行われました。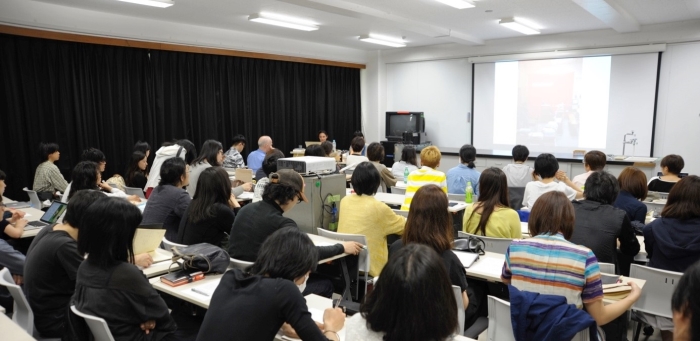 特別講義2「アーティストとしての活動」
・講師:ジャン=リュック・ヴィルムート(Jean-Luc VILMOUTH)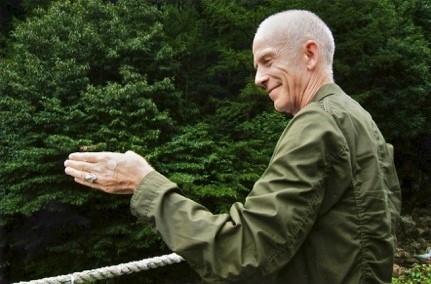 エコール・デ・ボザール教授。パリを拠点とし、インスタレーション、参加型ワークショップ、パフォーマンス、映像など、多岐にわたる活動を行う現代美術家。1980年代からヴェネツィア・ビエンナーレ(1982)やドクメンタ7(1982)など、数多くの国際展に参加。日本にも1980年代からたびたび来日し、すでに100回を越えるほどの親日家。京都国際現代芸術祭で<カフェ・リトルボーイ>を出展するなど、日本においても精力的に作品の発表を継続している。
・講義内容
ヴィルムート氏がアーティストとしてこれまでに行ってきた多様な活動から、インスタレーションや映像作品、パフォーマンスなど多岐にわたる表現が紹介されました。氏はパブリックスペースに作品が介入することによって起こる人や環境の変化に注目した作品をプロジェクトとして数多く発表し、それらがスライドで解説されました。聴講した学生から「数々のプロジェクトを実現させてきたヴィルムート教授がまだ実現できていない夢は?」という質問が出た際には「より良いアーティストになること、そして、世界がもっと良くなること」と答え、「より良い世界とは、様々な経験ができ、その経験に意味がある世界だ」という考えが学生に伝えられました。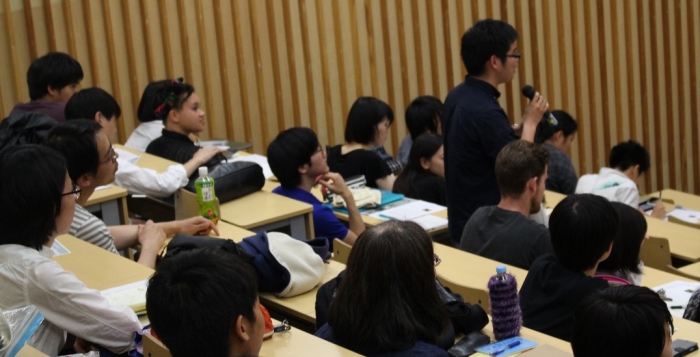 On Wednesday, May 13th , special lectures were organized by one of the units of the 2015 International Joint Curriculum for Global Art "Tokyo University of the Arts × École des Beaux-Arts", with two professors of the École Notaionale Supérieure des Beaux-Arts Paris(or École des Beaux-Arts).
Special Lecture 1 "Relational Aesthetics" and "Art in Post-Fukushima"
・
Lecturer
:
Clélia Zernik

An art critic and a professor of philosophy at The École Notaionale Supérieure des Beaux-Arts Paris. Her research bears on the relationship between art and science, in connection with psychological description and phenomenological experience.
She has a profound knowledge of Japanese esthetics and has been awarded a grannt for a postdoctral research at Waseda University. Her publication includes an essay on Akira Kurosawa's The Seven Samurai.
・Summary
The first half of the lecture dealt with the basic theory of Relational Aesthetics, a world-bestseller in 1998 by Nicolas Bourriaud, who is the current Director of École des Beaux-Arts.
In the second half, Professor Zernik's own research theme "Art in Post-Fukushima" was discussed, during which she explained, from the perspective of an overseas researcher, how expressions of artists have changed after 3.11.
Special Lecture 2 "Activities as an artist"
・
Lecturer
:Jean-Luc Vilmouth

A professor at École des Beaux-Arts and a contemporary artist based in Paris, Jean-Luc VILMOUTH has been engaged in a wide range of art activities including installations, participatory workshops, performances and visual works.
Starting in the 1980s, with the Venice Biennale (1982) and documents 7(1982), he has participated in numerous international exhibitions. As being a Japanophile, he has visited Japan over a hundred times. As is exemplified by "Café Little Boy", which was exhibited in PARASOPHIA: Kyoto International Festival of Contemporary Culture 2015, He has also been pouring energy continuously into exhibiting his artworks in Japan.
・Summary
From his various past activities, a wide range of different expressions such as installations, visual works and performances was introduced. A presentation was made with slides showing a number of art projects where Prof. VILMOUTH bored emphasis on changes to people or the environment triggered by the intervention of artwork in a public space.
Asked by a student what a next ambition yet to be achieved was for Prof. Vilmouth, who had realized numerous projects, he answered "to be a good artist and to realize a better world". He added that a better world by his definition was the one where people could have a lot of experiences and where such experiences would be meaningful".