[グローバルアート共同カリキュラム] 藝大 × パリ エコール・デ・ボザール パフォーマンス・イベント「私と自然 11の夢」
Performance Event "NATURE AND ME-Eleven Dreams-" International Joint Curriculum for Global Art, "Tokyo University of the Arts × École des Beaux-Arts"
September 15, 2015
東京藝術大学×パリ国立美術高等学校グローバルアート共同カリキュラム2015
文部科学省国立大学機能強化事業「国際共同プロジェクト」
パフォーマンス・イベント「私と自然 11の夢」
去る8月6日、東京藝術大学とパリ国立美術高等学校の国際共同プロジェクトの成果として、大地の芸術祭越後妻有アートトリエンナーレ2015にてパフォーマンス・イベント「私と自然 11の夢」を新潟県十日町市蒲生地区ぶなが池植物公園において実施しました。(8月4日は林間学校参加者に向けてのウェルカム・パフォーマンスを実施。)
輝く星空の下、ぶなが池植物公園に設けられた屋外ステージは、一夜限りの夢のショーが繰り広げられる幻想的な舞台となりました。定員をはるかに超える約150名の観客が集まり、東京藝術大学とエコール・デ・ボザールの国際共同プロジェクトの成果を披露しました。
日仏の学生は、自然との関わりをテーマに事前にリサーチワークを行い、お互いに英語を共通言語としてテーマを深く掘り下げる様々な議論を重ね、二人一組がペアとなって衣装・音楽・振付を創作し、ショートストーリーを構成したパフォーマンスを完成させました。音楽に関しては東京藝術大学音楽学部の学生と協働し、各ペアのコンセプトに基づき、事前に自然界から取材した音がアレンジされ、自然と一体となった会場をより一層完成度の高い独創的で幻想的な世界観に導きました。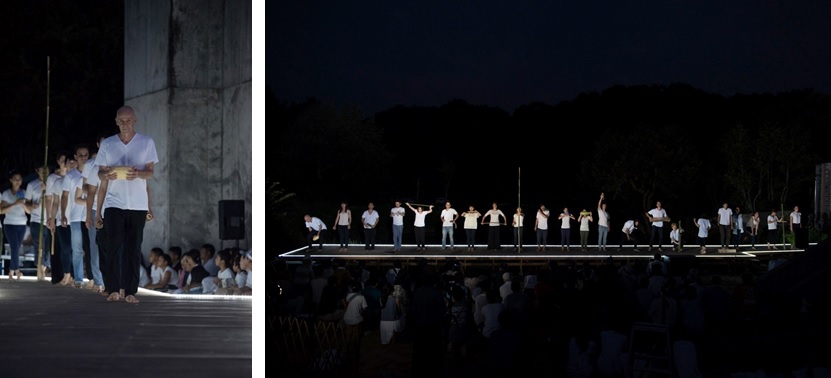 大地の芸術祭への参加は、今年4月より取り組んできた「現代アートの社会実践」を遂行するにふさわしい格好の場となりました。東京藝術大学とエコール・デ・ボザールの学生は「私と自然」というテーマに真摯に向き合い、大自然に囲まれた越後妻有の地での滞在制作を経て、パフォーマンス・イベントに臨みました。
パフォーマンスには芸術祭プログラムの林間学校に参加した、東北および日本各地から集まったこども約30名と香港の中高校生20名も出演しました。こどもたちは林間学校で本学の教員とワークショップを行い、その成果として歌と竹の演奏を舞台の上で披露しました。パフォーマンスのサブタイトル「11の夢」は、10組の学生によるパフォーマンスに加え、こどもたちの「未来の夢」を加えて名付けました。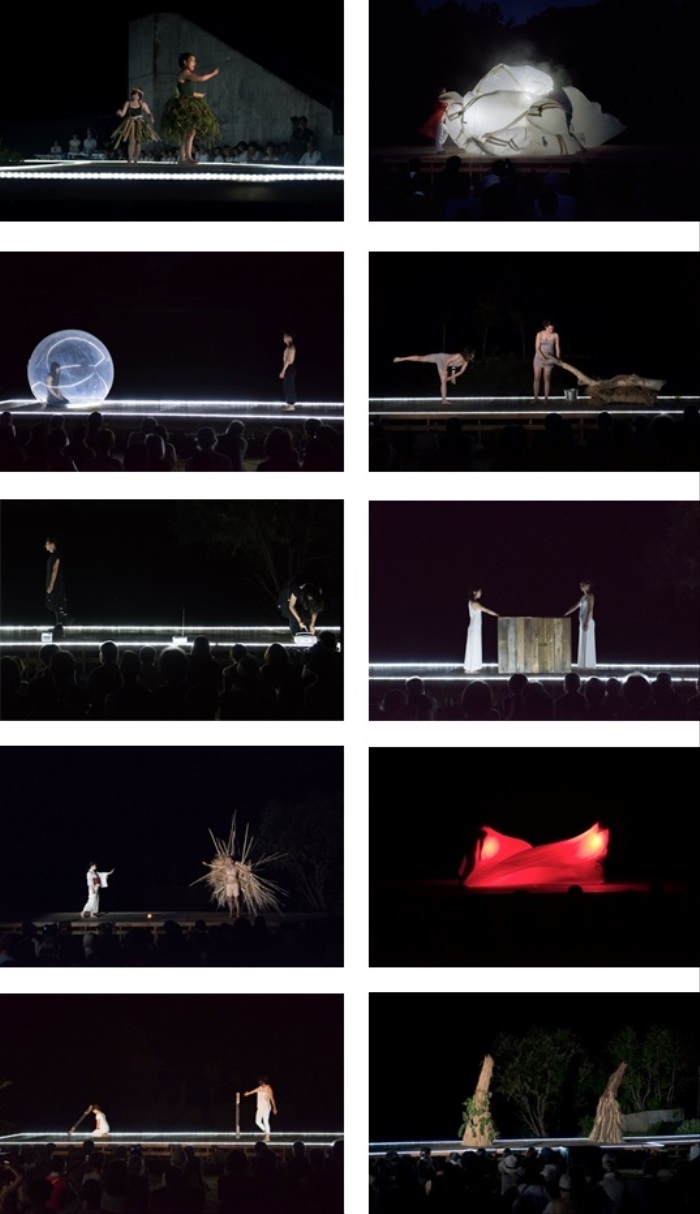 「大地の芸術祭」は2000年からスタートした現代アートの祭典で、世界有数のトップアーティストが出展しており、現代アートによる地域おこしの成功事例として世界中から注目を集めています。
パフォーマンス・イベントを成し遂げた学生たちは、創作現場での困難と苦戦しつつも、世界のトップアーティストが集う「大地の芸術祭」で彼らと肩を並べ、国際コミュニケーションを実践しました。また、次世代を担うこどもたちや地域の人たちと連携し、様々な方のご協力のもと、本プロジェクトを完遂しました。
プロジェクト全体を通じ、両国間の異文化を享受する柔軟な思考力を身につけ、社会に対し常に問題意識を持ち、その解決に向け現代アートの持つ意義を考える素晴らしい契機になったことを確信します。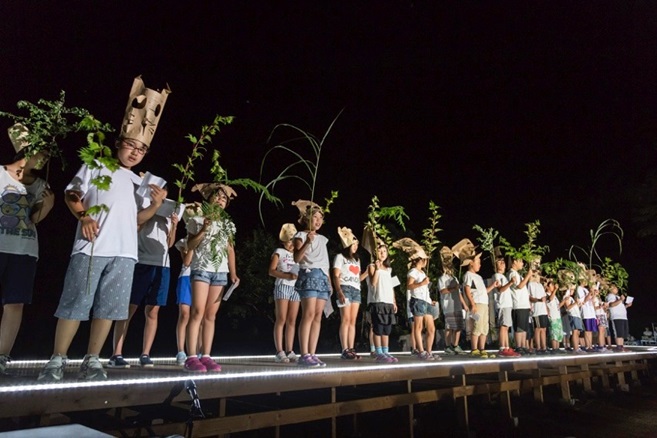 写真撮影:中村脩
パフォーマンス・イベント「私と自然 11の夢」
基本構想:ジャン・リュック・ヴィルムート、クレリア・チェルニック
場の造形:保科豊巳、薗部秀徳、西村雄輔
私と自然の造形:ジャン・リュック・ヴィルムート、上原利丸、小沢剛、大巻伸嗣
音の風景:西岡龍彦、東京藝術大学大学院音楽研究科学生6名
光の風景:池田嘉人
創作・出演:東京藝術大学とエコール・デ・ボザールの学生
今井さつき、齊藤可那子、中島一成、原千夏、戸石晃史、人見紗操、角田里紗、内田里奈、大和田愛子、保良雄(以上、東京藝術大学)
Christelle Téa, Nicolas Courgeon, Yuyan Wang, Nathanaelle Herbelin, Vincent Ballard, Claire Froës, Théo Medina, Bady Dalloul, Anais Descarpenterie, Qin Han(以上、エコール・デ・ボザール)
林間学校に参加したこどもたち
助成:カルミニャック財団、アンスティテュ・フランセパリ本部
なおプロジェクトの記録展示は越後妻有アートトリエンナーレ2015に出品しました。
会場:奴奈川キャンパス(新潟県十日町市室野576)
会期:2015年7月26日—9月13日
*掲載写真で撮影者名のないものは、すべて©東京藝術大学×パリ国立美術高等学校グローバルアート共同カリキュラム2015
Performance Event "NATURE AND ME-Eleven Dreams-"
International Joint Curriculum for Global Art, "Tokyo University of the Arts × École des Beaux-Arts", an international joint project granted by the Enforcing the Function of National Universities program by the Japanese Ministry of Education, Culture, Sports, Science and Technology (MEXT)
On August 6, a performance event as part of Echigo-Tsumari Art Triennale 2015, "NATURE AND ME-Eleven Dreams-" was held as the outcome of the international collaboration project by Tokyo University of the Arts and École des Beaux-Arts, in Bunagaike Botanical Garden, Kamou, Tokamachi-City, Niigata Prefecture. (A welcome performance for the summer school participants on August 4 preceded the performance event)
The outdoor stage in Bunagaike Botanical Garden, filled with a magical ambience, was the venue for the one night only performance. Exceeding the number of seats available, as many as 150 spectators came together under a star-filled sky and enjoyed the dream show of our joint effort.
To realize the performance, the Japanese and French students from two institutions conducted preliminary research on the theme of relation with the nature and had various discussions to dig deep into the theme using English as their common language. The students worked on the costumes, music and dance in pairs, and completed the performance consisting of short stories. For music, they worked together with music students of our university. Sounds which were collected from nature and arranged to suit the concept of each pair contributed to adding even more sophisticated, uniquely creative and illusionary effects to the stage already integrated in the surrounding nature.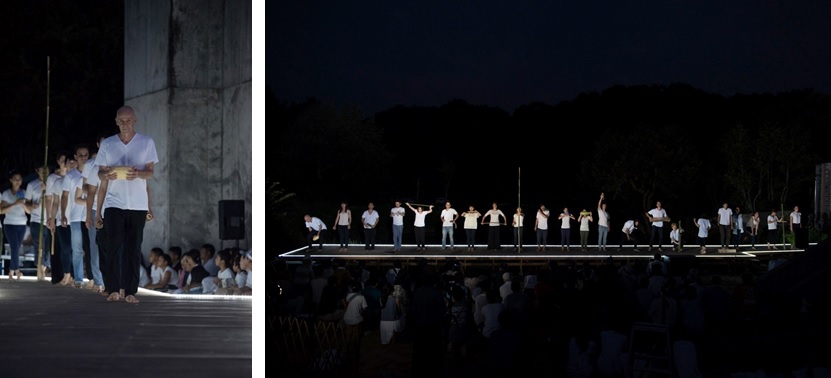 Participating in the triennale was a perfect opportunity for the students to put into practice the "Contemporary Arts in Social Art Practice" program which we have dealt with since this April. The students from the two institutions earnestly faced the theme of "NATURE AND ME" and prepared for the performance after experiencing the production phase in Echigo-Tsumari surrounded by great nature.
Among the performers were 30 children gathered from Tohoku and other parts of Japan, and 20 secondary students from Hong Kong, who attended the summer school program organized by the art festival. They had participated in a workshop with our faculty members during the summer school and practiced songs and music using musical instruments made of bamboo for the event. "Eleven dreams", the performance's subtitle, was named because we wanted to add "the children's dreams for the future" to the number of performance staged by the 10 tertiary student pairs.
Echigo-Tsumari Art Triennale is a contemporary art festival began in 2000. World leading artists have presented their works there, which made the event to attract global attention as a successful example of community revitalization.
Struggled with difficulties during the creation process, students managed to achieve a successful result in the performance event, which proved that their performance ability of international communications was comparable to that of other world class participants of the triennale. The successful completion of the project owes much to the help and cooperation of children with future, local residents and many other people.
Through the entire project, we have surely acquired an ability to think flexibly to enjoy two different culture of Japan and France and raised awareness towards social issues. The triennale became a great opportunity for us to contemplate how contemporary art can contribute in solving such issues.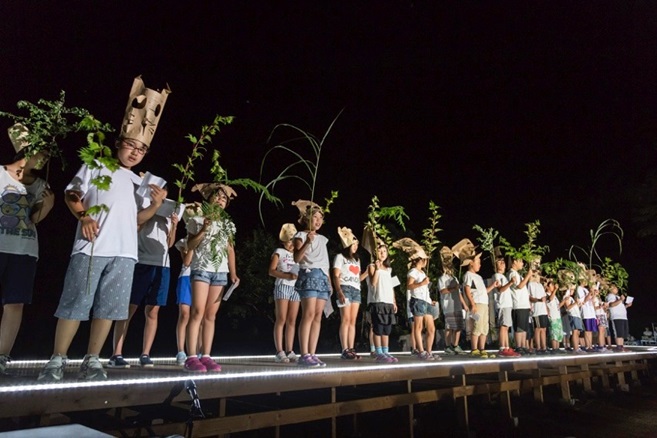 Photo:  Osamu Nakamura
Performance Event
"NATURE AND ME-Eleven Dreams-"
BASIC CONCEPT
Jean-Luc Vilmouth (Director of Studies, Professor of Department of Artistic Practices)
Clelia Zernik (Professor of Philosophy of Art Department of Theoretical Teaching)
STAGE DESIGN
Toyomi Hoshina (Dean of Faculty of Fine Arts, / Professor of Oil Painting)
Hidenori Sonobe (Lecturer of Department of Crafts)
Yusuke Nishimura (Project Associate Professor )
Form for NATURE AND ME
Jean-Luc Vilmouth (Director of Studies, Professor of Department of Artistic Practices)
Toshimaru Uehara (Associate Professor of Department of Crafts)
Tsuyoshi Ozawa (Associate Professor of Department of Intermedia Art)
Shinji Ohmaki (Associate Professor of Department of Sculpture)
SOUNDSCAPE
Tatsuhiko Nishioka (Professor of Faculty of Music)
6 students from Graduate School of Music, Tokyo University of the Arts
LANDSCAPE OF LIGHT
Yoshito Ikeda
CREATION AND CASTS
20 students of the Tokyo University of the Arts and the Ecole Nationale Superoeure des Beaux-Arts
Satsuki Imai, Kanako Saito, Kazunari Nakajima, Chinatsu Hara, Akifumi Toishi, Saaya Hitomi, Tsunoda Risa, Rina Uchida, Aiko Owada, Takeshi Yasura (Tokyo University of the Arts)
Christelle Téa, Nicolas Courgeon, Yuyan Wang, Nathanaelle Herbelin, Vincent Ballard, Claire Froës, Théo Medina, Bady Dalloul, Anais Descarpenterie, Qin Han(the Ecole Nationale Superieure des Beaux-Arts)
Children from Summer School
Students from Po kok Secondary school
SPONSORSHIP
Fondation Carmignac, Embassy of France / Institut Francais
The record of this project was exhibited in Echigo-Tsumari Art Triennale 2015.
Exhibition Period: Sunday 26th of July to Sunday 13th of September
Venue: Nunagawa Campus(576 Murono Tokamachi-city,Niigata Prefecture)
*Copyright of the photos without a name of photographer belong to"Tokyo University of the Arts × École des Beaux-Arts"