アンヌ・グラヴォワン フランス首相夫人の来学
Ms. Anne Gravoin, wife of French Prime Minister, visited Tokyo University of the Arts
October 07, 2015
去る10月5日、公式訪問中のフランス共和国マニュエル・ヴァルス首相に同行して来日したアンヌ・グラヴォワン夫人が東京藝術大学を訪問されました。
グラヴォワン夫人は、フランス国立パリ高等音楽学院(コンセルヴァトワール)のヴァイオリン科および室内楽科をPremier prix a l' unanimite(満場一致の一等賞)で卒業された演奏家であり、現在は音楽関係の会社社長としても活躍されています。今回の本学訪問は、「この機会に日本のコンセルヴァトワールを視察したい」との夫人の御要望に本学がお応えする形で実現したもので、本学の渡辺健二教育担当理事と澤和樹音楽学部長の先導でキャンパスを回り、音楽学部の主要施設と教員・学生による演奏および授業風景を御視察いただきました。


初めに邦楽科を訪れ、三味線のお稽古の様子を視察されました。授業風景をご鑑賞された後、邦楽の楽器や楽譜、音色について質問をされるなど、高い関心を持たれたご様子でした。


次に、奏楽堂へと場所をかえ、学生によるパイプオルガンの演奏を鑑賞されました。曲が終わると、グラヴォワン夫人は演奏していた学生に歩み寄り、握手を交わしつつ感想を述べられ、曲目や楽器について学生の説明に熱心に聞き入っていらっしゃいました。


最後に、昨年改装を終えたばかりの第6ホールへと移動し、2014年国際バッハコンクール第1位受賞者である学部3年生の岡本誠司さんによるヴァイオリン演奏と、音楽学部附属音楽高校2年生6名によるピアノ連弾、そして澤学部長指揮による弦楽合奏を楽しんでいただきました。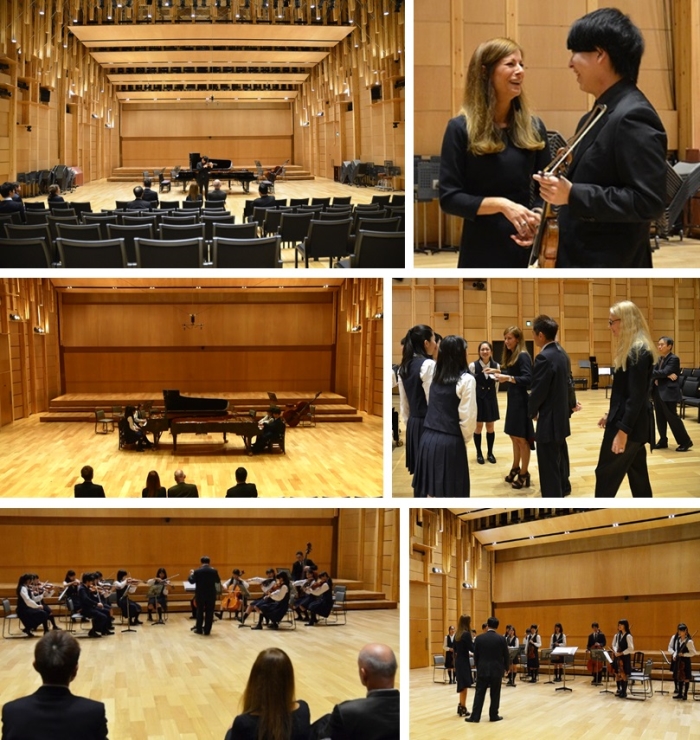 本学の授業風景や学生による演奏を鑑賞できたことを非常に喜ばれたグラヴォワン夫人は、極めて多忙な公式スケジュールが続くなかにも関わらず、予定時間を超えて本学に滞在され、関係者一人一人に感謝の言葉を述べられた後、次の予定地へと向かわれました。
今回の訪問が一過性のイベントに終わることなく、フランス及びフランス大使館と本学との間での一層多くの交流や協力関係が生まれる契機となることを期待します。
On October 5, Ms. Anne Gravoin, wife of the French Prime Minister Manuel Valls, who is on his official visit to Japan, visited Tokyo University of the Arts.
Ms. Gravoin is an accomplished violinist who graduated from the Paris Conservatory with the first prize (Premier prix a l'unanimite) in violin and chamber music. She is also an entrepreneur in the music business. To meet the request of Ms. Gravoin that she wished to visit a Japanese conservatory, we respectfully welcomed and arranged for her a campus tour guided by Professor Kenji Watanabe, the Education Trustee, and Professor Kazuki Sawa, the Dean of the Faculty of Music. The tour group visited our major music facilities, where music performances by the students and a class visit were offered.

The tour group first visited a class of shamisen practice, where she showed a high degree of interest by asking questions about the traditional instrument, musical scores and tones.

Then they visited the Sogakudo Concert Hall, where they listed to a pipe organ performance by a student. After the performance, Ms. Gravoin walked to the pipe organist, shook his hands, and gave comments on the performance. She was carefully listening to the student's explanation about the instrument and programs for pipe organ music.

Lastly, they moved to the sixth hall, which was refurbished last year, and were greeted by other music students. Seiji Okamoto, a third-year students and the winner of the 2014 International Johann Sebastian Bach Competition, played violin, and six students from the affiliated senior high school of music offered four-handed piano performances. Also, a string orchestra music conducted by Professor Sawa regaled the audience.

Ms. Gravoin stayed at the university much longer than initially planned despite her busy schedule packed with official duties. Highly satisfied with the class visit and music performances by our students, she expressed the words of appreciation to each one of the people involved, and left the campus for her next destination.
Tokyo University of the arts expects that this visit by Ms. Gravoin will lead us to a more increased exchange and collaboration with the Republic of France and the French Embassy in Japan, rather than a temporary event.