ベルリン芸術大学との芸術国際交流協定調印式
Signing Ceremony of "Agreement for International Exchange between Tokyo University of the Arts and Berlin University of the Arts"
October 16, 2015
10月9日、東京藝術大学とベルリン芸術大学の芸術国際交流協定調印式参加のため、ベルリン芸術大学よりMartin Rennert学長が来校されました。
共に創立以来の長い伝統を有し、文化交流の活発な首都に本拠地を置く東京藝術大学とベルリン芸術大学による協定締結の実現は、両国の更なる芸術文化連携推進に向けた大きな一歩と言えます。
本協定の特徴は、特定の芸術分野に留まらない、幅広い領域における協力関係を確認したことにあります。両国内でも数少ない、美術と音楽の両分野を一大学で抱える総合芸術大学同士の、分野を越えたコラボレーションが期待されます。
Rennert学長は、本学に到着されると、松下功副学長の案内のもと、奏楽堂や能ホールやアーツ&サイエンスラボなど学内をご視察されました。

その後、学長室に移り、宮田亮平学長、松下功副学長、保科豊己美術学部長、迫昭嘉音楽学部副学部長、馬場剛事務局長とともに懇談され、今後の交流の展開について意見交換を行いました。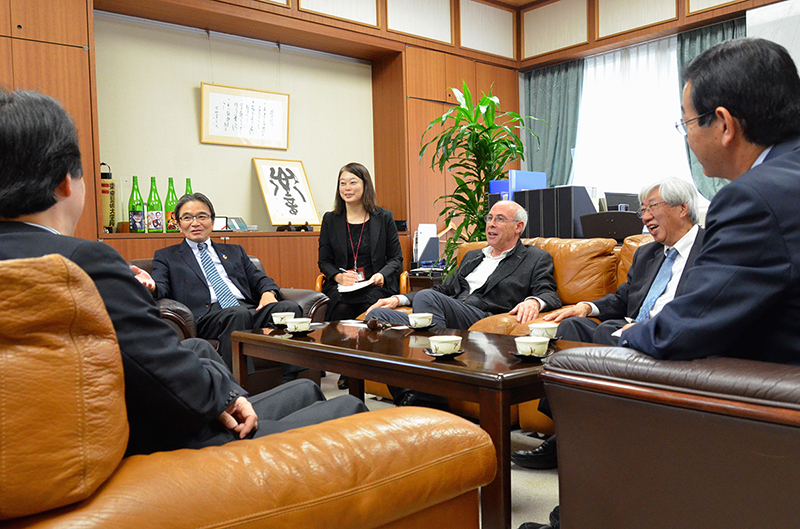 調印式に先立ち、宮田学長デザインのネクタイを贈呈されたRennert学長は、それを早速お召しになり、和やかな雰囲気のもとで調印式が行われました。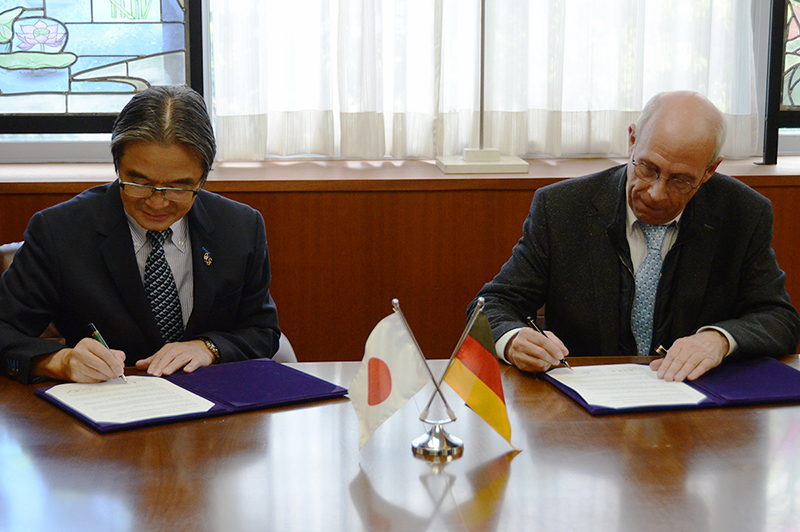 また調印後、Rennert学長は宮田学長の勧めで宮田学長制作の銅鑼の音を響かせました。

続いて軽食会場へと場所を移し、宮田学長は自身の書である「抱」の作品について説明し、Rennert学長は興味深く耳を傾けていらっしゃいました。

今回締結した協定を礎として、今後、本学はベルリン芸術大学との交流をさらに進展させていきます。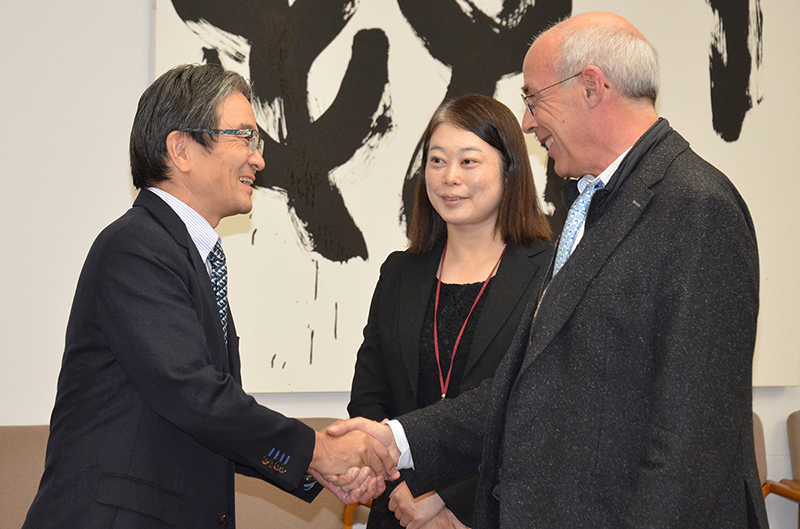 President Martin Rennert of Berlin University of the Arts visited Tokyo University of the Arts for a signing ceremony of Agreement for International Exchange between the two institutions on October 9th.
We are both art universities with a long tradition since our foundation, and have the main campus in respective capital cities where cultural exchange flourishes. This signing of the agreement by such of us is a significant milestone for the further promotion of art/cultural collaboration between Japan and Germany.
This agreement is unique in that a broader range of collaboration was confirmed without limitation to specific art fields. Cross-field collaboration between the integrated institutions of fine arts and music, which are quite few in number in both countries, is expected to take place.
On arriving at Tokyo University of the Arts, President Rennert went on campus tour, accompanied by Vice President of Research Isao Matsushita. They visited university facilities including Sogakudo Concert Hall, Noh Hall and Arts & Science LAB.

He was then invited to the room of President Ryohei Miyata, where a talk for exchanging opinions regarding future collaboration was held in the attendance of Dean of the Faculty of Fine Arts Toyomi Hoshina, Vice Dean of the Faculty of Music Akiyoshi Sako and Secretary General Takeshi Baba, as well as President Miyata and Vice President Matsushita.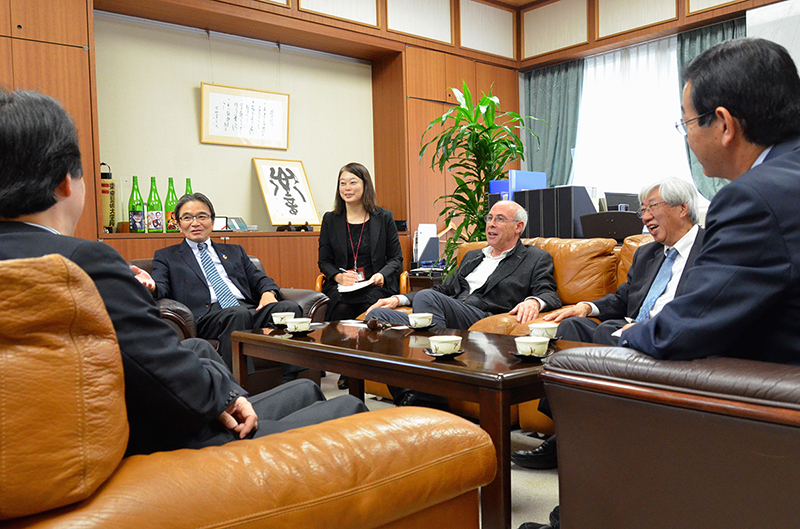 Prior to the signing of the agreement, President Rennert received a new tie designed by President Miyata. He wore it straight way, and the ceremony was carried out in a friendly atmosphere.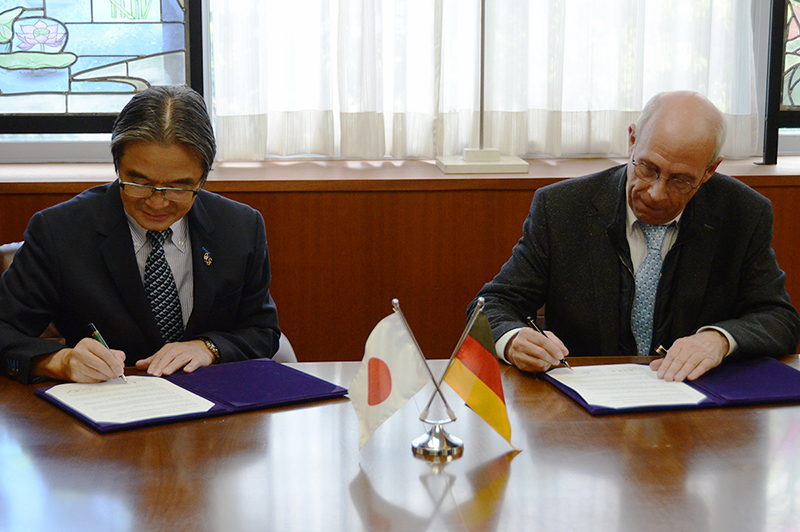 The ceremony drew to a conclusion with the deep resonance of a gong, which President Rennert was invited to beat by the creator of the instrument, President Miyata.

Then the company moved to a conference room, where a light meal was served. Both presidents enjoyed a conversation on the calligraphy of President Miyata on the wall. "Idaku" means "to embrace" explained President Miyata his calligraphy, and President Rennert was listening with deep interest.

Tokyo University of the Arts will built and develop more interactions with Berlin University of the Arts on a base of this agreement today.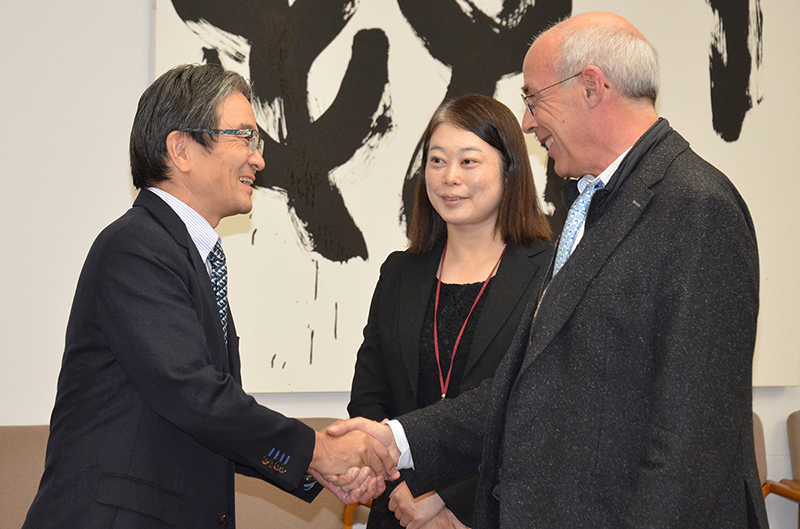 <![CDATA[]]>