アン・バリントン駐日アイルランド大使による表敬訪問
Courtesy Visit by the Irish Ambassador, Ms. Anne Barrington
December 10, 2015
2015年12月3日、駐日アイルランド大使館のアン・バリントン大使が、アッシュリン・ブレーデン文化広報担当官同行の下、宮田学長を表敬訪問されました。
2014年9月の就任から約一年が経過したバリントン大使は、2017年に日本とアイルランドが外交樹立60周年を迎えるにあたり、現在、芸術文化を通じてアイルランドへの理解の促進に取り組んでいることを説明されました。
宮田学長は、過去にアイルランド出身の優秀な留学生が本学で鍛金を学んでいたこと、彼がその経験を母国に持ち帰り、アイルランド、ひいてはヨーロッパに日本の伝統工芸技術を紹介してくれたことを非常に嬉しく思うと述べました。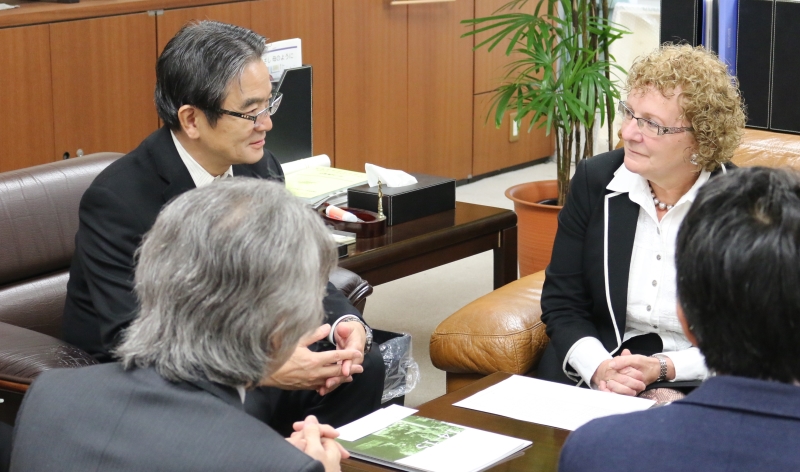 同席した音楽学部楽理科の大角教授からは、楽理科では、アイルランド音楽に関する卒業・修了論文を執筆する学生が1999年以降で11名いることが紹介されました。
また、会談の途中で本学のケルト音楽研究部に所属する学生4名が加わり、歓迎の演奏を披露しました。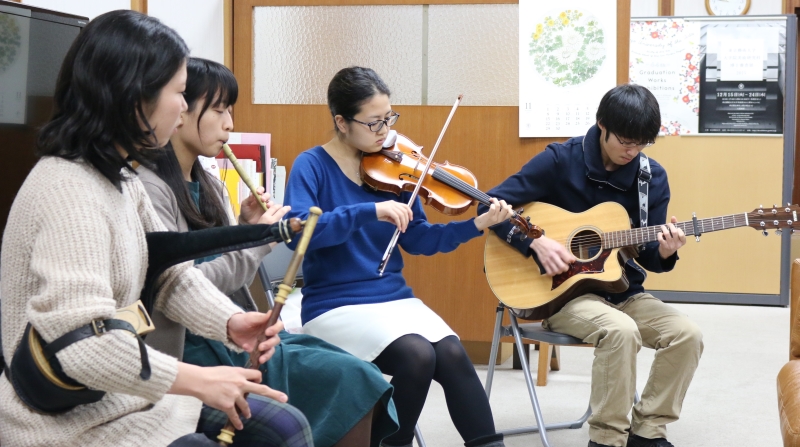 バリントン大使は、「音楽は国際共通語であり、日本とアイルランドが音楽を通じて結びついていることはすばらしい」とコメントされました。
最後に宮田学長は「これをきっかけとして、今後日本とアイルランドの関係がさらに深まることを期待する」と述べ、バリントン大使はこれに笑顔で同意し、会談を終えました。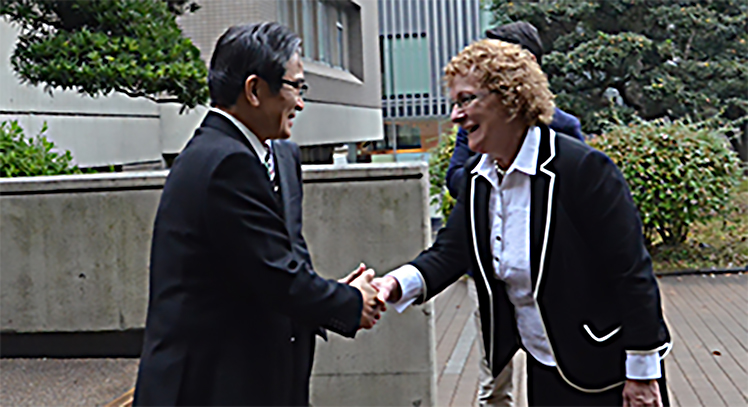 最後に握手を交わすバリントン大使と宮田学長
On December 3, 2015, President Miyata received a courtesy call by the Irish Ambassador Ms. Anne Barrington, accompanied by the embassy's Press and Cultural Attaché, Ms. Aisling Braiden.
During the meeting, Ambassador Barrington, who took up her position in September 2014, talked about how her team is now working to promote further understandings of Ireland in Japan through culture and art, as we approach the 60th anniversary of diplomatic relations between the two countries in 2017.
President Miyata mentioned that he had taught an exchange student from Ireland many years ago in the metal hammering course, and that he was glad that the student had brought his experience here back to his country and contributed to introducing techniques of the Japanese traditional craft not only to Ireland but also to Europe as well.
Prof. Osumi, who was also present at the meeting, added that Irish music was a popular topic among students in the Musicology Department, pointing out that eleven students had so far written a thesis or research paper on the topic since 1999.
The meeting was later joined by four members of the university's Celtic Music Study Group, who gave a welcome performance in front of the guests.
Ambassador Barrington responded by saying that music is an international language and that it is a wonderful thing that Japan and Ireland are connected through music.
To conclude the meeting, President Miyata stated his hope that this would be the first step to developing ties between the two countries, to which Ambassador Barrington agreed with a smile.

Ambassador Barrington exchanging a handshake with President Miyata before leaving the campus