日本文化体験「茶の湯と日本文化」2015
Experiencing Japanese Culture – Chanoyu and Japanese Culture 2015
December 24, 2015
平成27年12月18日、東京都文京区にある武者小路千家の官休庵東京出張所稽古場で本学の留学生向けイベント「茶の湯と日本文化」が開催され、10の国・地域からの留学生17名と教職員5名が参加しました。
稽古場の茶室には、一年変わりなく終えたことを表す「無事」と書かれた、師走によく飾られるという掛け軸があり、中国からの留学生は、草書体でしたためられたこの書に興味を抱いていました。

上座に着座した陶芸専攻の留学生は、本学の卒業生が制作した非常に高価なお茶碗でお茶をいただき大変喜んでおり、お茶碗を手に取り様々な角度から観察していました。
また、棗(なつめ)や蓋置(ふたおき)など、茶道の道具も拝見させていただきました。

次に、第14代家元 不徹斎 千 宗主さまより、正式なお茶会の流れや、かつては、武士がお茶会を楽しんでいた背景などをお話いただきました。また、いただいた官休庵のパンフレットに三千家が載っていることから、同じ茶道の中に数多くの流派が存在していることに驚き、それぞれの流派での作法の違いについて質問をした留学生がいました。
その後、制作時期や国の異なるお茶碗を5つお披露目いただき、それぞれの特徴について教えていただき、留学生たちは、実際にお茶碗を手に取って触れ、違いを確かめました。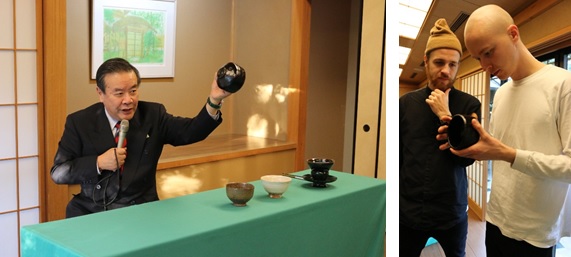 最後に、庭園にある小さな茶室を見学し、留学生一同は、見慣れていない狭い茶室の中や庭園の様子を楽しんでいました。
短い時間でしたが、普段は触れることができない日本の文化を通して、留学生の日本に対する理解が深まったことと思います。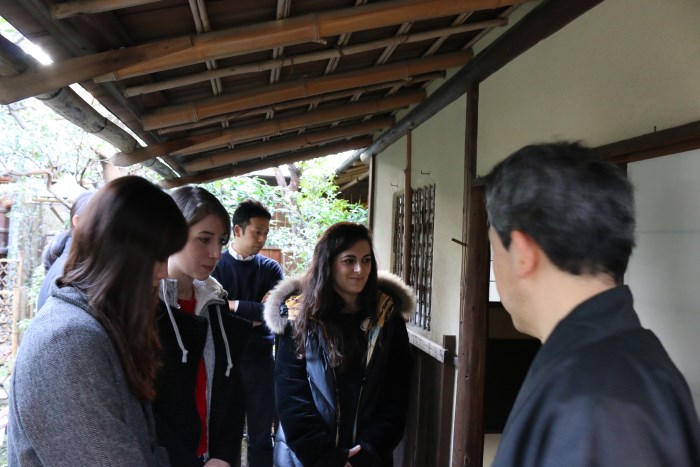 ご多忙の中、ご協力いただきました官休庵のみなさまには、深く感謝いたします。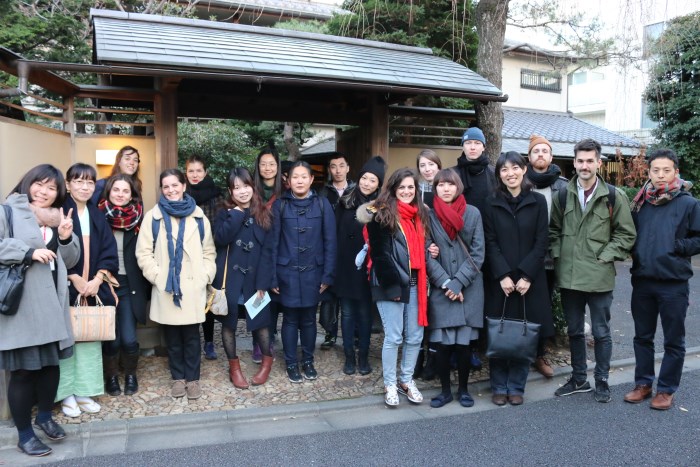 On December 18, 2015, an event for international students of Tokyo University of the Arts was held. "Chanoyu (the Japanese Way of Tea) and Japanese culture" took place at Kankyuan Tokyo Brunch of Mushakouji Senke located in Tokyo's Bunkyo ward, where 17 international students from 10 countries and region accompanied by 5 university staff members enjoyed a traditional tea ceremony.
On a wall of the tea room was the hanging scroll "Buji", a Japanese word representing a well and sound state at the year end. This hanging scroll is often a preferred option to flavor a wall in the month of December. A Chinese student looked interested in the cursive style of the Japanese calligraphy.

A student in the Ceramics course taking the Kamiza (seat of honor) was gratefully served tea in a valuable bowl created by a TUA graduate. He was appreciating the cup in his hand, checking from different angles.
The participants were introduced to other tea utensils such as Natsume (tea caddy) and Futa-oki (lit and ladle rest).

Then, a formal program of tea ceremony and a history of tea gatherings by samurais were explained by the 14th Head Master Futessai Mushakouji Sen Soshu. The students were informed of the three family lines known as the san-Senke through the Kankyuan leaflet and surprised by the fact that multiple schools exist in the Japanese Way of Tea. A student asked a question about the differences of manners between each school.
Later, five different tea bowls of different ages and origins were introduced and their respective features were also explained. The students were given a chance to hold them to see the differences.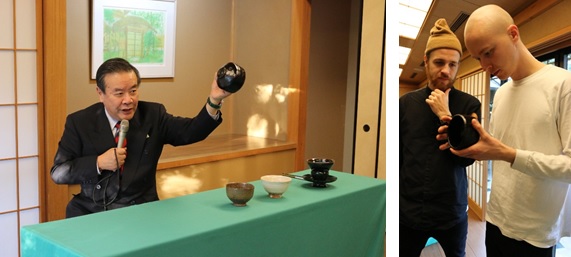 Before departure, the group visited a small tea house in the garden, which they enjoyed, particularly the unfamiliar look of the interior of the tea room.
Through this short but unusual experience of Japanese culture, the participating international students expanded their knowledge about Japan.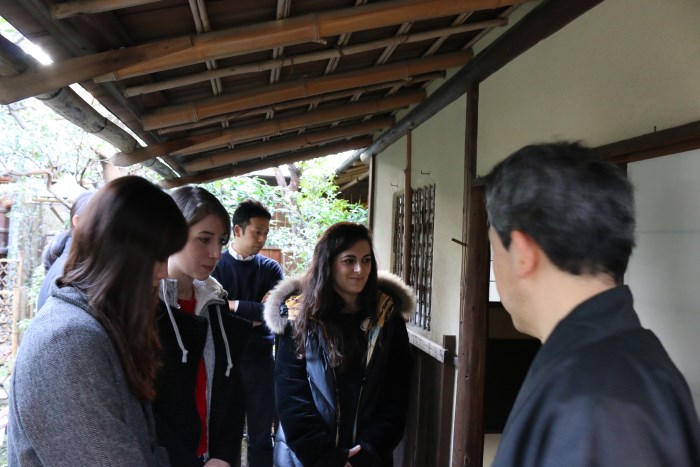 Deep appreciation to the staff members of Kankyuan for their time and support.