金現煥韓国文化院長の来学
A visit by President Kim Hyun-Hwan of Korean Cultural Center
February 01, 2016
2016年1月26日、韓国文化院の金現煥文化院長が、今後の日韓文化交流について協議するため、本学を訪問されました。
協議の中で金院長は、自身の日本留学時代に感じた異文化理解の重要性をより多くの人々に伝えるべく、韓国文化院による更なる日韓交流の促進を目指しており、今後の活動方針を「これまで主に担ってきた文化広報だけではなく、文化交流への注力が必要だ。特に若者同士の交流の促進に力を注ぎたい」と説明されました。
これに対して、学長特命として本学の国際交流を担当している三田村先生は、本学が有する美術・音楽・映像といった幅広い分野での交流を希望している旨を述べました。
協議後、金院長は美術学部油画研究室、日本画研究室、音楽学部の奏楽堂を視察されました。油画研究室では、特定の表現手段にとらわれない、学生達の自己表現方法の多様さに触れ、日本画研究室では、1作品の模写に1年以上を費やすという作業の緻密さについて説明を受けた金院長は、「本日、東京藝術大学のほんの一部を見学し、数人の先生方や学生たちから話を聞いただけでも、様々な驚きや発見があった。日本と韓国を芸術でつなぐ窓口として、ぜひ今後も交流の機会を増やしていきたい。」とコメントされました。

最後に、大学美術館で開催中の卒業・修了作品展を視察し、本学で学ぶ韓国人留学生による出品作品を通じて現在の日韓交流の成果を確認し、訪問を締めくくりました。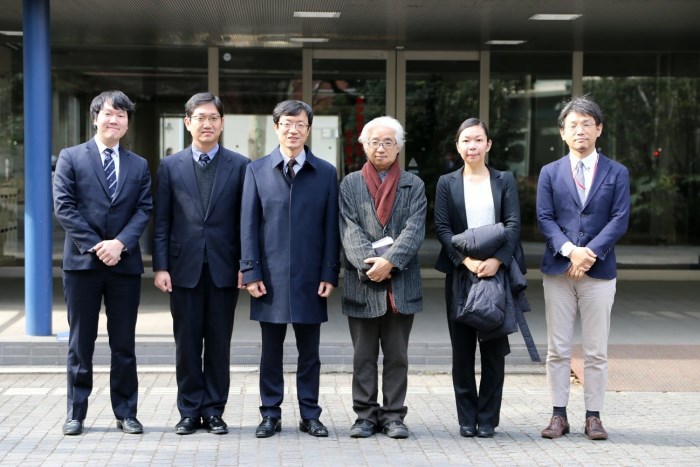 左から河聖煥様、崔炳美企画調整チーム長、金現煥文化院長(以上、韓国文化院)、三田村学長特命・美術学部工芸科教授、片山まび美術学部芸術学科准教授、庄司正人国際企画課長(以上、東京藝術大学)
On January 26, 2016, President Kim Hyun-Hwan of Korean Cultural Center visited our campus to discuss the future orientation of Japan-Korea cultural exchange.
Citing his own experience as an international student in Japan during which he felt the importance of cross-cultural exchange, President Kim said in the discussion that his center intends to further promote Japan-Korea exchange to have more of both citizens see the importance of understanding respective cultures. "In addition to cultural diplomacy that our center has mainly engaged in, we need to focus more on cultural exchange, especially that by young people".
In response, Professor Mitamura, who is the adviser to the university president in charge of international exchange and overseas students, stated that our university is willing to broadly promote exchange in our academic areas of fine arts, music and film and new media.
After the discussion, President Kim toured the departments of oil painting and Japanese painting, and the Sogakudo Concert Hall. At the oil painting department, President Kim witnessed the students trying diverse means of expression to express themselves, without limiting themselves to a fixed expressional framework. At the Japanese painting department, he was informed that the students spend more than a year to precisely produce a copy of a classical painting.

At the end of the tour, President Kim and the party visited the University Museum to see the 64th Graduation Works Exhibitions. The works exhibited there by Korean students studying at our university were perceived as a confirmation of an actual outcome of mutual exchange between the two countries.