[留学生の藝大体験記10] 李艶梅(美術研究科・文化財保存学保存修復日本画専攻)
[My Experience at GEIDAI 10]Li Yanmei(Graduate school of fine arts)
March 03, 2016
※留学生本人から日本語で提出されたものを原文のまま掲載してあります。
※英語訳は、大学側でつけたものです。
Name, Department, Home country and city, Duration
基本情報(氏名、所属、出身国・都市、在籍期間)
李艶梅 文化財保存学保存修復日本画 中国の山東省 博士3年生
Name : Li Yanmei
Affiliation: Japanese Painting Conservation Studio (3rd Year Doctoral Student)
Hometown: Shandong, China
Why did you choose Geidai as your study abroad destination?
藝大に留学したきっかけ
きっかけは、岩絵具あるいは芸術だと思います。留学する前に、中国で岩彩画を学んだ時、日本画の材料や表現にも触れましたが、同じ東洋文化圏で同じ岩絵具を使って制作している日本の学生が何を考えて、どのような表現をするのか興味を持ちましたので、他人の紹介より、自分が体験しながら理解できればいいと思いました。
Mineral pigments or art creation using the pigments led me to Geidai. When I was a student of mineral painting in China, I was exposed to materials and expressions used in Japanese painting. I became interested to know what Japanese mineral painting students who share the same Asian culture are thinking and aiming to express. I wished to gain hands-on experience, rather than being told by someone who knew about the topic.
What did you do to prepare yourself for studying abroad to Japan?
留学前に準備したこと
言語だと思います。
I had learned the Japanese language before coming to Japan.
What do you study at Geidai?
藝大で学んでいること
文化財保存修復日本画研究室で、伝統絵画の研究、修復、装潢を勉強し、また現代作品も制作しているので、伝統から現代まで幅広く学んでいます。
I belong to the Japanese painting conservation studio, where I conduct research on classical paintings, and learn restoration and the mounting of such paintings. I work on contemporary pieces too. Therefore, my study covers from classical to contemporary art.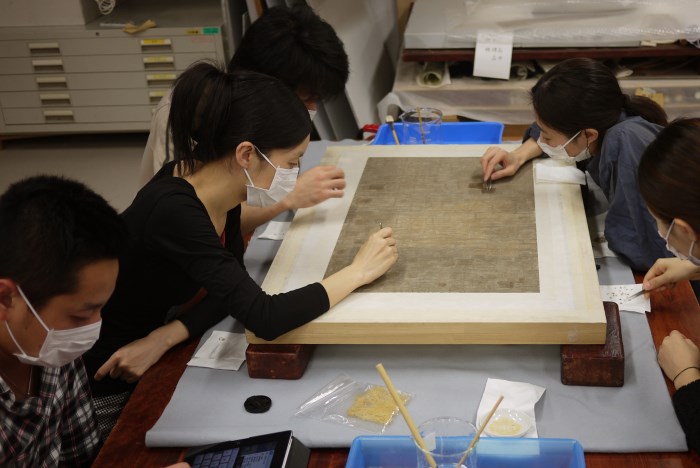 What do you like about Geidai?
藝大に来てよかったこと
日本の芸術教育を受けて、現代日本画の表現がどんどん理解できて、また、伝統絵画の研究方法や保存修復方法も勉強でき、本当によかった。これにより、自分の視野も広くなると思います。
Thanks to Geidai's Japanese art education, I have come to understand expressions used in contemporary Japanese paintings, and learned how to conduct research on classical paintings as well as conservation/restoration techniques. It has expanded my horizons.
What are the things that impressed you or surprised you in Japan?
日本に来て印象に残っていること・意外だったこと
電車の中で、座る人も立つ人も眠くなることは意外だと思います。
I find it quite surprising that people fall asleep on a train, whether they are standing or being seated.
What are your future goals?
将来の目標
卒業したら、中国で絵画芸術を研究することが将来の仕事の目標です。
After completion of the program, I wish to conduct research on painting art back in China.
Please write a message for students wishing to study in Japan.
日本への留学を考えている学生へのメッセージ
同じ文化圏の文化差異を探すのは面白いです。特に芸術の視点で。
It is interesting to look for differences between two countries from the same culture, from the view point of art, in particular.