カンボジア⽯造世界遺産現場体感型プログラム
An on-site program at Cambodian archaeological world heritage sites
March 18, 2016
基本情報
研修者:大学院美術研究科彫刻専攻 修士課程学生 6名
研修先:アンコール及び周辺地域の遺跡群(カンボジア)
研修期間:2015年11月20日~2015年11月24日
※この研修は、平成27年度「海外派遣奨学金制度」のご支援により行われました。
海外研修の成果
本学美術学部彫刻科の教員と学生は、日本国政府アンコール遺跡救済チーム (JASA)協力のもと設計された、アンコール・トム、バイヨン寺院本尊復元模刻体験研修のため、2015年11月にカンボジアのシェムリアップへ渡航しました。
プログラム序盤では、スラード・ムライ遺跡をはじめ、未だ密林の秘境の雰囲気が残る郊外のべンメリア遺跡や、カンボジア世界遺産の代名詞的なアンコール・ワット寺院を巡りました。
膨大な量の石材で作られたシェムリアップの遺跡群は、降り注ぐ太陽と生い茂る木々の間を縫うように、次々と姿を現します。
意図的に先行知識を遮断された状態で遺跡群を目の当たりにした学生たちは、初めはただただ圧倒されていましたが、遺跡群の歴史や多国籍チームで進められている修復作業の多様な考え方について、JASAをはじめユネスコ・アプサラ機構の駐在員、JST職員ら現地の専門家の方々からお話しを伺うにつれ、各々石彫修復に対する考え方を深めていきました。
プログラムの最後には、アンコール・トム、バイヨン寺院本尊の模刻研修が実施されました。
この作業には本物と同じ石材が提供され、学生たちは普段実習を行っているキャンパスとは全く異なる環境下で、かつて経験したことのない緊張感の中、現在のアジアにおける石彫修復の現況を、身をもって学ぶ事ができました。
この濃密な5日間の経験が、普段は西洋の造形や価値観に意識が傾きがちな参加学生たちにとって、大きな財産となったことは間違い有りません。
参加学生のコメント
・今まで⾒たことの無い遺跡や⾵景に圧倒された5 ⽇間でした。カンボジアの⼈達は優しく穏やかな⽣活を送っている印象も受け、⽇本国内にいては体験できない密度の濃い5 ⽇間になりました。
・世界各国の協⼒のもと、現地の⽅々が暑い中、⼀所懸命にコツコツと作業している修復現場を⾒て感銘を受けました。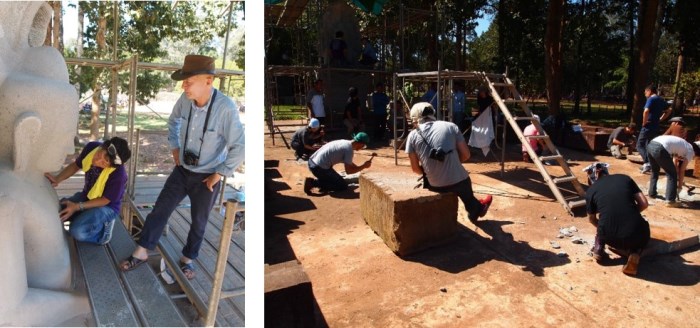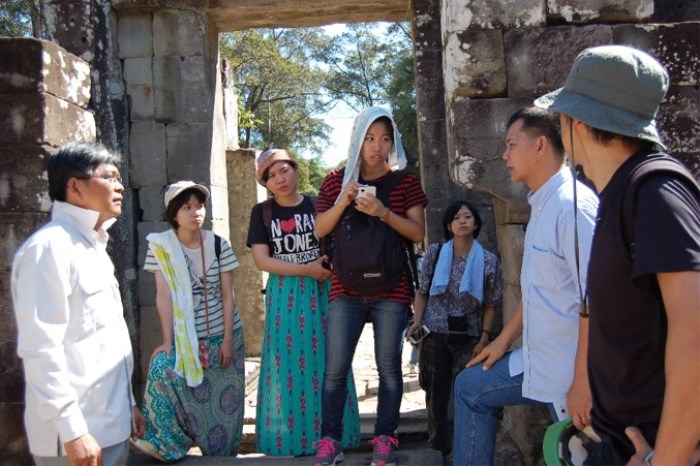 Basic Information
Participant:Six master's students in sculpture
Location:Archaeological sites in Angkor, Cambodia
Period:Nov 20-24, 2015
Achievements
In November 2015, a group of faculty members and students from the sculpture department traveled to Siem Reap, Cambodia to participate in a study program designed in collaboration with the Japanese Government Team for the Safeguarding of Angkor (JASA), during which students were given an opportunity to replicate the statute of the principal Buddha in the Bayon temple in Angkor Thom (the ancient capital city of the Khmer empire).
The program started with a tour around Srah Damrei (a site with massive monolithic animals), Beng Mealea (a temple located in a mysterious thick forest area) and Angkor Wat (a temple complex representing the Cambodian world heritage sites).
The ruins made of a huge amount of stones appeared one after another, as the group thread its way between thick trees and under the sunlight falling through the trees.
At first, the participating students, who had been intentionally restricted from acquiring prior knowledge on the subject matter, seemed absolutely overwhelmed by actually seeing the ruins. Later, they gradually came to deepen their understandings about the concepts of the restoration of respective stone monuments and statutes, as they learned about the history of the archaeological sites and the variety of ideas for restoration works observed among the multinational restoration team at the sessions by the experts including resident staff members from JASA, UNESCO and the APSARA national authority, and local staff members from Joint Support Team for Angkor Preservation Community Development (JST).
At the end of the program, a practical training was held where the students were asked to replicate the principle Buddha statute in the Bayon temple in Angkor Thom using the same stone material used for the original Buddha. The student sculptors worked under pressure that they had never experienced before, in an environment totally different from what they knew on campus, which all enabled them to learn directly a present situation surrounding the restoration of stone sculptures in Asia today.
It is certain that the participating students, who are usually inclined to pay more attention to European forms and values, received a great gift from this rich and profound five-day experience in Cambodia.