ベトナム美術⼤学・東京藝術⼤学 漆芸技術交流授業
A collaborative program of lacquer art with Vietnam University of Fine Arts
April 22, 2016
基本情報
研修者:大学院美術研究科工芸専攻(漆芸) 修士課程学生 6名
研修先:ベトナム(ハノイ)
研修期間:2015年11月1日~2015年11月7日
※この研修は、平成27年度「海外派遣奨学金制度」のご支援により行われました。
海外研修の成果
2015年11月に、ベトナム美術大学・東京藝術大学漆芸技術交流授業をベトナム美術大学(VIETNAM UNIVERSITY OF FINE-ARTS)の絵画工房にて実施しました。
漆は日本とベトナムの双方で古くから絵画や工芸品に用いられてきた共通の素材でありながら、それぞれ独自の技法や表現方法を確立してきた、非常に興味深い主題です。
今回の交流授業に参加した12名(東京藝術大学、ベトナム美術大学から6名ずつ)の学生たちは、教員による日越両国における漆芸教育と漆芸表現についての講義を聞いた後、実際にお互いの技法を用いた作品制作実習を行いました。

(左)小椋准教授に指導を受けるベトナムの学生、
(右)ベトナム式漆絵表現について説明を受ける日本側の学生
日本の学生はベトナム式漆絵表現(Engraved Lacquer)を使った漆画を1枚、箔絵を2枚制作し、ベトナムの学生は日本の卵殻技法で漆画を1枚、ベトナム式漆絵表現(Engraved Lacquer)を使った漆画を1枚制作しました。
参加学生たちは、全く異なる発展を遂げた漆芸の現状に驚きつつも、同じ素材を用いて作品制作に日々励んでいる表現者であるという強い仲間意識を全員が持ち、非常に暖かい雰囲気でプログラムは進みました。
特に作品制作実習では慣れない英語を駆使しながら、時には夜遅くまで技術面でのアドバイスを送り合う学生たちの様子が見られ、別れ際には再会を約束するほどの仲になりました。
両国の漆文化や技術を知識として学ぶのみでなく、アーティスト同士の密度の濃い対話を通すことで、遠い昔から現在まで海を隔て独自に紡ぎ続かれている漆芸文化に思いを馳せる、発見に満ちた交流となりました。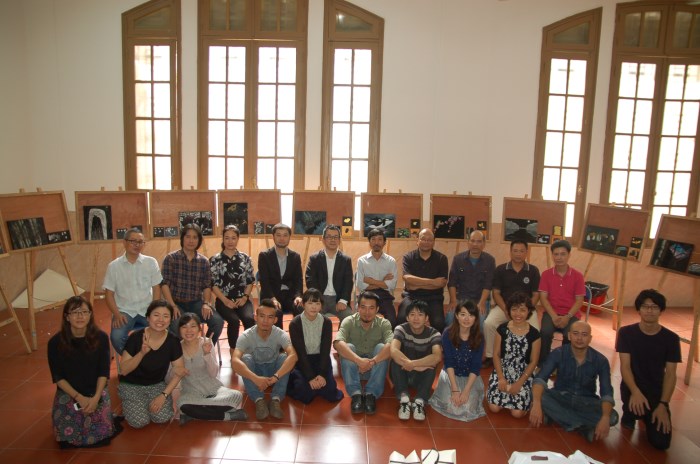 講評後の集合写真
参加学生のコメント
・同じ素材を使ってここまで違うように技術、表現が発達した事に感動した。
・ベトナムでは⽂化、交通、⾷⽣活などカルチャーショックばかりで、今後の私の⼈⽣に⼤きく影響を与えると思う。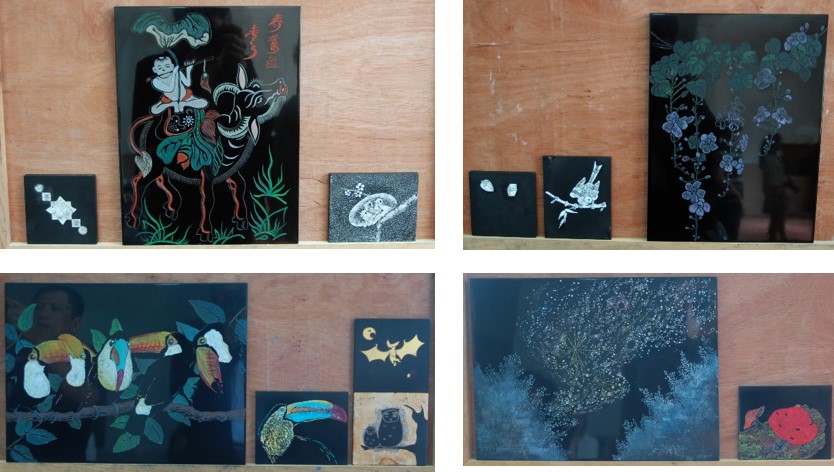 学生の提出作品(上段:ベトナムの学生による作品、下段:日本人学生による作品)
Basic Information
Participants:Six master's students in crafts (Japanese lacquer course)
Location:Hanoi, Vietnam
Period:November 1-7, 2015
Achievements
In November 2015, Tokyo University of the Arts held a collaborative program on  lacquer art jointly with Vietnam University of Fine Arts at a painting workshop of the Vietnamese partner.
While lacquer is a common material that has been used for drawing and making crafts both in Japan and Vietnam from a long time ago, it is extremely interesting that the respective countries have established unique techniques and expressions of their own.
Six students from each university, making a total of twelve participants, attended a lecture on the education and expressions of lacquer craft in Japan and Vietnam. Later, they took part in a workshop where they actually used each other's techniques to create art works.
Left: a Vietnamese student taught by Professor Ogura
Right: Japanese students listening to a lecture on Vietnamese lacquer expression
Each of the Japanese students made an urushi-e (lacquer painting) and two maki-e (lacquer painting sprinkled with gold or silver powder) using the Vietnamese engraving technique. On the other hand, Vietnamese students made two lacquer paintings using the Japanese eggshell technique and the Vietnamese Engraving technique, respectively.
The program proceeded in a warm and friendly atmosphere. While the participants were surprised to face the fact that lacquer art has evolved quite differently in respective countries, they developed a strong sense of fellowship by knowing that they are all artists who make great efforts to create art works using the same material.
In particular, at the workshop, the students were trying to communicate in English, which they were unaccustomed to and occasionally provided technical advice to one another until late at night. At the end of the program, their friendships were so great that they promised to see one another again.
Through the program full of discovery, the participating students not only learned the cultures and techniques of lacquer art in Japan and Vietnam but also enjoyed fulfilling artist conversations. They had a chance to think of the lacquer art cultures that have been passed on from old times independently in the partner countries across the sea.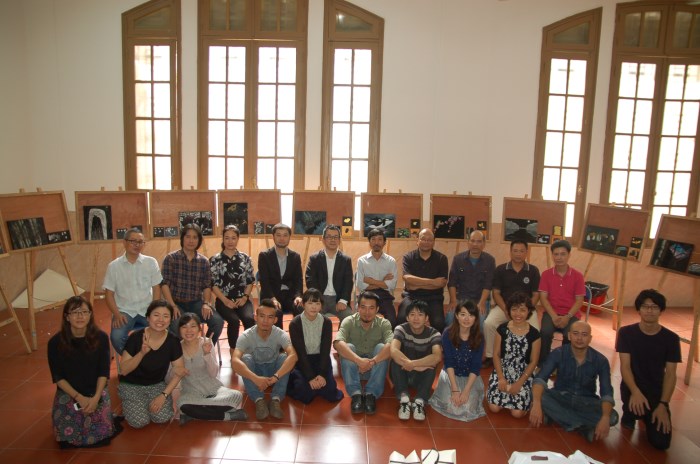 Group picture after review session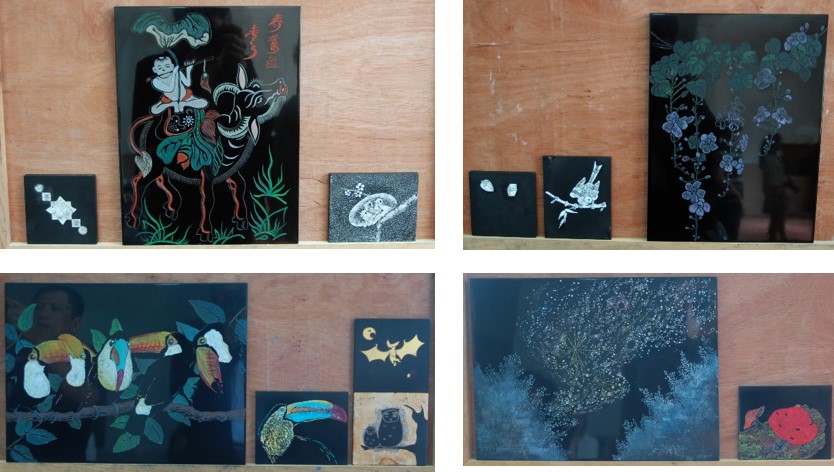 Students' art works
(Top: works by Vietnamese students Bottom: works by Japanese students)