ロンドン芸術大学とグローバル展開戦略に関する懇談
A visit by college representatives from University of the Arts London
April 25, 2016
2016年4月14日、東京藝術大学美術学部と国際交流協定を結んでいるロンドン芸術大学からセントラル・セント・マーチンズのJeremy Till 校長、Mark Dunhill 学部長、Anne Smith学部長、キャンバーウェルのChris Wainwright 校長、国際渉外部のEdward Venning部長の5名が来学されました。
第一部では、この4月より就任した澤和樹学長を訪問され、これまでの本学美術学部とロンドン芸術大学との交流や今後のグローバル展開戦略を中心に懇談を行い、
懇談の終わりには、澤学長自らが、迫昭嘉音楽学部長のピアノ伴奏のもと、エドワード・エルガー作曲『愛の挨拶 ホ長調』をヴァイオリンで演奏し、英国からの来訪者にサプライズの「おもてなし」を行いました。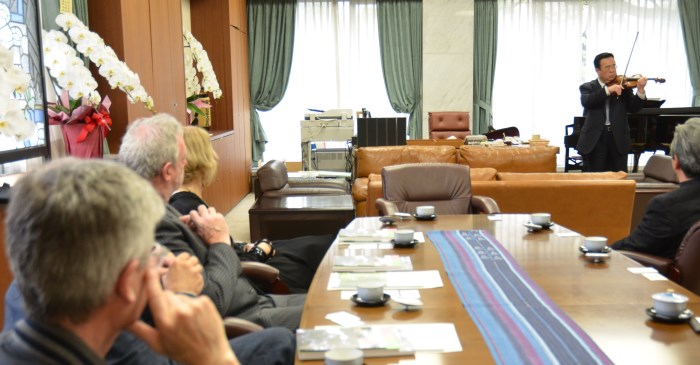 第2部では、ロンドン芸術大学と全国芸術系大学コンソーシアム(仮称)との懇談会を開催いたしました。現在、全国芸術系大学コンソーシアム(仮称)設立のために準備を行っている公立芸術系大学や東京都内の芸術系大学を中心に国際交流担当の役職員27名が参加し、ブリティッシュ・カウンシルの協力のもと、英国における高等教育の動向、2012年に開催されたロンドンオリンピック・パラリンピックの文化プログラム「カルチュラル・オリンピアード」の取組や文化プログラムのレガシーに対する考え方、さらには、2020年東京大会に対する文化プログラムの説明や提案があり、海外を含めた芸術系大学とのネットワーク構築の重要性や2020年東京大会以降を見据えた文化プログラムの継続性等についての意見交換の後、懇親会は大盛況のうちに幕を閉じました。

On April 14, 2016, Tokyo University of the Arts (TUA) received guests from colleges of University of the Arts London (UAL) with which our Faculty of Fine Arts has an exchange agreement. Jeremy Tills (Pro Vice-Chancellor and Head), Mark Dunhill (Dean of Academic Programmes ), and Anne Smith (Dean of Academic Programmes) from Central Saint Martins visited the Ueno campus along with Chris Wainwright, Pro Vice-Chancellor and Head of Camberwell College of Arts, and Edward Venning, Director of Communications and External Affairs at UAL.
In the morning meeting with President Kazuki Sawa of TUA, who took office in April 2016, the guests and TUA participants looked back on the history of exchange relations between UAL and our Faculty of Fine Arts and discussed global strategies for the future. At the end of the meeting, President Sawa offered a surprise gift of live violin performance to the visitors from Britain with Salut d'amour, in E Major Op.12 by Edward Elgar, as a sign of hospitality, which was accompanied on piano by Faculty of Music Dean Akiyoshi Sako.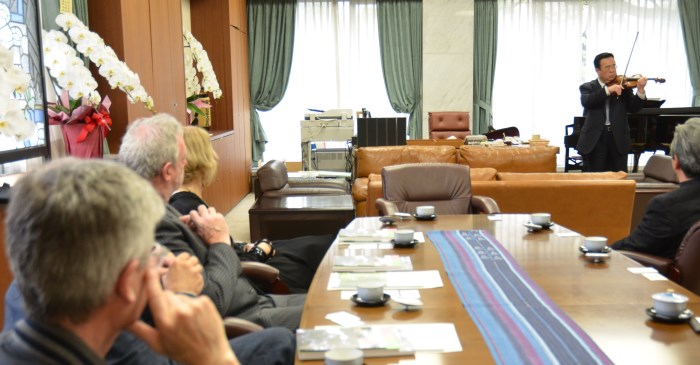 In the afternoon, a group of academic institutions in Japan which have been preparing to establish a consortium of Japanese art universities was invited to have a session with UAL, with the support of the British Council in Japan. 27 representatives in charge of international exchange programs, most of whom are from public art universities in Tokyo and all over Japan, were briefed on the trends in British tertiary education. Also, the experience of the 2012 Cultural Olympiad, a program of cultural events that accompanied the London 2012 Olympic and Paralympic Games, was shared as well as the ideas of the management of the legacy from London. The participants then discussed cultural programs for the 2020 Tokyo Olympic and Paralympic Games and made some proposals for the planned program. The session concluded with a great success having confirmed the importance of networking among art universities in Japan and overseas, and exchanged opinions for the continuity of legacy management beyond the 2020 games.