アン・バリントン駐日アイルランド大使による学長表敬
Irish Ambassador Anne Barrington paid courtesy visit to President Kazuki Sawa
May 19, 2016
2016年5月11日、駐日アイルランド大使館のアン・バリントン大使と、アッシュリン・ブレーデン文化広報担当官が、澤学長を表敬訪問されました。
バリントン大使より澤学長へ、学長就任への祝辞、駐日アイルランド大使館と本学との交流の概況についてのご説明がありました。続いて、2017年には日本とアイルランドが外交関係樹立60周年を迎えることから、現在、新たな協力関係の構築を進めており、藝大とはアイルランドの国民的詩人ウィリアム・バトラー・イェイツの生誕150周年記念展覧会を協力して開催したいとの協力依頼がありました。
世界各国から招いた25人の芸術家がイェイツの詩に触発されて製作した作品を展示する同展覧会は、ダブリンを皮切りに世界各地で巡回開催しているものです。2017年に日本で開催の際には、藝大の協力を得て開催したい。イェイツの詩に触発された学生作品の出展などの協力をお願いしたい、との依頼がありました。
澤学長は、「もし藝大が協力できるということになれば、美術作品だけではなく、音楽とのコラボレーション企画など、広がりのある展覧会になるでしょう。能の影響を受けたイェイツがテーマとなる展覧会を契機として、日本とアイルランドの文化交流がさらに高まることを期待しています。」と、期待を寄せました。
また、本学美術学部(版画)のシュナイダ-准教授、三井田准教授より、同展覧会の開催については既に大使館より関係者に協力依頼を受けており、共催に向けて具体的な準備を進めているとの報告がありました。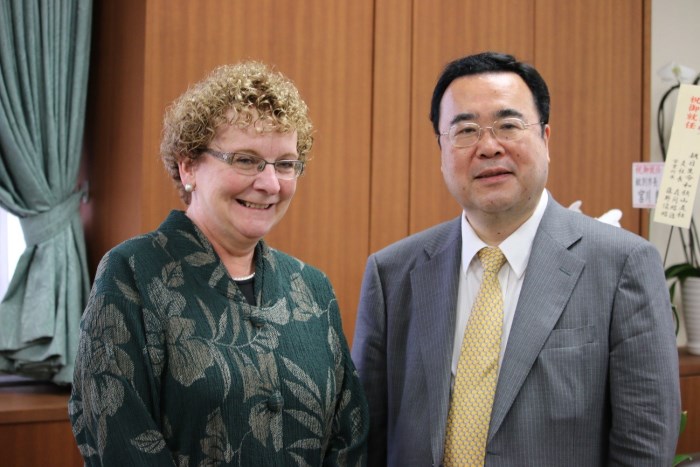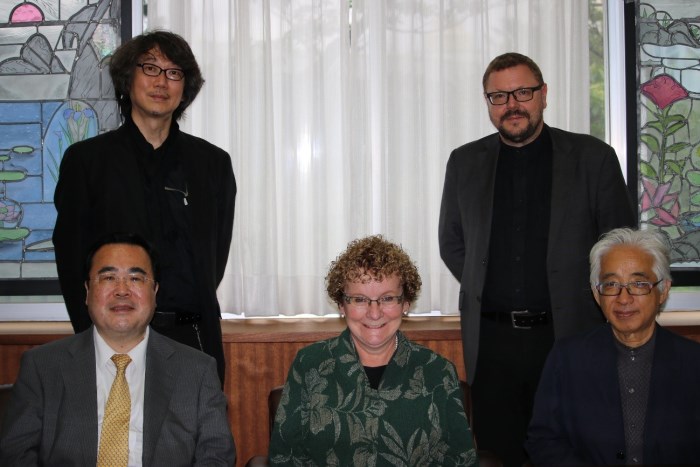 On May 11, 2016, President Sawa received a courtesy call by the Ambassador of Ireland, Ms. Anne Barrington, accompanied by the embassy's Press and Cultural Attaché, Ms. Aisling Braiden.
On arriving, Ambassador Barrington offered her congratulations to President Sawa on his taking office and then briefly explained how the Embassy of Ireland in Japan had established relationships with Tokyo University of the Arts (TUA). Subsequently, Ms. Barrington described that her embassy had been paving ways to establishing further collaborative relationships with Japan for 2017, the 60th anniversary of bilateral relations between Ireland and Japan, and asked TUA for collaboration in an exhibition of the 150th anniversary of the birth of William Butler Yeats currently being planning in Japan.
The exhibition featuring the works of 25 artists from all over the world who were inspired by the great Irish poet was first displayed in Dublin, Ireland in 2015, and is now on a world tour. TUA was asked to provide a venue and a display of works by students created after Yeats' poems for the exhibition to be organized in Japan in 2017.
President Sawa replied that TUA could possibly provide support not only by artwork also through collaborative music programs. He showed expectations that cultural exchanges between the two countries would be further promoted through the proposed exhibition of W.B. Yeats, who was said to be influenced by Japanese Noh performance.
Lastly, Associate Professors Michael Schneider and Seiichiro Miida of the printing department joined the meeting. They reported to the president that their department had been approached by the Irish Embassy and started to take steps for helping the exhibition to be realized at TUA.