学長主催 留学生懇談会2016
Welcome party for international students 2016
May 26, 2016
2016年5月17日(火)、この春から新しく東京藝術大学に入学した留学生を歓迎し、留学生同士および教職員との交流を深めるため、学長主催の留学生懇談会を開催しました。
最初に、本年度より学長に就任された澤和樹学長から留学生へ、今後の東京藝術大学での活躍の期待と日本での生活を応援するあたたかい言葉が述べられました。
次に、本学の留学生を代表して、セルビア出身で日本画を専攻する博士課程の学生が、自身の今までの経験を踏まえて、新入留学生を優しく迎え入れるスピーチをしました。
また、いつも留学生の生活を援助してくださっている財団の方々をご来賓としてお迎えし、留学生を支援する制度等についてご紹介いただきました。
今回の留学生懇談会では、留学生たちが7つの国・地域(イギリス、インド、中国、韓国、ベトナム、台湾、日本)のブースを設けて、それぞれのお茶やお菓子を紹介しました。
参加者は、普段日本では見かけない食べ物や飲み物を味わい、食文化の体験を通して異文化交流を楽しみました。


会の途中で、新入留学生一人ひとりが名前、出身地、藝大での抱負などの自己紹介をし、その後、歓迎の意をこめて、アメリカ出身の音楽文化学を専攻する博士課程の学生が迫力のある三味線の演奏と唄を披露し、会場を魅了しました。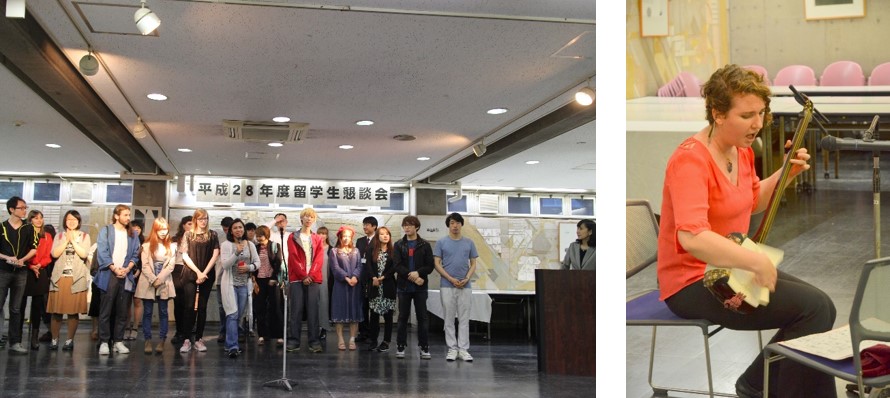 これから新入留学生の皆さんが藝大で充実した活動と生活ができるよう、教職員一同、全力でサポートしていきます。

On May 17, 2016, a welcome party for international students who entered Tokyo University of the Arts in Spring 2016 was held with the aim of fostering closer relationship among them as well as with faculty and staff .
The party began with a welcome speech by President Kazuki Sawa, who took office in April, 2016. The president encouraged new international students warmly, wishing the best for their studies at TUA and life in Japan. Following the president's speech, on behalf of the international student community on campus, a doctoral student in Japanese painting from Serbia offered warm words of welcome, referring to her own experience at TUA.
Among the attendees were guests from organizations providing assistance to international students studying in Japan, who explained their support systems for such students.
Then, international students served tea and refreshments at the booths representing the seven different tea cultures of Britain, India, China, Korea, Vietnam, Taiwan and Japan. The party attendees enjoyed cross-cultural communications through tea and accompanying teatime treats, many of which are not so common in Japan.


As the party went on, the new participating international students introduced themselves with their names, citizenships, and personal goals at TUA, followed by a welcome performance by an American doctoral student in Musicology and Music Studies. Her powerful performance of songs with samisen fascinated everyone at the venue.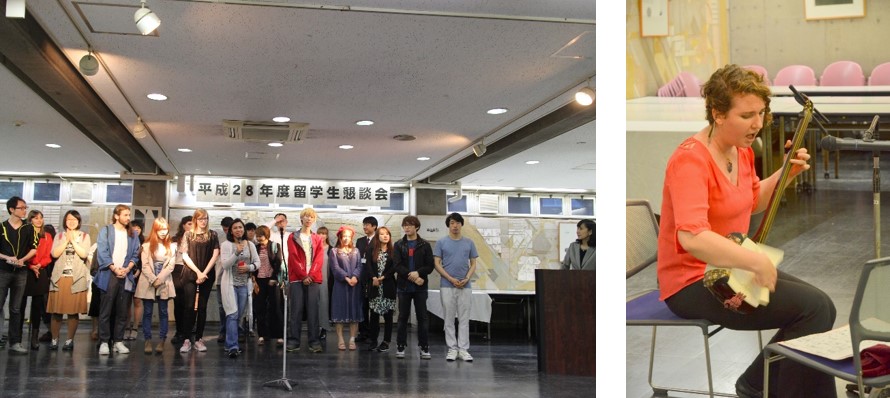 The faculty and staff are all committed to providing support to new international students, so that they will be able to receive the most benefit from their time at TUA.