国際交流会館防災訓練
2016 emergency drill at the International House
June 10, 2016
2016年6月4日(土)、本学の留学生宿舎である国際交流会館にて防災訓練を行いました。この訓練は、国際交流会館の入居者が最長1年で入れ替わることから、毎年1回初夏に、会館所在地を管轄する馬橋消防署の協力を得て実施しているものです。今年は、火事及び地震時の対応と避難経路の確認を中心とした訓練を行いました。
訓練は火事への対応から始まりました。火災発生時の消防署への通報、消火器を用いた初期消火、そして炎が天井まで届いてしまうと最早自力消火は不可能なので、消火を諦めて逃げることなどについて指導を受けた後、消火の実地訓練を行いました。
続いて、起震車を用いて過去実際に起きた大地震の揺れを体験しました。地震のない国から来た留学生にとって、地震とはどういうものかを体験することは、実際に地震が発生した際に、落ち着いて行動するために極めて有意義な経験です。「とても立っていられない」「本当にこんなに揺れるの?」など思い思いの感想を述べながら、全員が起震車を体験しました。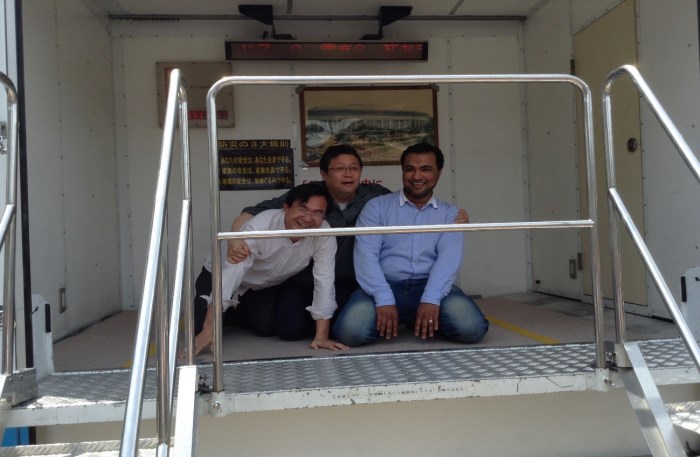 最後に、国際交流会館の避難経路と消火器の配置場所を確認し、非常口からの避難梯子を用いた避難を体験して訓練を終えました。
土曜日の午前中にも関わらず、訓練にお付き合い頂き、ご指導頂きました馬橋消防署の消防士の皆様方に心より御礼申し上げます。御協力頂きありがとうございました。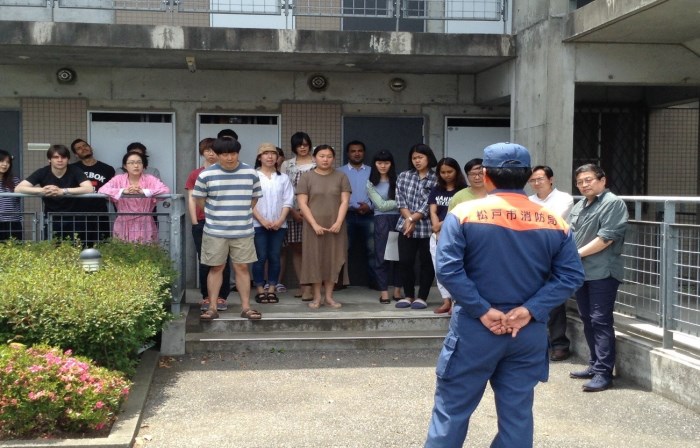 On Jun 4, 2016, an emergency drill was held at the International House, a dormitory where TUA's international students reside. It is an event that is carried out every early summer, in collaboration with the regional Mabashi fire station. This is because residents of the International House are reshuffled in the course of one year.  The drill this year centered on measures to be taken in the event of a fire or earthquake and confirmation of evacuation route.
Firstly, the participants received verbal instructions regarding how to make an emergency call to the Fire Department at the onset of a fire, and firefight at an early stage using a fire extinguisher, as well as when to evacuate, that is, when flames have reached the ceiling and a firefighting operation by oneself is no longer possible.  The participants then engaged themselves in actual firefighting exercises.
Subsequently, the participants got onto an "earthquake simulator truck" to experience the magnitude of a large earthquake that had occurred in the past. It is extremely significant for international students whose native countries have no earthquakes to experience what a real earthquake is like, as it will help them behave calmly without panicking in the event of an actual earthquake. All the participating students experienced the mobile earthquake simulator, leaving individual comments such as "I could hardly stay upright" or "the shaking was so strong, beyond my imagination."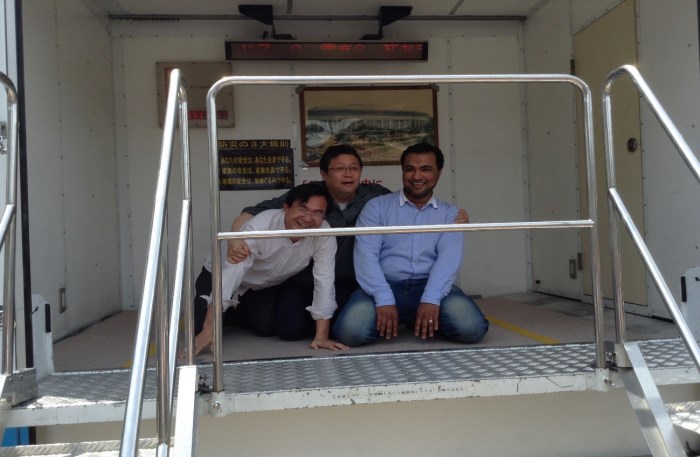 Lastly, the evacuation route and the locations of fire extinguishers at the International House were confirmed, followed by an evacuation exercise using an escape ladder through an emergency exit.
We are most grateful to the firefighters of the Mabashi fire station for providing support and instructions during the drill on Saturday morning.