日本文化体験「漆器でいただく和食文化」
Experiencing Japanese Culture with Japanese Lacquerware
June 17, 2016
2016年6月14日、本学不忍荘にて三田村有純教授を講師に、留学生を対象とした日本文化体験「漆器でいただく和食文化」を開催しました。このイベントでは参加者自身が配膳から片付けまでを行い、日本のテーブルマナーや箸を使用した食事を体験しました。
まず、漆芸の研究者である三田村先生から漆器の取り扱い方や器の並べ方について説明があり、「膳は木目が横になるように置く」など、学生たちは今まで知らなかった和食文化のマナーについて興味津々に聞き入っていました。
次に、先生の説明を交えた実演を見て、各自で盛り付けを行いました。献立には白飯、味噌汁、焼魚、煮物、おひたしといった日本では馴染み深い料理が並びました。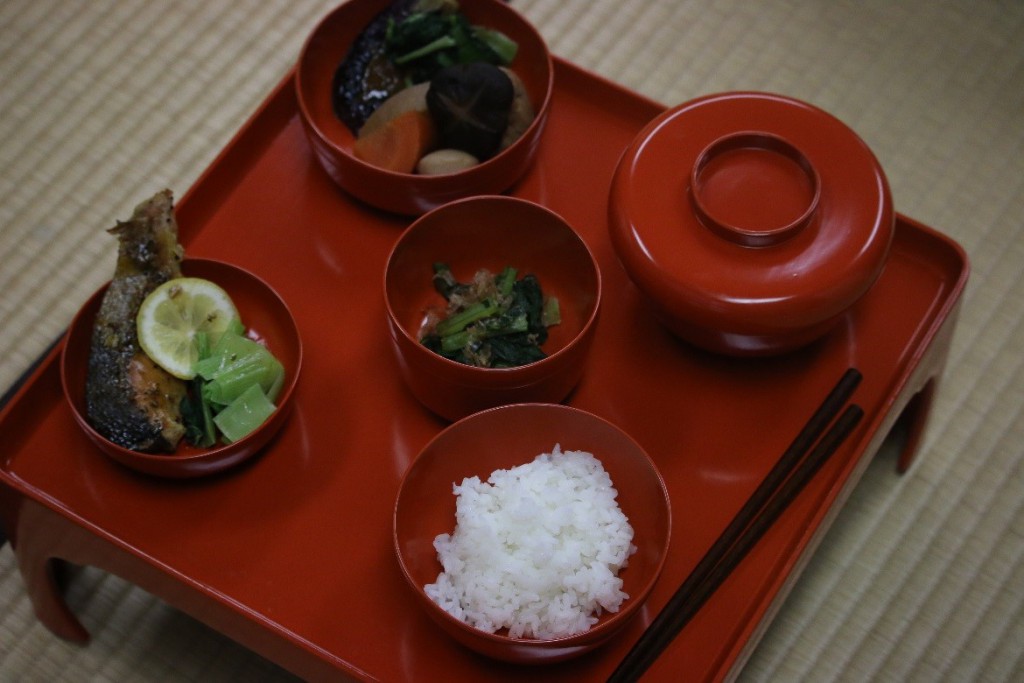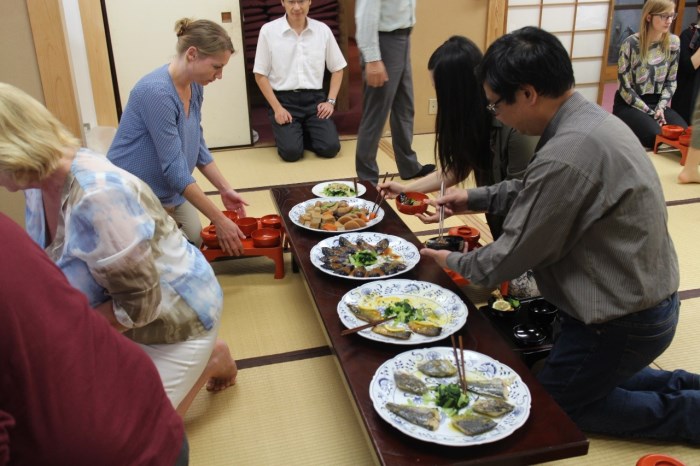 食事前には箸の取り方や器の持ち方についての解説があり、食事中には参加学生全員から自国の食文化やマナーの違いについて発表してもらいました。箸や匙の発音、箸を使う際のタブーなど各国の共通点や相違点で盛り上がりました。また、日本の伝統的な食事作法を紹介する一方で、現代の日本の若者たちが箸を上手く使えていない現状についても触れられました。
「現在、東アジアでは箸を残す運動がある。次回は皆さんの箸文化を知ることで交流をはかりたい」との三田村先生の言葉で食事会は終わりました。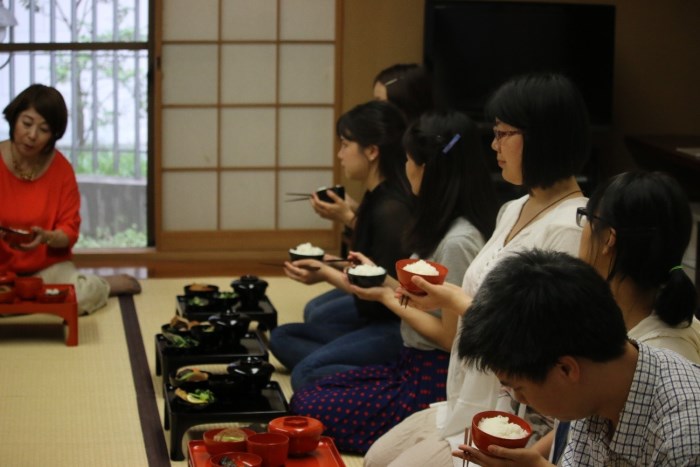 最後に、今日の体験の感想に花を咲かせながら皆で漆器を片付けました。和食文化を体感した感想だけでなく、自国の文化と比較しての違いなどで話は弾み、イベントは盛況のうちに終了しました。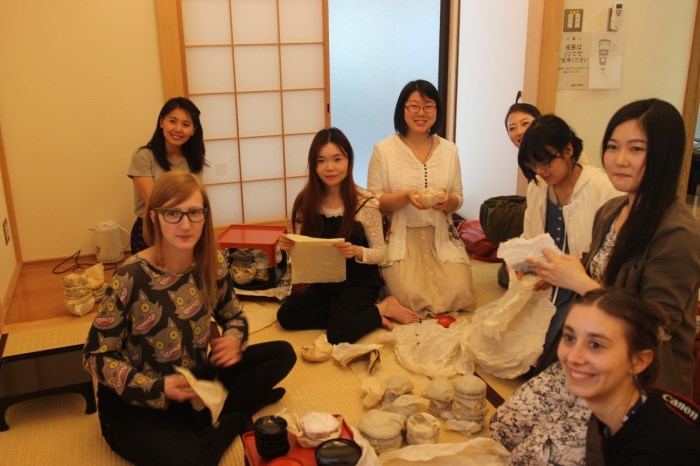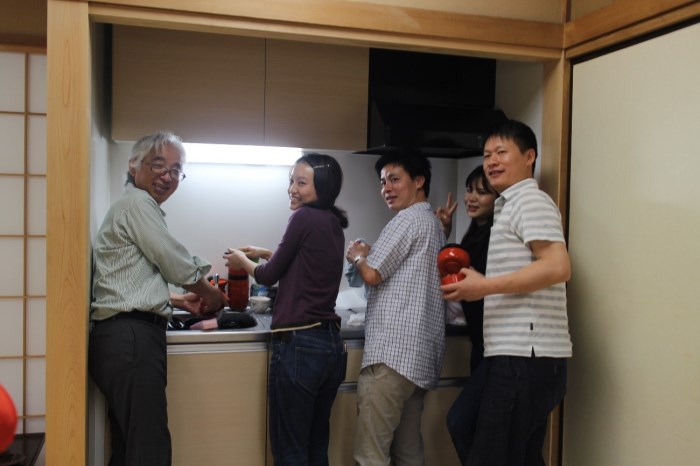 On June 14, 2016, a cultural event for international students were held at the on-campus guesthouse Shinobazuso. At the luncheon event, Professor Arisumi Mitamura of the Faculty of Fine Arts initiated the participating international students to the culture of Japanese cuisine served on lacquerware. The participants experienced a Japanese-style meal, using chopsticks and observing Japanese table manners.  They also took part in the whole process from serving a meal to cleaning used lacquerware.
First, Professor Miramura, who is a specialist of lacquer art explained how to handle lacquerware as well as how to set a table. For example, he told that a zen, which is a low individual tray-table, should be positioned as the wood grain on the tray surface runs horizontal to the user.  The international students were intriguingly listening to the lecture on Japanese table manners which they had not known before.
Following a demonstration by the professor, each participants tried to arrange a tray-table with food. The menu consisted of typical Japanese dishes including steamed plain rice, miso soup, grilled fish, and boiled greens called ohitashi.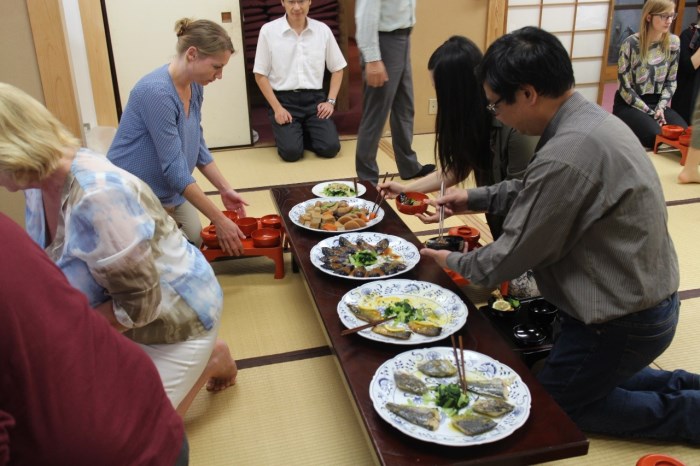 Just before they started eating, the international students had been explained how to use chopsticks as well as how to hold bowls and dishes, and during the meal, all the international participants introduced their own food cultures and table manners that are different from those in Japan. They greatly enjoyed talking about similarities and differences between Japan and their homes as to how to describe chopsticks and spoons in their mother tongues, and what they consider taboos in using chopsticks. The fact that many young Japanese today are unable to use chopsticks properly were also mentioned.
Towards the end of the luncheon, Professor Mitamura made reference to a movement currently being promoted in East Asia to sustain the culinary habit of using chopsticks. He then stated that he would like to have another opportunity to learn about the cultures of chopsticks in the participants' countries for further encouraging international exchanges.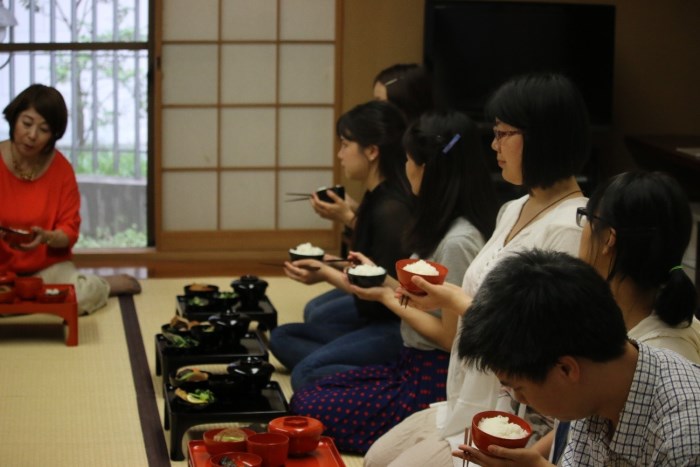 Finally, the participants cleaned the lacquerware, during which they chatted over the cultural experience they just had and made comparisons with their respective cultures. The event ended quite successfully.