日本人学生と留学生の交流授業
A joint class for Japanese and international students
July 08, 2016
2016年6月20日、言語・音声トレーニングセンターの開講科目(英語・日本語)を履修中の日本人学生と留学生合同で、交流授業を行いました。
参加したのは「英語アカデミック・スキル(上級)Ia」(磯部美和准教授担当)の受講者18名と、「日本語入門」「日本語初級」「日本語中級」(石田恵里子特任講師担当)に参加している留学生8名です。それぞれの授業での学習成果を発表し、日本人学生に対しては留学生から英語で、留学生に対しては日本人学生から日本語または英語で質問・コメントしてもらうことにより、実践的な会話練習を行うことを目的としました。そのため、数週間前から当日に向けて、それぞれのクラスで発表の準備を行いました。
当日はまず、いくつかのグループに分かれて自己紹介をし、いろいろ話しながら知り合っていきました。最初はやや緊張していたようでしたが、すぐにうちとけていきました。日本人・留学生どちらにとっても貴重な出会いの機会となりました。
つぎに、留学生が一人ずつ日本語で出身国や出身の都市について紹介しました。写真を見せながら、名所や名物の食べ物などを紹介し、「皆さんも、ぜひわたしの国へ来てください!」と語りかけました。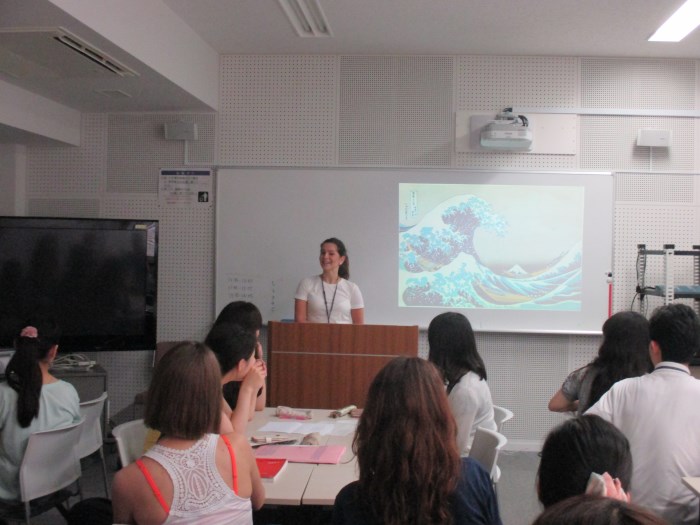 その後、日本人学生が数名ずつのグループで「ピアノ専攻の紹介(入試システムやレッスン、専門科目について)」「藝祭」「藝大周辺のおすすめスポット」といったテーマで英語による発表を行いました。
留学生にとってはふだん同じキャンパスにいても知ることができない芸大生の日常を垣間見ることができ、とても興味深く聞いていました。建築専攻の学生は名所の建物について質問していました。また参加者の多くが半年の滞在である交換留学生だったため、おすすすめ観光スポットを教えてもらい喜んでいました。
日本人学生からは「外国人と話すと緊張してしまうが、今回の授業で少し緩和された」「留学生が日本語をがんばって話しているのを見て、とても刺激になった」といった感想が出ました。
留学生からは「日本人と知り合うチャンスになり楽しかった」「藝祭の前に帰国してしまうが、雰囲気が分かってよかった」という声が聞かれました。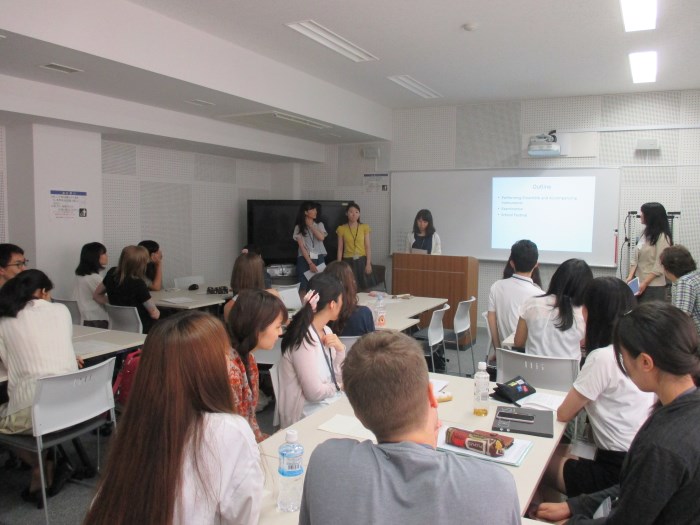 ふだんはそれぞれ専門の勉強で忙しい毎日ですが、外へ目を向け互いの理解を深める機会になりました。今後も回を重ね、日本人学生と留学生それぞれが学んでいる外国語を実践的に使用しながら、交流の輪も広げられるような機会にしていければと思います。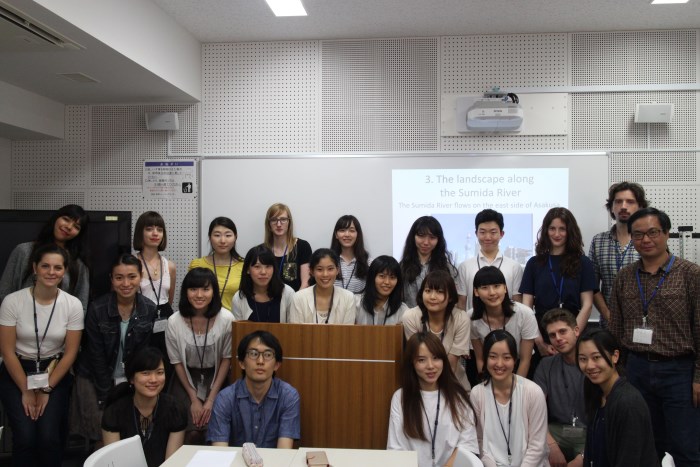 On June 20, 2016, a joint class was held for international students and Japanese students who are taking courses of English and Japanese respectively at the TUA's Training Center for Foreign Languages and Dictation.
The participants included 18 students taking the advanced academic English skills class instructed by Associate Professor Miwa Isobe, as well as 8 international students from the beginner, elementary, and intermediate Japanese language classes instructed all by Project Lecturer Eriko Ishida. The students made presentations on what they had learnt from their regular classes, for which they had prepared over the past few weeks. As the class aimed to have the participants engage in a practical conversation, international students asked Japanese students questions in English, and Japanese students asked questions or made comments either in Japanese or English.
On the day, the class began with self-introduction in groups for the students to get familiarized with one another. The participants looked nervous in the beginning, but soon they made friends. It became a valuable experience to know each other for both local and international students.
Then, the international students took turns to talk about where they are originally from, showing pictures and introducing the famous tourist spots and foods to eat. "Please visit my homeland!" They appealed to the audience.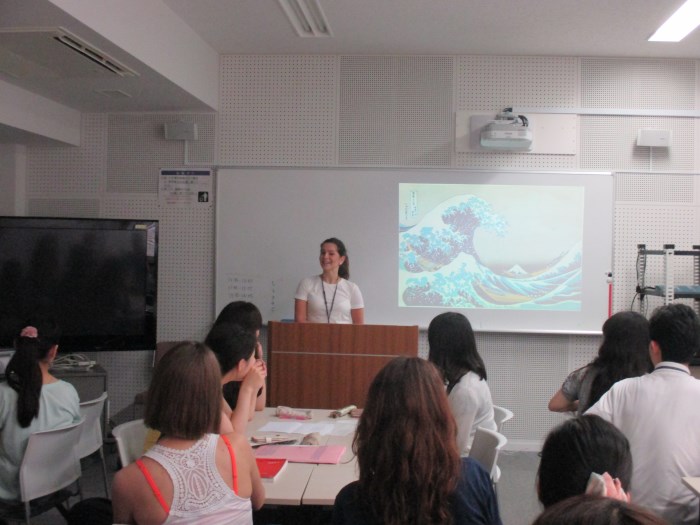 Later, the Japanese students formed some groups to made presentations in English on topics such as introducing the piano department with a focus on the examination system, lessons and specialized subjects, and the Geisai campus festival, as well as places recommended around the university.
The international students enjoyed the presentations by their Japanese counterparts, as they were able to learn a bit of the local students' daily activities, which are usually hard to know even though the students all study on the same campus. An international student of architecture raised a question about famous buildings, and the majority of the participants who were on a short-term exchange program were happy to know about the tourist spots recommended by the local students.
The Japanese participants provided feedback such as "I usually get nervous when I speak to a foreigner, but the tendency was less apparent during the class," "I was very much encouraged by the studious attitude of the international students."
Also, some international students mentioned " Thanks to the class, I was able to meet local students" and "Unfortunately, I have to go back before Geisai but it was good to know about the feeling of the campus festival".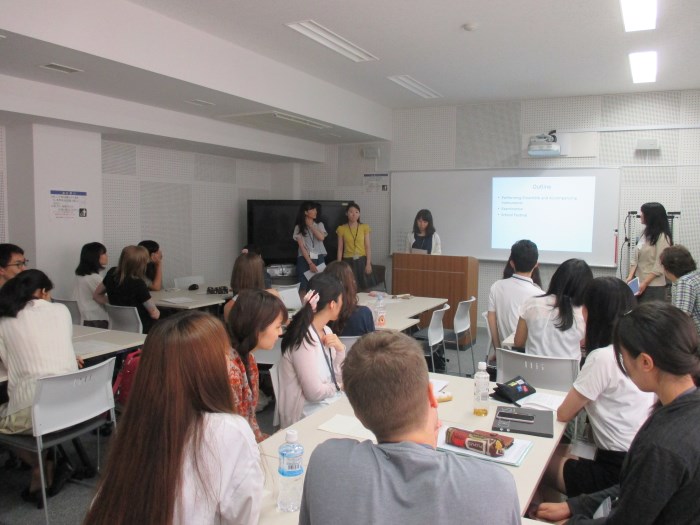 The participants are usually busy with their own study fields but the joint class became a good opportunity for them to see beyond their daily lives and also deepen mutual understanding. The university will continue to offer such opportunities where both local and international students can practice foreign languages they are learning while enjoying socializing with one another.