英国湖⽔地⽅⾳楽祭・講習会への参加
Participation in Lake District Summer Music International Festival and Academy
July 22, 2016
基本情報
研修者:音楽学部器楽科、大学院音楽研究科器楽専攻修士課程学生 計10 名
研修先:英国(アンブルサイド)
研修期間:2015年8月2日~2015年8月15日
※この研修は、平成27年度「海外派遣奨学金制度」のご支援により行われました。
海外研修の成果
平成27年8月3日(月)に英国のマンチェスター空港より、バスにて講習会のメイン会場である湖水地方アンブルサイド近郊Brathay Hallに 到着しました。翌日から個人レッスン、室内楽コーチング、弦楽合奏のリハーサルが開始されました。教授陣は、英国王立音楽院や北部王立音楽院の教授、ベルリンのクス弦楽四重奏団、イタリアのパルマ三重奏団、イギリスのフリス・ピアノ四重奏団など国際的に活躍する室内楽奏者たちで、日中は、レッスンやリハーサルに励み、夕食後は毎晩行われる演奏会を鑑賞しました。
藝大からの学生たちは、全員、特待生として講習料が免除されているため、演奏会の際のチケットもぎりや、会場案内の手伝いを交代で行う事を義務づけられました。講習会後半には、講師からの推薦により、受講生コンサー卜にも出演しました。藝大生たちは、極めて評価も高く、10名全員が選出されて公開演奏会に出演しました。特に大学院生によるカルテット・アルパは、30年の歴史があるこの音楽祭・講習会に参加した多くの若手弦楽四重奏の中でも特筆すべき団体であると、音楽監督のレナ・ケラウェイ女史や、多くの講師陣からも高く評価されました。また、最終日のガラコンサートでは、藝大生10名を含む選抜メンバーによる弦楽合奏がトリをつとめ、シベリウス及び、英国のベンジャミン・ブリテンの曲を演奏し、大きな盛り上がりのうちに終了しました。
藝大生の演奏能力の高さやリハーサルに臨むときの集中力、規律正しさなどは、ヨーロッパ各地や、アジア、ニュージーランド等からの受講生たちの聞でも話題にのぼり、「日本の東京藝大で学びたい」という相談が随行した教員に寄せられました。
参加学生たちは、当初は、言葉の問題や環境への不慣れな面もあり、日本人同士で固まる傾向もありましたが、次第に慣れるにつれ、イギリスや外国の学生たちとも、室内楽や合奏を通じて、また食事や、パブでの交流を通じて打ち解け、自信と国際感覚を身につけている実感を得た事は、本事業の大きな成果として挙げられます。
参加学生のコメント
・西洋音楽を学びながら実際にヨーロッパの空気を吸ってこられたこと、そして日本で勉強するうちに狭くなりつつあった自分の視野が少し広がりました。
・技術だけを追い求めるのではなく、自分が表現したいと考えていることを聞き手に伝えることがどれだけ大切であるかを痛感しました。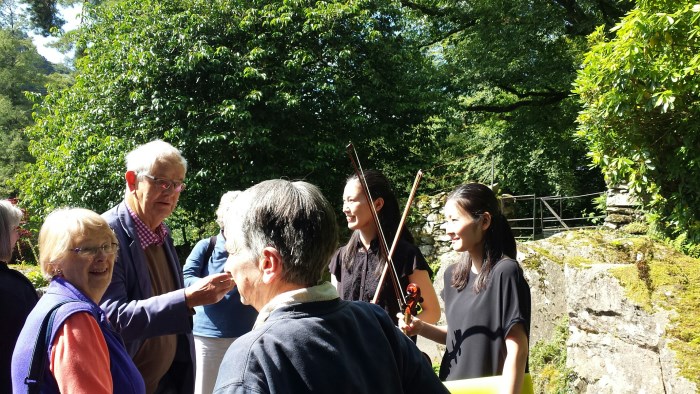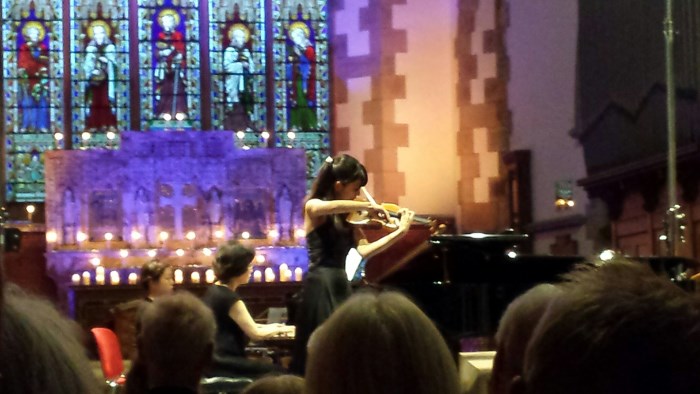 Basic Information
Participants:10 instrument music students (both at the graduate and undergraduate levels)
Location:Ambleside in Cumbria, England
Period:August 2 – 15, 2015
Achievements
On August 3, 2015, the participants from Tokyo University of the Arts (TUA) arrived in the Lake District via the Manchester Airport, from where they took bus to Brathay Hall near Ambleside, the main venue of the Lake District Summer Music's International Summer Music Academy. The course consisting of individual lessons and sessions of chamber music coaching and string ensemble rehearsal began on the following day. Faculty members of the Royal Academy of Music and the Royal Northern College of Music served as their tutors, joined by world-class chamber music artists such as the Berlin-based Kuss Quartet, Trio di Parma from Italy, and the English group, Frith Piano Quartet. During the daytime, the participating students engaged themselves in their respective lessons and rehearsals. After dinner, they attended evening concerts that were held every night.
The students from TUA were all exempt from the course fees, and they had to take turns to serve as a ticket collector and usher. They were given the opportunity to perform at the LDSM Academy Artists concerts in the latter half of the course on the recommendation of their tutors. In fact, the TUA students were regarded so highly that all of them were selected to perform at the public concerts featuring summer academy students. Particularly, the Quartet Arpa, the group consisting of the participating graduate students from TUA, received high acclaim from the tutors, along with the festival's founder and Artistic Director Renna Kellaway MBE, who noted that the group was one of the most impressive ones among those emerging string quartets that had ever attended in the thirty-year history of the Lake District Summer Music. In the gala concert held on the last day, the string ensemble made up of selected members, including the 10 students from TUA, had the honor of closing the festival by performing works by Sibelius and British composer Benjamin Britten. The festival ended with a great success.
Other participating students, who came from Europe and Asia, as well as countries like New Zealand, talked about TUA students' high-level performing skills and ability to concentrate and maintain discipline during a rehearsal. Some students even expressed interest in studying at TUA to an accompanying faculty member from TUA.
Because of the language barrier and unfamiliar surroundings, the TUA students initially tended to gather with other Japanese students. As they got used to the new environment, however, they seemed to be enjoying themselves, while playing chamber music with local and fellow international students, and interacting with them at a mealtime or at a pub. It is a great achievement that the students cultivated confidence and international experience through this program.