トルコ共和国 フセイン・ツナ ユヌス・エムレ インスティトゥート所長の来学
A visit by the director of the Yunus Emre Turkish Cultural Center in Tokyo
July 29, 2016
2016年7月19日(火)、トルコ共和国のユヌス・エムレインスティトゥート(トルコ文化センター:以下、「センター」)のフセイン・ツナ東京所長と伊藤真恵専門官が、本学との具体的な交流計画について協議をするために来訪されました。
※「ユヌス・エムレ インスティトゥート」はトルコの言語や文化を紹介するトルコ政府の公的機関で、世界45カ国に展開しています。
ツナ所長より、新任のご挨拶とセンター概要の説明に続いて、音楽分野を皮切りとする、本学との連携事業実施の希望が述べられ、具体的な提案がありました。
今年度、東京センターでは、特に、「音楽」「舞踊」「料理」の3分野に力を入れて文化事業を実施する計画であり、愛好者層の拡大に留まらない、専門家の養成を視野に入れた活動に取り組んでおられますが、このうち、音楽分野については、本学との連携事業として実施したいとのご提案でした。具体的には、トルコの民俗楽器をトルコから取り寄せてセンターに整備した上で、トルコから一流の民俗音楽奏者を講師として招聘して開設する講座や特別講演等を、本学の音楽学部の学生を主対象として、本学で開設したいとのご提案でした。
ツナ所長は、「トルコの楽器にはヴァイオリンや琴、尺八等の楽器と良く似た楽器が数多く存在します。歴史的にも深い繋がりがあると思われるこれらの民族楽器を、日本や西洋の似た楽器を専攻する藝大の学生が、一流の専門家に体系的に習えば、短期間のうちに上達するでしょう。藝大で専門的に学んでいる楽器との比較考察にも役立ち視野が広がるでしょうし、これらの楽器によるコンサートの開催などを通じて、センターと藝大、トルコと日本とのより深い交流が期待できます」と今後の交流へ期待を力強く語られました。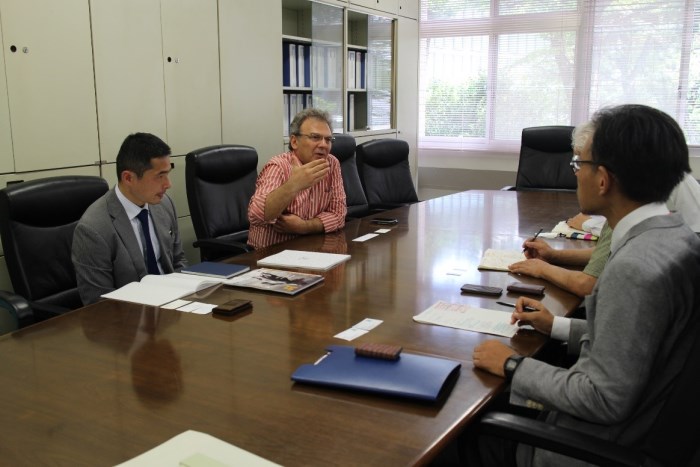 このご提案を受けて、本学の国際交流を担当する三田村有純学長特命は、「一流演奏家による、高いレベルの文化交流として大変素晴らしい企画です。本学に学ぶ学生達にとっても大変価値あるご提案を頂き感謝します。まずは民族音楽の分野から交流を始めるとのことですが、本学には、陶磁器やガラスなど多くの美術分野を専攻する学生もいます。今後さらに、全学に向けて交流が深化することを希望します」と述べました。
また、民族音楽の研究家である植村幸生音楽学部教授は、「大変ありがたいお話です。次年度からの本格に実施に向けて、今年度中に詳細事項の調整やプレ事業の実施などの準備を進めていきましょう」と応じました。
懇談終了後、ツナ所長一行は植村教授の案内により、民族楽器等の資料が多数保存されている小泉文夫記念資料室と能舞台のある第4ホールを視察されました。小泉文夫記念資料室では琴に似たトルコの楽器「カーヌーン」など、懇談中の話題に上った楽器を目にし、これまでの本学とトルコとの繋がりを再確認するとともに、今後の協力関係の深化を約して、本学を後にされました。
On Tuesday, July 19, 2016, TUA received two guests from the Yunus Emre Institute, the Turkish cultural center of the Republic of Turkey. Director Hüseyin Tuna and Mr. Masayoshi Ito visited the Ueno campus to discuss a plan for specific cultural programs.
※Yunus Emre Institute is the cultural and language organization of the Turkish government that is operated in 45 countries worldwide.
The meeting started with a greeting and a brief explanation of the cultural center by the newly appointed director. The director then expressed interest for future collaboration with TUA starting in the field of music and proposed a detailed program.
In the current fiscal year, the Yunus Emre Institute in Tokyo plans to implement various cultural programs focusing on music, dance and cuisine. These programs are not only intended to increase fans of the Turkish culture, but also to train specialists of these fields. TUA was asked to be engaged in the music programs. His proposal was that Turkish traditional musical instruments would be collected and tuned at the Turkish cultural center in Tokyo, and players of such instruments would also be invited from Turkey to offer lessons and special lectures at TUA for the students of the faculty of music.
According to Director Tuna, Turkey has a number of musical instruments which are quite similar to violin, koto or shakuhachi. If TUA's students who specialize in such Japanese or European musical instruments systematically learn from the top performers how to play Turkish musical instruments which are considered to be closely-linked traditionally to those Japanese and European instruments, they will surely make progress in a short period of time. He said expectantly that the students would be able to compare their specialty instruments with the Turkish counterparts, which would contribute to broadening their views. He also said that a deeper exchange of culture would be promoted through concerts of such Turkish musical instruments between the Yunus Emre Institute and TUA as well as between Turkey and Japan.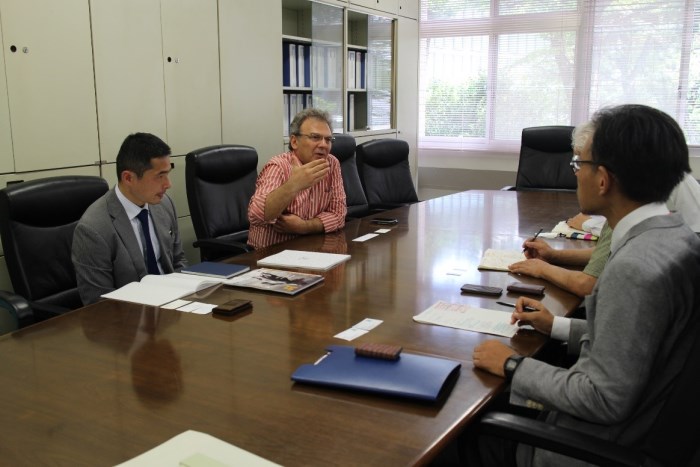 Professor Arisumi Mitamura in charge of international exchange replied that TUA appreciated the offer as it was excellent in a sense that it would create a superior cultural exchange program by first-rate musicians, which is also highly beneficial for our students. Professor Mitamura then said while the two parties would collaborate in the field of music, TUA would like to expand the scope of exchange to other fields in the future, as the university has fine art students too, such as pottery or glass working.
Professor Yukio Uemura, who is a specialist of ethnomusicology, also appreciated the offer. "Let's discuss details and implement some pre-programs during the current fiscal year so that we could launch a full-scale project in the next fiscal year."
After the talk session, the guests were guided by Professor Uemura through the Koizumi Fumio Memorial Archives where many archives including ethnic musical instruments are kept, and the No.4 Hall, which has a Noh theater. At the Archives, the group found one of the classical Turkish instruments called Kanun, about which they talked earlier.  Having reconfirming the past relationship between TUA and Turkey, the Turkish guests assured that they would further deepen collaboration with TUA.