Experience Japan Exhibition 2016への参加
Participation in the Experience Japan Exhibition 2016
December 02, 2016
東京藝術大学は、11月19日(土)にロンドンで開催された慶應義塾大学主催・ブリティッシュ・カウンシル共催の日本留学フェア、Experience Japan Exhibition 2016に参加しました。本学音楽研究科博士課程(邦楽囃子専攻)の卒業生で現在ロンドンに留学中の麻生花帆さんも本学のブース出展に加わり、経験者の視点も交えて日本留学希望者への情報提供を行いました。
直前の参加登録者数が900名を越えた本イベントには、主にイギリス国内から、高校生とその保護者、大学生、大学院生の他に、すでにアーティストや芸術団体等職員で専門分野の研究のために留学を目指す社会人、大学の留学支援担当職員など、実に多様な人たちが集まりました。本学のブースにも100名以上が立ち寄り、各自がそれぞれの関心分野や受験資格等について熱心に質問していました。
特に、日本独特の芸術文化への関心の表れか、美術・映像分野に多くの相談が寄せられました。中でも映像研究科の人気が高く、学位取得プログラムがあると知って興奮する様子の学生がいる一方で、大学院のみと知って戸惑いを見せる学生がいたのが印象的でした。
約6時間にわたって行われた本学のブース展示には、終了時間間際まで相談に来る学生が途絶えることがほとんどなく、用意した資料が足りなくなるほどの盛況ぶりでした。
今回のイベントを通じて、イギリスでも日本と同様に、海外留学が選択肢の一つとして検討されることが珍しいことではないということ、また同時に、本学が芸術分野に特化した高等教育機関であることは本学の個性であり強みであるということを再認識することができました。
東京藝術大学では、海外からの受験志願者増加に対応するため、引き続き入試制度や受け入れ体制の整備を進めていきます。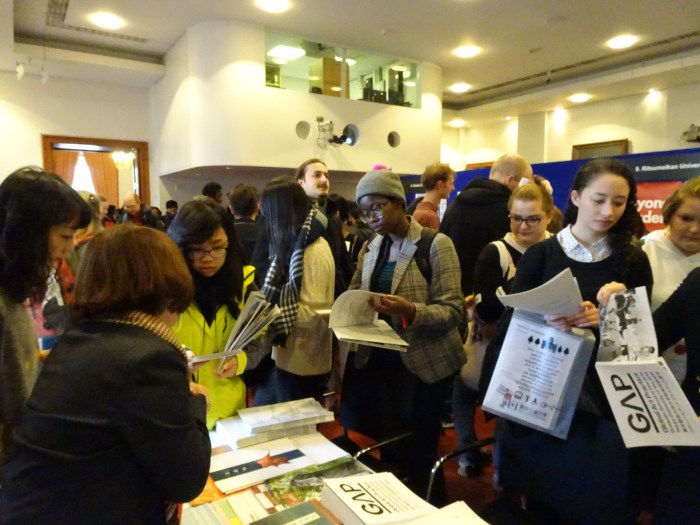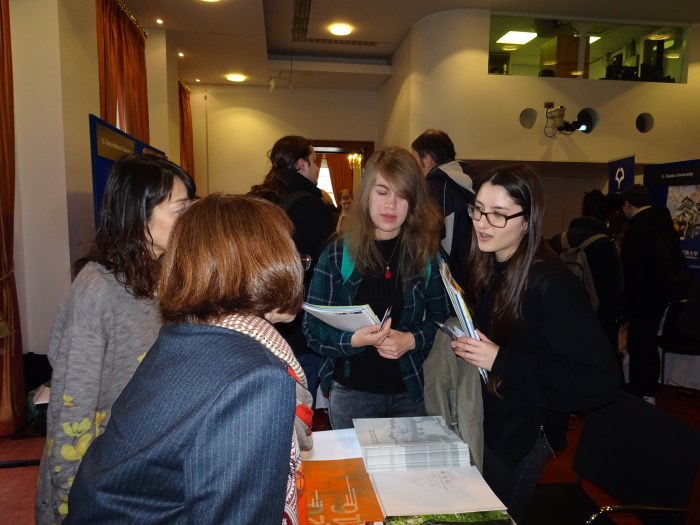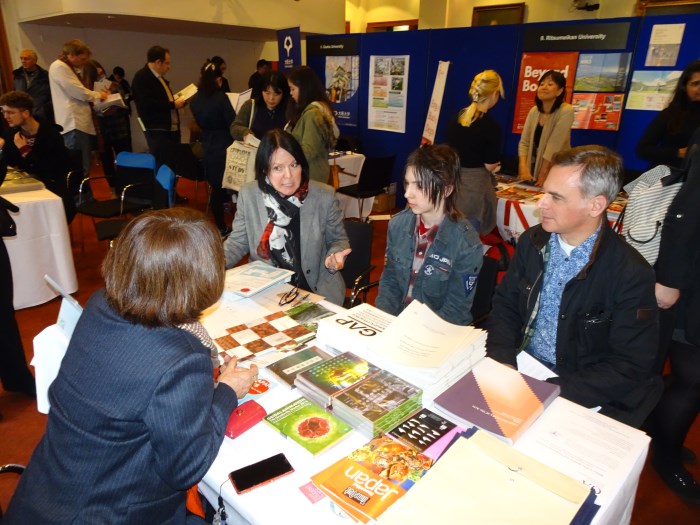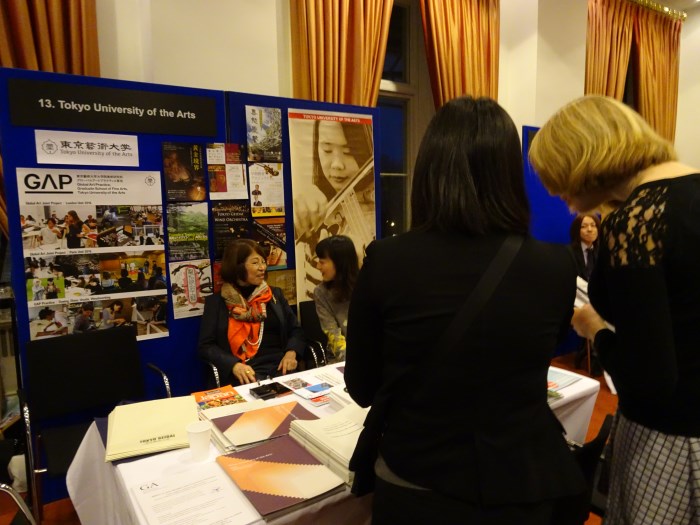 Tokyo University of the Arts participated in the Experience Japan Exhibition 2016 that took place in London on November 19. It is an event hosted annually since 2011 by Keio University, along with the British Council as a co-host, to introduce the various opportunities to study, conduct research, and work in Japan. With the help of a TUA alumni Dr. Kaho Aso, who received her doctoral degree in Hogaku Hayashi (a form of traditional Japanese music) from the Graduate School of Music and is currently based in London to receive training as an actor, the TUA representatives provided information and hands-on advice to those who visited the university's booth.
The event, for which reportedly more than 900 people had registered in advance, brought together college, university, and secondary school students and their parents, as well as university staff and people in other occupations, including artists, who were looking to study in Japan for their professional and personal development. An estimate of more than 100 visitors stopped by the TUA booth, eagerly asking questions about their fields of interest, application requirements, etc.
Fine Arts and Film and New Media, among other programs at TUA, were the two fields that visitors most frequently asked about at the booth, which may be an indication of the popularity of Japanese culture and art these days. The Graduate School of Film and New Media, in particular, seemed to be the biggest attraction for many visitors. In fact, some students showed excitement after finding out about the degree programs offered at the school, while some others seemed disappointed by the reality that no undergraduate programs are available.
The TUA booth kept receiving visitors until the very end of this six-hour event. It turned out to be very successful, as can be seen from the fact that some of the materials brought from Japan, such as the university and course brochures, run out before the closure of the exhibition.
The success of this event is an illustration that, just like in Japan, studying abroad is no longer considered something special, but rather a common option for many British students. It also confirms that TUA's specialization in the arts is a unique feature of the university and its advantage at the same time.
To respond to these circumstances, TUA intends to continue its effort to enhance institutional infrastructure and improve admission procedures for accepting more international students.