日本文化体験2016「茶の湯と日本文化」
Experiencing Japanese Culture2016 – Chanoyu and Japanese Culture
January 10, 2017
平成28年12月21日、東京都文京区にある武者小路千家の官休庵東京出張所稽古場で本学の留学生向けイベント「茶の湯と日本文化」が開催され、11の国・地域からの留学生23名と教職員3名が参加しました。
最初に、稽古場スタッフの案内で稽古場庭園を見学しました。スタッフから「茶室の庭には花の咲かない常緑樹を厳選して植え、庭園を構成する石も建具もシンプルなものを使用している。更に伝統的な茶室では意図的に日光が入り難い構造で作られており、昼間でも薄暗い状態を保っている。これらは全て、客人が落ち着いてお茶に集中できるように配慮し、お茶を楽しんで貰うため」等の説明を受けました。
留学生一同は、スタッフの説明を聞きながら、庭園を散策し見慣れない狭い茶室に上がってお茶室を見学しました。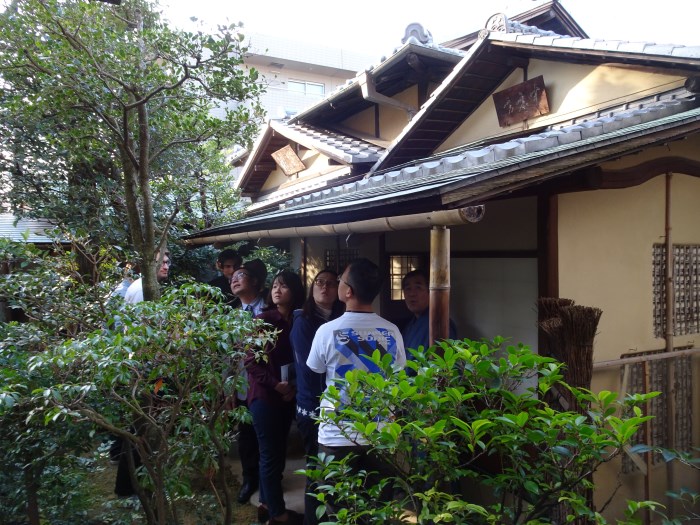 庭園の見学後、稽古場であるお茶室に招かれ、いよいよ茶の湯の体験です。今年も稽古場の茶室には、一年変わりなく終えたことを表す「無事」と書かれた掛け軸が掲げられ、その前で武者小路千家のスタッフによる茶の湯の作法が披露されました。
留学生は、正座に挑戦し足のしびれに困惑しながらも、お茶とお茶菓子のおもてなしを受け、茶室の雰囲気を楽しんでいました。

最後に、第14代家元 不徹斎 千宗主さまより、お茶のルーツ、東洋・西洋におけるお茶の楽しみ方の違いなどをお話いただいた後、それぞれ制作時期や国の異なるお茶碗をご紹介いただきました。
それぞれの茶碗の制作時期や、特徴について教えていただき、留学生たちは、実際にお茶碗を手に取って触れ、違いを確かめました。

短い時間でしたが、普段は触れることができない日本の文化を通して、留学生の日本に対する理解が深まったことと思います。
ご多忙の中、ご協力いただきました官休庵のみなさまには、深く感謝いたします。
On December 21, 2016, an event"Chanoyu (the Japanese Way of Tea) and Japanese culture" was held for international students of Tokyo University of the Arts. The cultural event took place at the Kankyuan Tokyo Brunch of Mushakouji Senke in Bunkyo, Tokyo, where 23 international students accompanied by 3 university staff members enjoyed a traditional Japanese tea ceremony.
The group of participants first visited the garden with a facility staff member, who explained to them that the garden of a tea-ceremony house is planted with non-flowering evergreens, and uses plain, simple rocks and fittings that constitute the garden. He also added that a traditional Japanese tea-ceremony house is built intentionally to avoid sunlight for keeping the inside shaded even during the day so that the guests can calmly concentrate on and enjoy the tea. While listening to the explanation, the international students toured the garden and entered a small tea-ceremony house that looked unfamiliar to them.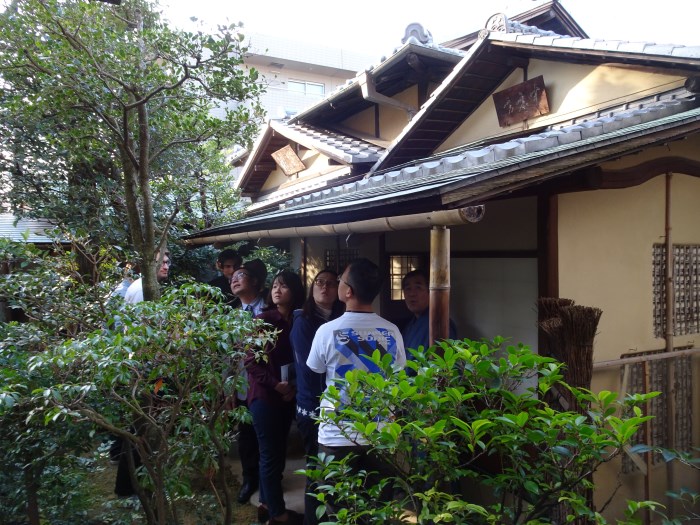 The group was then invited to the tea-ceremony room where a tea ceremony, the highlight of the visit, would be held. The hanging scroll of "Buji" calligraphy greeted them just like the previous year. In front of the calligraphy that represents a well and sound state at the year end, the tea ceremony was conducted by a Mushakoji Senke tea master.
The international students tried to sit upright, which numbed their feet, and enjoyed tea and small sweets as well as the atmosphere of the ceremony.
Following the tea ceremony, the 14th Head Master Futessai Mushakouji Sen Soshu offered a talk on the roots of tea and different ways of enjoying tea in Asia and Europe. He showed different tea bowls of different ages and origins and explained their features and times of creation. The international students were given a chance to hold them to see the differences.
Through this short but unusual experience of Japanese culture, the participating students expanded their knowledge about Japan.
We would like to extend our gratitude to the people at Kankyuan for their time and support.