日本人学生と留学生の交流授業2
The 2016 Semester 2 Joint Class for Japanese and International Students
January 16, 2017
2016年12月5日と12日、言語・音声トレーニングセンター開講の「英語アカデミック・スキル(上級)Ⅱa」(磯部美和准教授担当)の日本人学生と、日本語クラス(石田恵里子特任講師担当)を履修している留学生との交流授業が行われました。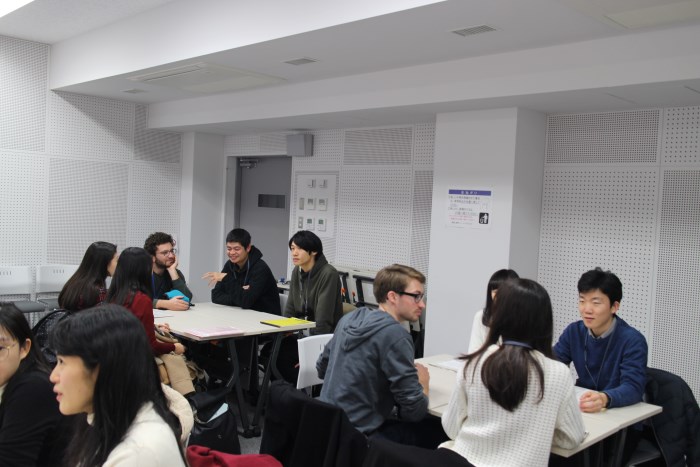 まずグループに分かれ、英語と日本語を交えながら会話を楽しんだあと、留学生が日本語で出身国・出身都市を紹介するスピーチをしました。名所や名物の食べ物などについて説明し、日本人学生・留学生参加者からの質問に答えました。日本人学生からは「ぜひ行ってみたいです!」というコメントが出ていました。
次に、日本人学生による英語でのプレゼンテーションが行われました。「和食」や「着物」、「書店のブックカバー」、「子供だけでの留守番や登校・おつかい」といった広義の日本文化について、学生独自の視点からの考察が述べられました。留学生にとっては、さまざまな疑問について日本人学生に直接質問できる貴重な機会となりました。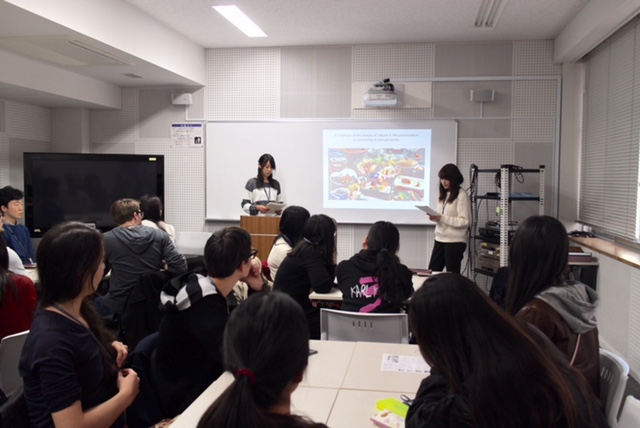 ディスカッションに熱が入り、時間はあっという間に過ぎました。この出会いをきっかけに、授業外でも交流が広がっていくことを願います。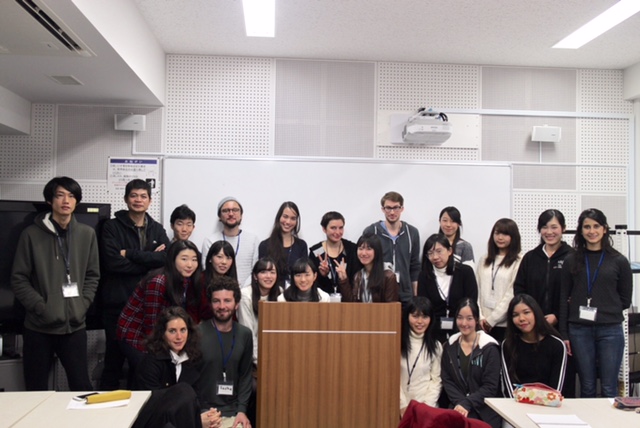 On December 5 and 12, 2016, a joint class was held for Japanese and international students. The participants were Japanese students from the TUA's Training Center for Foreign Languages and Dictation, who attended either Advanced English Academic WritingⅡa instructed by Associate Professor Miwa Isobe, and international students from a Japanese language class by Project Lecturer Eriko Ishida.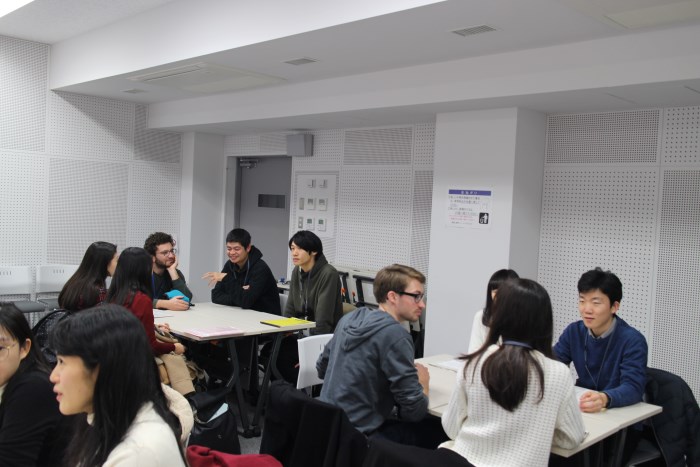 The students formed mixed groups to enjoy conversations in English and Japanese. In the former half of the class, the international students made speeches in Japanese on their home countries and cities, tourist spots and local dishes. Many Japanese students asked questions and commented that they wanted to visit the places introduced by their international counterparts.
In the latter half of the class, the Japanese students made presentations in English. They talked about and made comments from their own unique perspectives on various topics related to Japanese culture in a broad sense such as washoku (Japanese cuisine), kimono (Japanese traditional dress), and the jacket that is offered for free to wrap the book purchased at a book store as well as children staying at home alone, going to school or shopping without an accompanying adult. The class gave the international students the valuable opportunity to ask questions directly to Japanese students.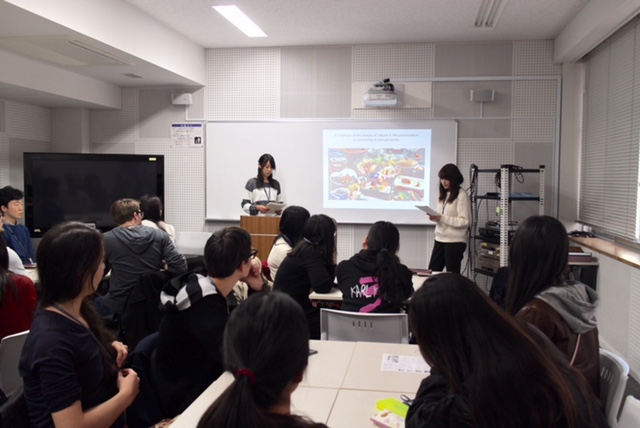 The students were actively engaged in discussion and the time flashed so quickly. We hope that this joint class encouraged the participating students to expand the wave of exchange beyond the class room.