福島正則駐サンクトペテルブルク総領事の訪問
Visit by Mr. Masanori Fukushima, the Consul General in St. Petersburg
February 20, 2017
2月8日(水)、レーピン名称サンクトペテルブルク国立絵画・彫刻・建築アカデミー(通称:芸術アカデミー)ミハイロスキー学長よりの交流希望を携えて、福島正則駐サンクトペテルブルク総領事が本学を訪問されました。
福島総領事より、芸術アカデミーの組織紹介に続いて、同アカデミーは日本の大学との組織的交流の実績がなく、藝大との交流開始を切に希望しているとの説明があり、同アカデミーから託された2点の交流計画が示されました。
(1)東京藝術大学との交流希望
-まずは、同アカデミーグラフィック学科学生作品の本学での展覧会開催
(2)サンクトペテルブルク国際文化フォーラムへの招待
これに対して、三田村有純学長特命、須永剛司美術学部国際交流委員長より「具体的な、素晴らしいお話をお届け頂きありがとうございました。藝大は130周年を迎え、新たな交流先の開拓を進めています。今回は良い切っ掛けです。大学全体としては大賛成です。今後、美術学部として対応を検討の上、正式に回答させて頂きます。」とお答えしました。
音楽学部音楽創造・研究センター中田朱美助教からは、同助教が中心となって進めているASAP事業「アントレプレヌール支援」の一環として実施したサンクトペテルブルクでの演奏会開催に対して総領事館から頂いた各種御支援への御礼の言葉がありました。
最後に、福島総領事より「東京藝術大学の積極的な姿勢に感謝します。本日頂いたお言葉は芸術アカデミーに必ずお伝えします。サンクトペテルブルク総領事館としても本件の進捗に向けてできる限りの協力をします」との力強いお言葉を頂きました。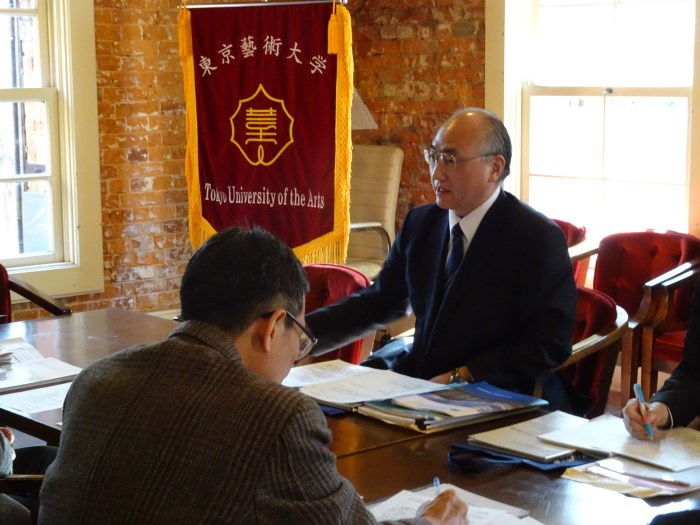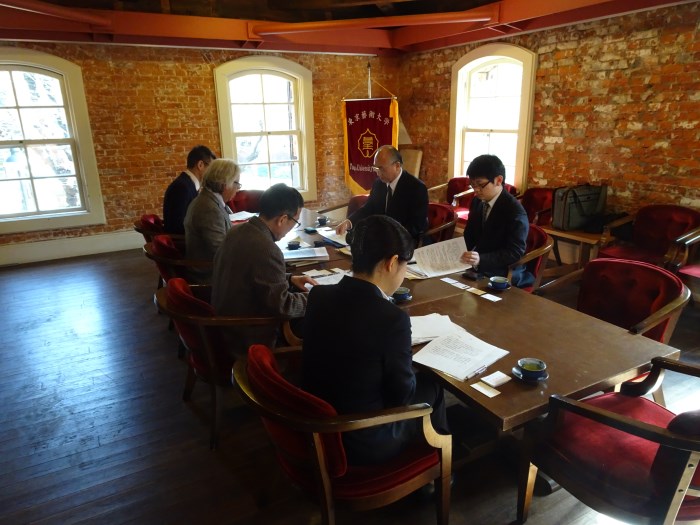 On Wednesday, February 8, 2017, Mr. Masanori Fukushima, who is the Consul General of Japan in St. Petersburg, Russian Federation, visited Tokyo University of the Arts (TUA) to convey a request by Director Vladimir Mogilevtsev of the St. Petersburg Institute for Painting, Sculpture and Architecture, informally known as the Academy of Arts, that the academy was wishing to establish a formal partnership with TUA.
Following an introduction of the Academy of Arts, Consul General Fukushima explained that the Russian arts academy had a strong desire to start an exchange with TUA, as it didn't have an organizational relationship with a Japanese university. The Academy of Arts had prepared the following proposal;
(1)Proposed partnership program with TUA
-Holding an art exhibition by graphic art students of the Academy of Arts at TUA as the first step
(2)Invitation to the Saint Petersburg International Cultural Forum
Professor Arisumi Mitamura, TUA's Executive Assistant to the President, and Professor Takeshi Sunaga, the head of the international exchange committee at TUA's faculty of fine arts, responded by saying that TUA was very grateful to receive such a specific, wonderful proposal and that the university as a whole would welcome the offer, taking it as a good opportunity to start collaboration with a new partner, as TUA, that marked its130th anniversary in 2017, was seeking new global partnership opportunities. They added that the faculty of fine arts would formally consider the proposal and reply to the Academy of Arts.
Assistant Professor Akemi Nakata of TUA 's Center for Musical Creativity and Advanced Research expressed words of appreciation to the Consul General for the support provided by his office during the concert in Saint Petersburg, which was held as part of the project she has been leading to promote career development for TUA's music students.
At the end of the meeting, Consul General Fukushima thanked for TUA's positive attitude towards the proposal, which he said would surely be communicated to the Russian institution. He assured that the Consulate General in Saint Petersburg would provide as much support as it could for the advancement of the possible collaboration between the two institutions.