韓国芸術総合学校との交流演奏会
Participation in a collaborative concert with Korea National University of Arts
April 26, 2017
基本情報
研修者:大学院音楽研究科 器楽専攻、音楽学部 器楽科 学生
研修先:韓国(ソウル)
研修期間:2016年6月15日~2016年6月17日
海外研修の成果
本事業は、近年国際的に目覚ましい活躍が見られる、韓国の音楽学生と交流し、その活気と熱意を韓国最高とされる音楽教育機関で直に感じ取り、自身の勉強・研究に役立てること、また、同じ東アジアに生活する若い音楽家同士の交流・親睦を深めることを目的として、学生と教員2名が韓国に渡航し、韓国芸術綜合学校との交流演奏会を行いました。
6月15日は、各自のリハーサルや翌日のスケジュール打ち合わせを行いました。
6月16日は、交流演奏会が19時半開演でKNUAホールにて行われ、双方の学生の熱演が繰り広げられ、観客から盛大な拍手が送られました。演奏後は、ホールロビーで簡単な懇親会が行われ、双方の学生、教員との交流を行いました。
6月17日は、交流演奏会の成果についての話し合い、演奏についての講評、次回の交流演奏会についての計画について打ち合わせを行い、滞りなくすべてが終了し、大変有意義で刺激の多い国際交流が実現できました。
参加学生のコメント
・現地の学生の音楽に対する熱意は、おそらく私たち日本人学生よりも強く、そこは私たちが見習わなければならないポイントのように思いました。
・韓国芸術綜合学校の学生さんたちのエネルギッシュさ、延いてはある種のハングリー精神のようなものも強く感じました。
・同じアジアの国でも韓国語の印象は日本語と異なり、能動的で勢いを感じます普段から感情豊かに話す韓国人だからこそ、聴き手の感情をゆさぶるような情熱的な演奏が自然にできるのかもしれない、などと考えさせられました。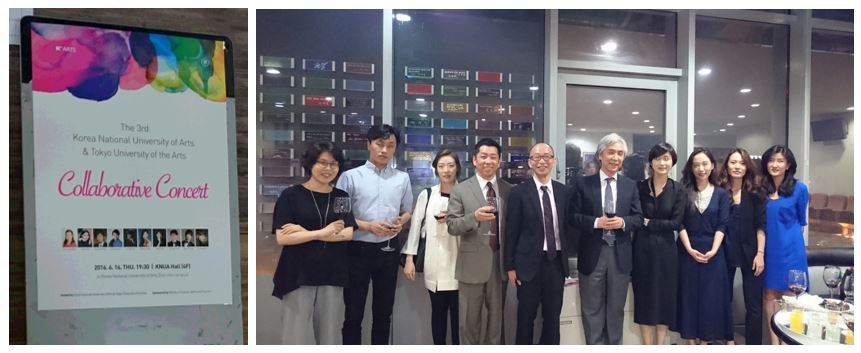 Basic Information
Participants:Bachelor and Master's students in instrumental music
Location:Seoul, Republic of Korea
Period:June 15-17, 2016
Achievements
Through this project, the participating students accompanied by two faculty members aimed to have contact and socialize with young musicians living in South Korea, one of our neighbors in East Asia. South Korean student musicians have been particularly active on the global stage in recent years. The TUA group visited Korea National University of Arts (K-Arts), which is said to be the most prestigious institution for music education in the country, to hold a collaborative concert with K-Arts students, during which they aimed to directly feel the vibrancy and energy of the Korean institution, thereby utilizing the experience in their own studies and research.
On the first day, they held individual rehearsals and also a meeting to discuss the schedule for the next day. On June 16, they performed at the collaborative concert starting 7.30 p.m. at the KNUHA Hall, where they and their Korean co-performers received loud applause from the audience for the great performances.
After the concert, a casual social gathering was held at the hall lobby, where students and faculty members of both institutions enjoyed conversation. On the following day, they reflected on the concert performances and the outcomes, and also talked about a next collaborative concert. Everything went smoothly, and an inspirational exchange of high significance was achieved.
Participants' comments
l  The Korean students seemed to have stronger motivation for music than we do, which we should learn from them, I thought.
l  I strongly felt the energy, or a sort of appetite and desire from K-Arts students.
l  Although South Korea is also an Asian country like Japan, the Korean language felt quite different form Japanese; It felt active and powerful, which made me consider that Korean performers' naturally passionate performance could be attributed to their emotionally rich way of daily communication.