音楽学部 海外からの先生方 01:ショルンスハイム教授(ミュンヘン音楽演劇大学)
Guests from Overseas to the Faculty of Music 01: Christine Schornsheim
May 26, 2017
氏名・所属・招聘期間
氏名:クリスティーネ・ショルンスハイム(Christine Schornsheim)
所属:ミュンヘン音楽演劇大学教授/フォルテピアノ
招聘期間:2017年4月7日~14日
略歴
ミュンヘン音楽演劇大学教授で教鞭を取る傍ら、ヨーロッパにおける数々の音楽祭でチェンバロ、フォルテピアノ奏者として、またコンクールの審査員として積極的に活動している。
1992年以来、数多くのチェンバロコンクールの審査員を務める。
1994年 ペーター・シュライヤーのリートをハンマーフリューゲルで伴奏。
2003年 アンサンブル「ミュンヘンの室内楽」のメンバー
ソリストとして、通奏低音奏者としての録音が数多くあるうちの受賞したものを以下に挙げる。
【1999年】3つのチェンバロ協奏曲(C.P.E.Bach, W. Fr. Bach, J.Chr.Bach) (カプリッチョレーベル)により、エコー・クラシック賞を受賞・
【2005年】歴史的な様々な鍵盤楽器5台を使ったハイドンピアノ曲全集(カプリッチョ/WDR)により、ドイツレコード批評賞、ディアパソン・ドール賞、エコークラシック賞、クラシック・ピリオド賞を受賞。
【2007年】W.A.モーツァルトの作品を、1777年のシュタイン作の対面式フリューゲルでアンドレアス・シュタイアーと共演、録音(ハルモニア・ムンディ・フランス)、ドイツ・レコード批評賞、ディアパソン・ドール賞ならびにエコー・クラシック賞を受賞。
藝大の教員として
2017年度最初の招聘教授、クリスティーネ・ショルンスハイム先生が4月7日~14日に来日し、古楽科にてレッスンを行いました。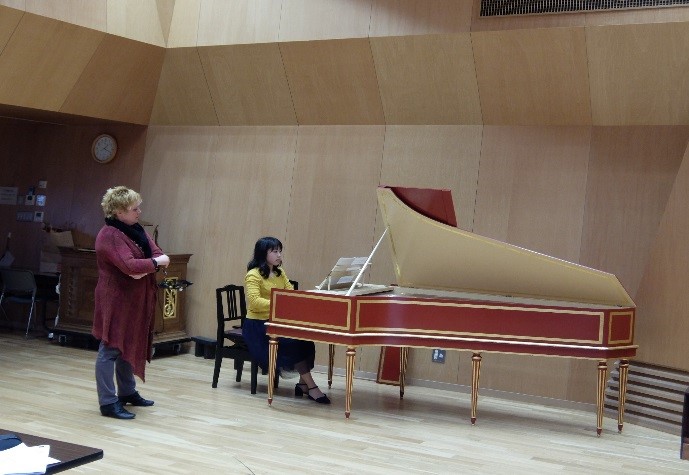 4月7日~14日 チェンバロ、フォルテピアノのソロ・レッスン(学部生、大学院生、別科生対象)
4月14日(午前) 古楽特殊研究Ⅰの授業として、バロック声楽またはバロック・ヴァイオリンを伴う小編成のアンサンブル・レッスン(大学院生対象)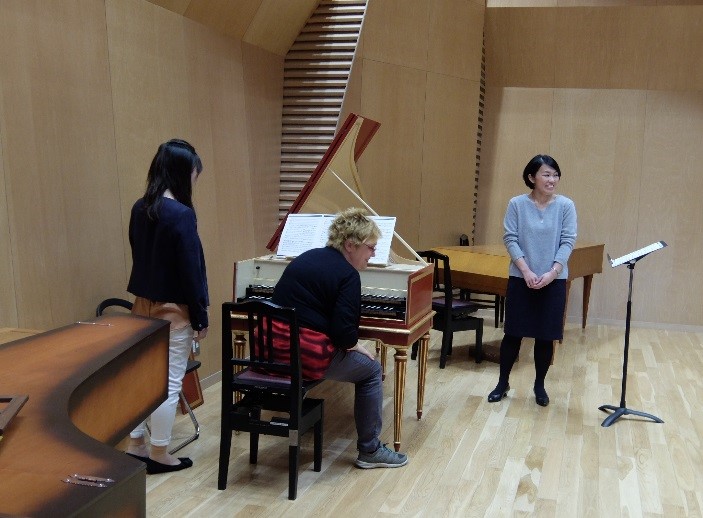 個人レッスンは期間中に、一人あたり1時間弱のレッスンが2回行われ、各学生にきめ細やかな指導がなされました。ドイツ語が持つ言葉の響きに着目した事で、演奏に変化を実感したチェンバロ専攻・大学院生の感想を紹介します。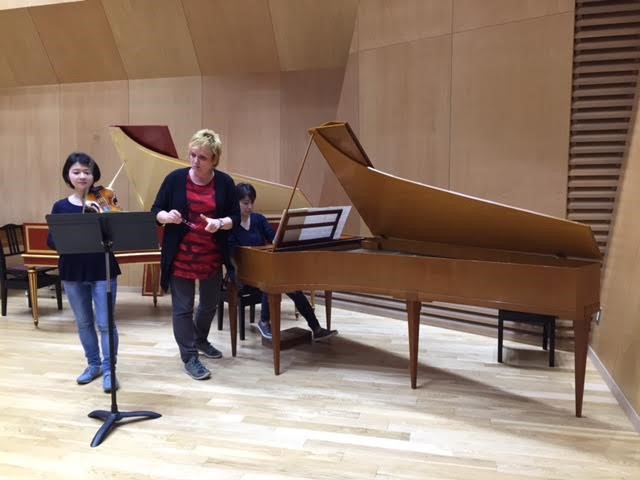 「ショルンスハイム先生は〈説得力のない〉演奏をする私に対し、『いつどんな時でもドイツ語の響きを思い出してごらん。《花》をあらわす単語は"Blume"という風に発音も柔らかく優しいし、《戦争》をあらわす"Krieg"はこんなにも強くて汚いでしょう?』とおっしゃいました。単語による響きの差、単語内での強弱の差、母音の深みの差…それらは私が想像していた〈差〉の何倍もありました。〈差〉を意識してみると不思議といつもより深い演奏になり、『演奏にもこの〈差〉があるかないかで説得力が変わるの』とニコニコされていたのが印象的でした。」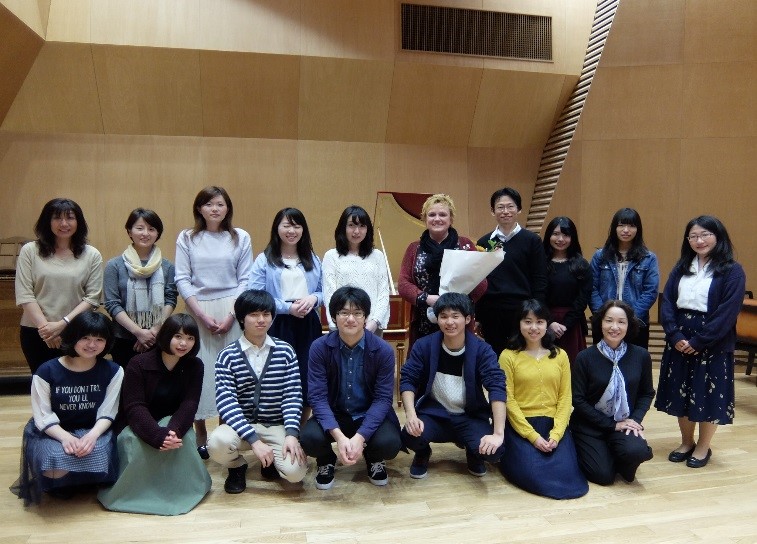 初日はショルンスハイム先生のお誕生日でした。
About Professor Christine Schornsheim
Prof. Schornsheim is a professor of fortepiano at the University of Music and Performing Arts (Munich Hochschule für Musik) in Munich, Germany.
She was invited to teach at TUA between April 7 – 14, 2017
While teaching at the University of Music and Performing Arts in Munich, Prof. Schornsheim have appeared at major music festivals across Europe as a player of cembalo (harpsichord) and fortepiano, which include an accompaniment on the fortepiano for Peter Schreier in 1994. Prof. Schornsheim has also served as a jury member at numerous competitions since 1992. She became a member of the Münchner Cammer-Music ensemble in 2003.
Awarded recordings as a soloist and a basso continuo player
The Echo Klassik award for the recording of three cembalo concertos by C. P. E. Bach, W. Fr. Bach and J. Chr. Bach released on the Capriccio record label (1999)
Several prestigious awards including the awards of Preis der Deutschen Schallplattenkritik, Echo Klassik, and the Diapason d'or for the recording of the complete piano works of Haydn performed on the five historical keyboard instruments, released by the Capriccio/WDR (2005)
Preis der Deutschen Schallplattenkritik, Echo Klassik, and the Diapason d'or for the recording of W. A. Mozart works with Andreas Staier on a 1777 Andreas Stein instrument that combines cembalo and fortepiano, released on the Harmonia Mundi France record label (2007)
Special lessons offered as a visiting professor of Geidai (TUA)
As the first guest to the Faculty of Music in the academic year of 2017, Prof. Schornsheim taught at TUA from April 7 to April 14, 2017. During her stay, she conducted some master classes for students of the Early Music course in the Department of Instrument Music.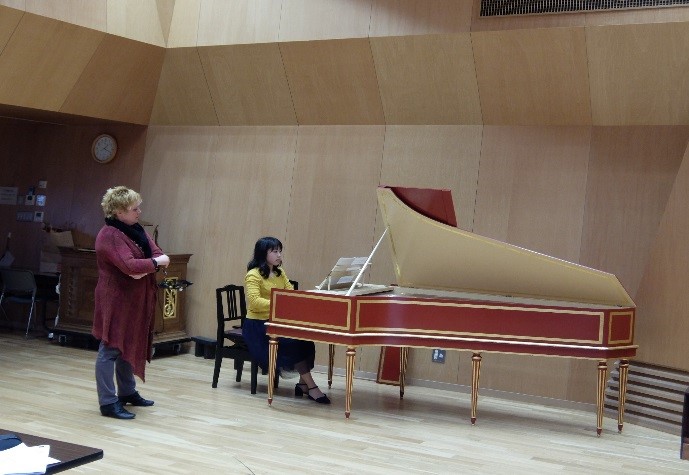 Solo lessons of cembalo and fortepiano were also offered to undergraduate and graduate students as well as students in the Practical Music Course.
In addition, in the morning of April 14, an ensemble lesson was offered for graduate students of baroque vocal and baroque violin as part of the Special Studies on the Early Music I class.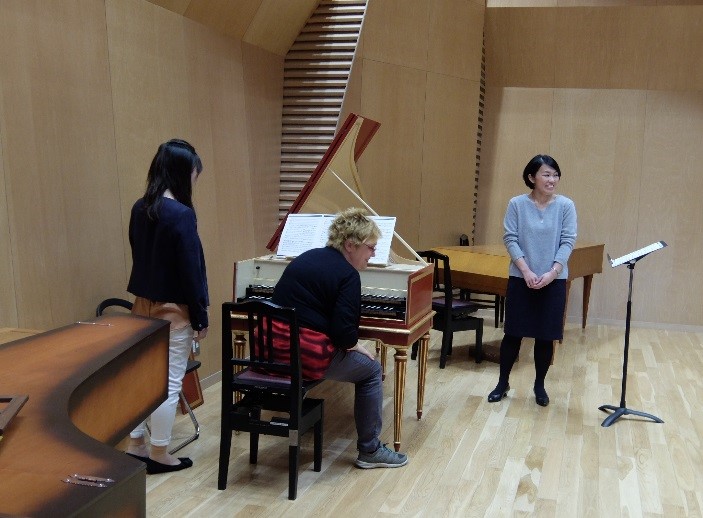 Each student received two solo lessons that exactly corresponded to his or her needs. Following is the comment of a graduate student in cembalo, who felt changes in her performance after attending the solo lessons.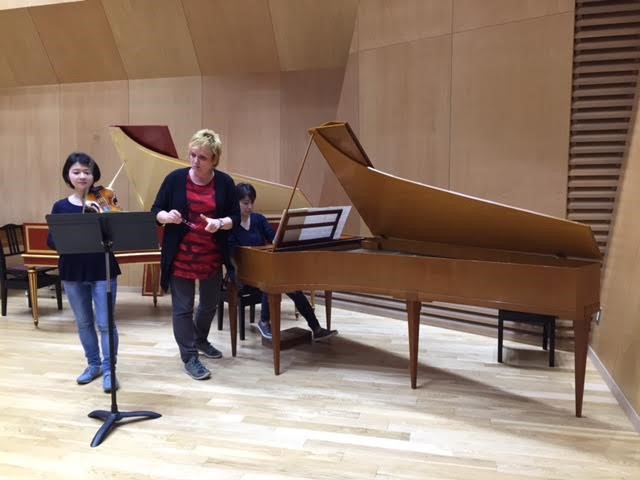 "Prof. Schornsheim told me that I should always remember the original sound of each German word. She said 'the sound of Blume, which means flower in German, is always soft and mild. In contrast, Krieg, or war, sounds so strong and dirty, doesn't it?' I was completely amazed to realize how different the sounds were; the difference of each sound, the difference of the stressed and non-stressed syllables, and the difference of the depth that each vowel has. The difference was more distinctive that I thought it would be. These findings gave my performance a certain depth. She said with a smile 'Understanding of the differences will make your performance more convincing.'"

The first day of the master classes was Prof. Schornsheim's birthday.
Like or Share the report