三國G 2016日韓東洋画交流展 -Spaceless-
Spaceless: A collaborative exhibition in South Korea
June 20, 2017
基本情報
研修者:大学院美術研究科日本画専攻 修士過程学生および卒業生 計16名
研修先:韓国(ソウル)
研修期間:2016年10月2日~6日
海外研修の成果
東京藝術大学、シュトゥットガルト美術アカデミー、ソウル大学の三カ国の大学の教員・学生が、ソウル大学に作品を持ち寄り、三國G Spacelessと題した交流展を開催しました。
東アジアの伝統的な絵画様式がテーマである本展示の第4回展のテーマは、「掛軸」とその可能性でした。今回の展示では、展示形態や作品において、多様な表現や解釈がなされており、学生・教員ともに大きく刺激を受けました。このことは、同時に各々の制作を見つめ直すことにも繋がり、少なからぬ収穫を得たと思います。
展示のレセプションやシンポジウムでは、通訳が入りましたが、コミュニケーションの手段としては、主に英語が使用されました。制作者間での交流では、表面的なコミュニケーションに終始した感も否めず、程度の差はあれ、多くの教員、学生が語学の必要性を再認識しました。
今回の海外での展示は、参加者の視野を広げるものであり、日本に限らず海外で活躍できる芸術家を育む実践的な展示の機会となりました。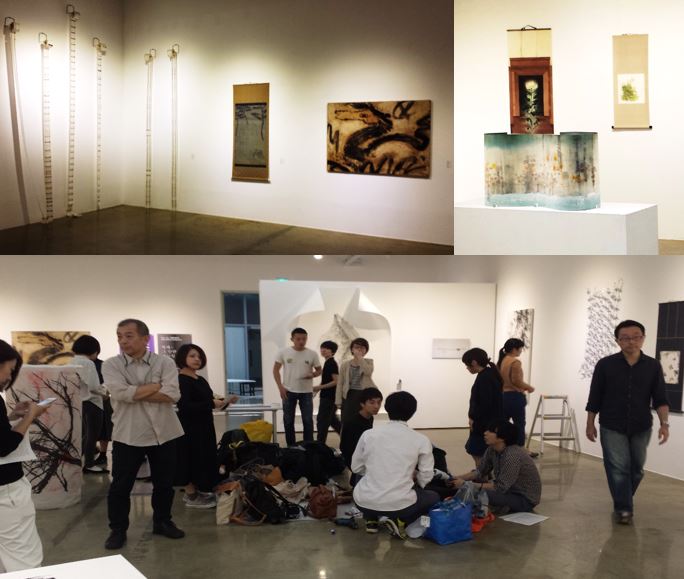 Basic Information
Participants:16 current and former graduate students in Japanese painting
Location:Seoul, Republic of Korea
Period:October 2-6, 2016
Achievements
Students and faculty members of the three universities, Tokyo University of the Arts(Japan), State Academy of Visual Arts Stuttgart(Germany), and Seoul University(South Korea) came together at Seoul University to exhibit their works in the collaborative exhibition titled "Spaceless."
This is the forth exhibition of the international collaborative project that is focused on the traditional paintings in East Asia. This year, the exhibition featured Japanese kakejiku, or hanging scroll, as well as the possibilities of this traditional display method. Both the students and faculty members from TUA were greatly inspired by the exhibition, where the works and their display presented a variety of expressions and interpretations. At the same time, this led them to reflect on their own artistic activities, thereby allowing them to obtain numerous benefits.
Interpreting services were available during the exhibition and reception but the language of communication was primarily English. More or less, the TUA participants reconfirmed that they needed to improve their English as they learned that their communication stayed superficial due to their limited language skills.
This exhibition overseas has surely contributed to broadening the participants' perspectives while serving as a practical opportunity to nurture artists who can succeed both in Japan and abroad.