スーパーグローバルハイスクール(SGH):第8回グローバルキャリア講演会
Super Global High School (SGH): The 8th SGH Global Career Lecture Meeting
December 13, 2017
グローバルサポートセンターでは、豊富な国際経験をもつスタッフが、海外留学を目指す学生を総合的に支援しています。今回は、高大連携授業の一環として、スーパーグローバルハイスクール採択校である音楽学部附属音楽高等学校(通称:藝高)にて、留学についての講演を行ないました。
以下に、藝高からのレポートを掲載します。
第8回SGHグローバルキャリア講演会
11月9日(木)13時より、本校201ホールにて、第8回SGHグローバルキャリア講演会を実施しました。
今回は、東京藝術大学グローバルサポートセンターの齋藤佐智江先生と横田揺子先生をお招きし、音楽家を志す学生の留学の状況や、その心構えについてお話しいただきました。
講演はいくつかの章立てで行われました。
1.「なぜ留学をするのか、どうやって留学場所を決めるのか」
藝大生の留学動機は「自分自身のスキルアップにつながるから」、「親の勧めや先輩が留学をしていたから」など人それぞれであり、習いたい先生をみつけて、その先生が所属している学校に進学すると目的が明確になって良いというアドバイスをいただきました。今は、高校生向けの特別講習会や来日中に行う演奏会などで海外の先生と知り合うことができるので、積極的にコンタクトを取ることが重要という説明が印象的でした。
2.「いつ留学するのがよいか」
大学に籍を残したまま(休学)の留学や、高校卒業してすぐの留学、大学卒業してからなど、留学のタイミングにも様々なパターンがあり、自分のキャリアプランに合った方法を選択できることを説明いただきました。また、フランス留学は専攻している楽器によって年齢制限がある場合が多く、その点も配慮して留学を考えたほうが良いというアドバイスがありました。
3.「語学はどれくらいできていればよいか」
それぞれの大学によってどのレベルまで達している学生を受け入れるかの基準があり、特に、イギリスは実技だけではなくて語学関係資格のスコアも重要視するので注意を要するということを教えていただきました。また、これから音楽家として活動する上では、留学する・しないに関わらず語学の理解が大切であり、邦楽の分野でも、海外公演などで世界へアピールしていく際に改めて必要性に気づかされる学生が多いというお話がありました。また、東京藝術大学の音声・言語トレーニングセンターには、諸外国ネイティヴスピーカーの先生方が在籍しており、レベルに合わせた講義を受け、言語習得を目指せることをご紹介いただきました。
4.「留学にかかる費用はどれくらいか」
地域や国によってその現状が大きく異なり、学費は20万円~300万円と非常に幅が広いことをお話しいただきました。また、学費だけではなく、家賃や生活費にも費用がかかるので、寮やルームシェアの利用による費用削減も一つの手段であることを教えていただきました。さらに、奨学金の制度についても、藝大や国の手がけるものだけでなく、留学先の大学が設けているものや国内の財団によるものなど、留学の形態ごとに制度が充実しており、積極的な情報収集と活用をお勧めいただきました。
講演会後には、各学年の生徒から留学に関する質問がいくつも続き、生徒自身が留学への漠然とした考えを整理し、海外で活躍する意義やそのために必要な行動力・語学力について考えるよい機会となったことが伺えました。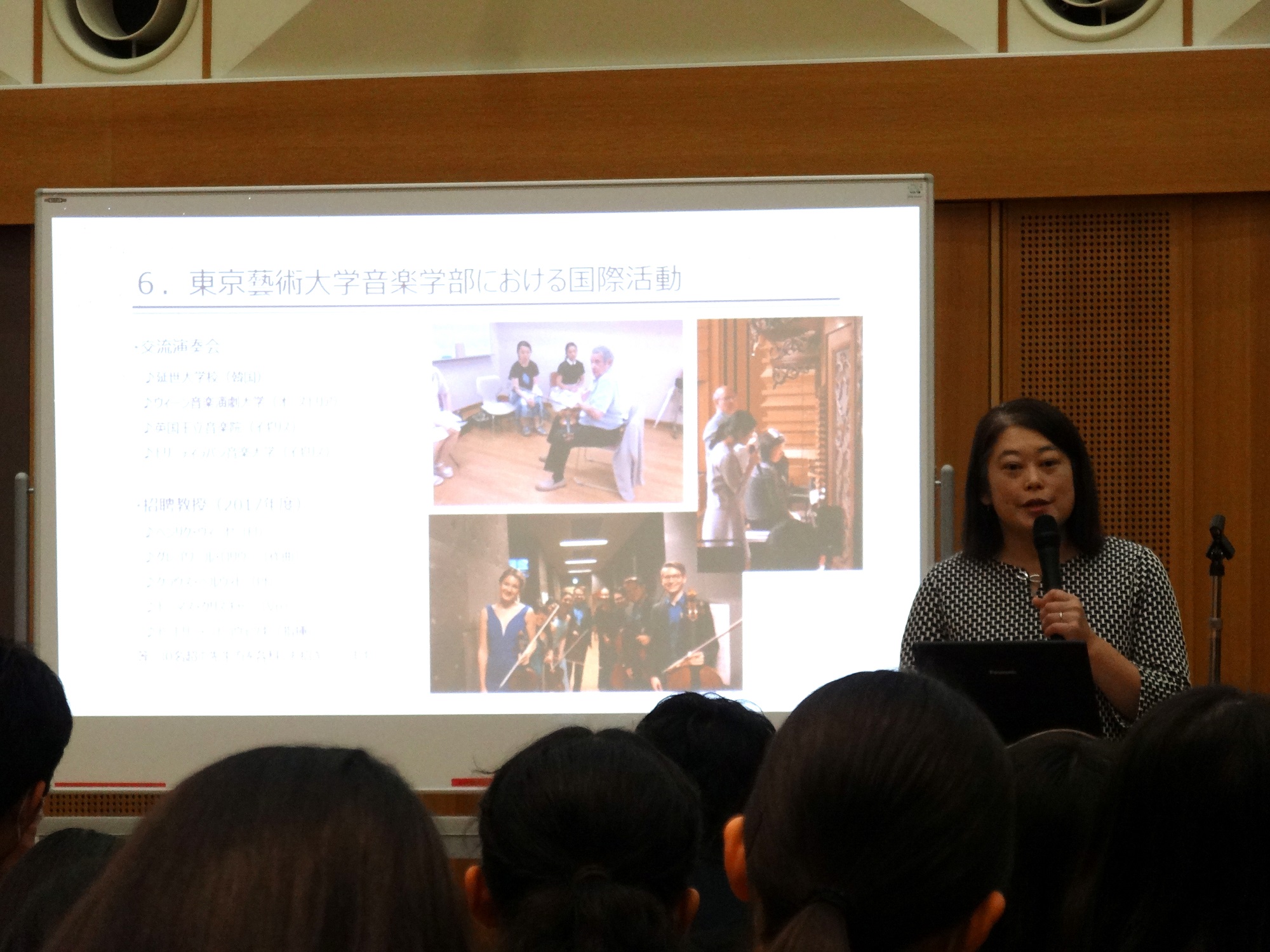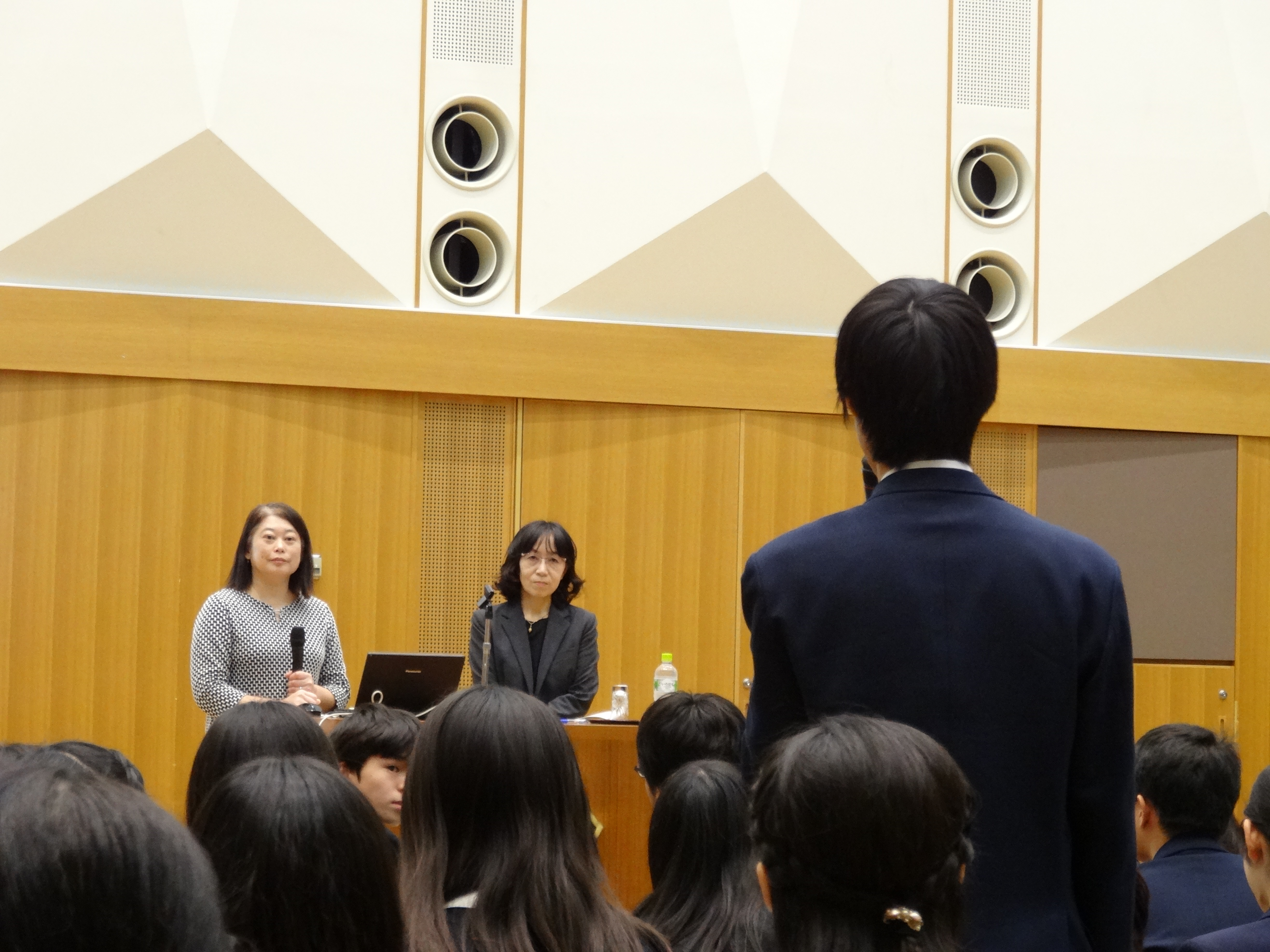 ---
「スーパーグローバルハイスクール」について http://www.sghc.jp/
東京藝術大学音楽学部附属音楽高等学校(通称:藝高)は、文部科学省が実施する「スーパーグローバルハイスクール(SGH)」事業の平成28年度指定校に採択されました。「"音楽の力"で世界を魅了する先導的グローバルアーティスト育成プロジェクト」構想を掲げ、海外一流音楽家の招聘、語学教育の充実、世界舞台を志向するキャリア形成支援などを通し、国際舞台で活躍する音楽家人材の育成のさらなる強化を図っています。また、平成26年度スーパーグローバル大学(SGU)に指定された本学との連携や実践型教育にも力を入れています。
藝高のSGH活動について、詳しくはこちらをご覧下さい。
(元記事:http://geiko.geidai.ac.jp/sghentry/2017/12/2920/)
The Music High School Attached to the Faculty of Music, Tokyo University of the Arts (Geiko) held the 8th SGH Lecture Meeting on Global Career on Thursday, November 9, 2017.
The lecture started at 1 p.m. at the 201 hall. Ms. Sachie Saito and Ms. Yoko Yokota, who are project associate professors of Tokyo University of the Arts (Tokyo Geidai) Faculty of Music Global Support Center, spoke about the standard procedures to study abroad for music students at Tokyo Geidai, and how Geiko students should prepare for such opportunities.
The lecture was divided in four parts, which are summarized as follows;
1. Why do you study abroad? How to decide your study abroad destination.
Students of Tokyo Geidai have different motivations for studying abroad such as upskilling, recommendation by parents, or influence of senior students. It is suggested that students find professors they want to learn from and apply for the program where the professors are teaching, which allow them to clarify their respective goals of studying abroad. Nowadays, high school students can meet foreign professors through various occasions such as special lessons for high schoolers and concerts that are held during their stay in Japan. The Geiko students seemed to have been inspired by the advice that students eying to study abroad should proactively make contact with such visiting professors.
2. When is the best timing to study abroad
Students can chose a timing that best suits their respective career plans. Some students take a temporary leave from university, while others leave Japan soon after their graduation from high school or university. Students considering studying music in France should bear in mind that French conservatories often have an age restriction depending on the instrument.
3. What level of language proficiency is required
Each institution has its own language requirements. It is important to note that British institutions especially place emphasis on English language skills along with performance skills. Moreover, it is important for all music students, either they go abroad for studies or not, to acquire a certain level of foreign language skills. Even students of traditional Japanese instruments are often reminded of the necessity of learning foreign languages at occasions such as overseas concerts where they need to appeal their instruments and music to foreign audiences. At Tokyo Geidai's Training Center for Foreign Language and Diction, students can learn with native instructors different foreign languages according to their respective levels of proficiency.
4. Cost of studying abroad
The cost of studying abroad can vary from destination to destination. The range of tuition fees can be as broad as from 200,000 yen to 3 million yen. In addition, rent and living expenses are also incurred. Staying at a dormitory or room sharing can be an option to economize such expenses. A variety of scholarships are also available to students going abroad on different programs. Not only Geidai and the Japanese government, but also destination universities and various foundations in Japan are providing financial support to students. Students are therefore recommended to actively collect and use scholarship information.
After the lecture finished, students in different grades asked a series of questions. The lecture meeting seemed to give a good opportunity for the participating Geiko students to make themselves clear about what they were vaguely thinking about studying abroad, while considering the significance of working on the global stage and the abilities required to act and communicate globally.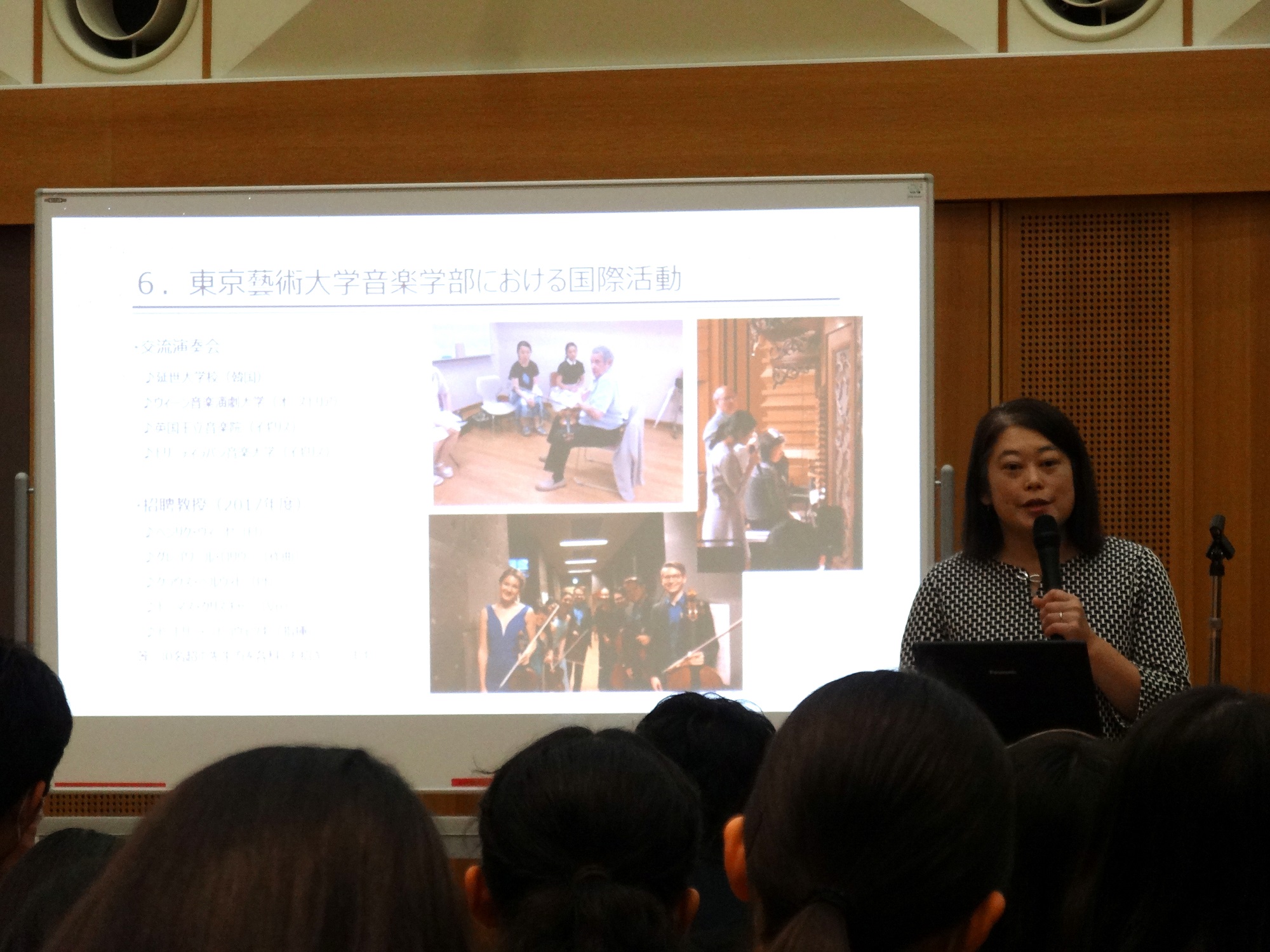 ---
About Super Global High school: http://www.sghc.jp/en/
In 2016, the Music High School Attached to the Faculty of Music of Tokyo University of the Arts (known as "Geiko") was selected as one of the designated high schools for the Super Global High School (SGH) initiative by MEXT. Under the SGH scheme, it aims to nurture globally successful young musicians who attract audience with "the power of music"; the pupils learn from a number of world-renowned musicians who visit the high school, and study to develop their foreign language skills, while receiving support to establish a global career and collaborating with Tokyo Geidai, which was selected in 2014 for the Top Global University Project by MEXT.
For more details of Geiko's SGH activities, please visit here.
Original article: http://geiko.geidai.ac.jp/sghentry/2017/12/2920/