留学生イベント:三鷹の森ジブリ美術館ツアー
An International Students Event: Ghibli Museum Tour in Mitaka
December 20, 2017
平成29年11月1日、東京都三鷹市にある三鷹の森ジブリ美術館にて、本学留学生イベント「ジブリ美術館ツアー」を開催し、19名の留学生と3名の教職員が参加しました。
近年日本の代表的なアニメーション映画を生み出してきたスタジオジブリの歴史と作品について、アニメーションの研究者であるイラン・グエン特任准教授(本学グローバルサポートセンター所属映像研究科配置)に解説をしていただきながら、美術館内を見学しました。
館内は、アニメーション映画の発想から完成にいたるまでの様々な展示資料や、実際に触って動かすことのできる仕掛けであふれており、留学生たちは皆、細かいところまでひとつずつ熱心に見学をしていました。専攻・分野に関わらず、「ものづくり」に携わる本学留学生たちにとって、貴重なインスピレーションを得る場となったことと思います。
今回のツアーを実施するにあたり、ご協力をいただきました徳間記念アニメーション文化財団事務局長事務局長 西岡純一様をはじめとするジブリ美術館関係者の皆様に、心より御礼申しあげます。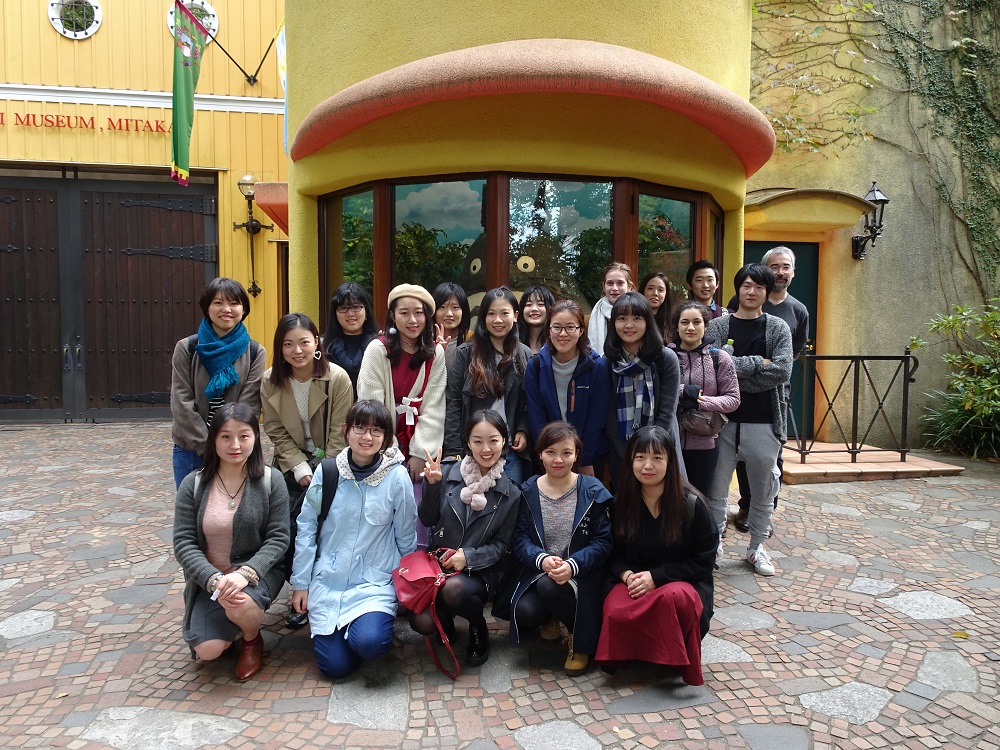 [:]
Tokyo University of the Arts (Tokyo Geidai) held an event for international students at Ghibli Museum, Mitaka, on November 1, 2017. The participants were nineteen international students and three staff members, including Project Associate Professor Ilan Nguyȇn of the Global Support Center at the Graduate School of Film and New Media.
With a guide provided by Prof. Nguyȇn who is a researcher of animation, the international students took a tour of the museum and learned about the history and works of Studio Ghibli that has produced animation films to represent contemporary Japanese animation films.
The museum provides full interactive experience for the visitors, while exhibiting a variety of materials that show the processes of animation film making, from forming ideas to completing a film. They were closely looking at each exhibit without missing the details. The students, who are from different study fields but are all creators, seemed to be greatly inspired at the museum.
Tokyo Geidai deeply appreciates Mr. Junichi Nishioka of the Tokuma Memorial Cultural Foundation for Animation and people of Ghibli Museum, Mitaka, for their kind support and cooperation in facilitating this visit.