ウズベキスタン共和国文化副大臣一行による表敬訪問
Uzbek Deputy Minister of Culture Pays a Courtesy Visit to President Sawa
May 25, 2018
5月21日、ウズベキスタン共和国より、Kamola AKILOVA文化副大臣の一行が本学を訪れ、澤学長を表敬訪問しました。
はじめに、澤学長よりAKILOVA副大臣一行の来学を心より歓迎する旨の挨拶があり、続いて平山郁夫元学長(在職期間:平13年12月21日~平17年12月20日)とウズベキスタンとの繋がりが深いことや、ウズベキスタン国立音楽院のオタナザル・マチャクーボフ教授に、中央アジア音楽の歴史研究を通じて民族音楽学に貢献した功績に対して、2015年に「小泉文夫音楽賞」を授与したこと、また翌年に同氏を招へいして特別講座を実施したことなど、本学とウズベキスタンのこれまでの交流の実績が紹介されました。
AKILOVA副大臣からは、本学とウズベキスタンとの交流関係への感謝が述べられた後、現在、日本の文化や教育の経験をウズベキスタンの文化や教育に取り入れるとともに、コンサートなどの様々な交流イベントを展開することを検討しており、本学との協力の可能性について模索したいと、今回の来訪の目的が説明されました。
また、AKILOVA副大臣より、本学にどのような学部があるのかとのご質問があると、澤学長は美術と音楽の2学部、大学院は美術、音楽、映像、2年前に新設されたアートプロデュースを専門とする国際芸術創造研究科の4研究科があり、大学院には修士課程と博士課程を設置していることを説明しました。
続いて、澤学長から、現在製作中である日本とウズベキスタンの国際共同製作映画作品の脚本執筆・監督を務める黒沢清氏は、本学映像研究科の教授であるという、本学とウズベキスタンの繋がりがさらに紹介されると、長嶌教授より、同国のタシケントで現在撮影中の黒沢教授から「非常に協力的な撮影環境と悠大な自然の中で撮影することができて大変幸せです」と感謝のメッセージが届いていることが伝えられました。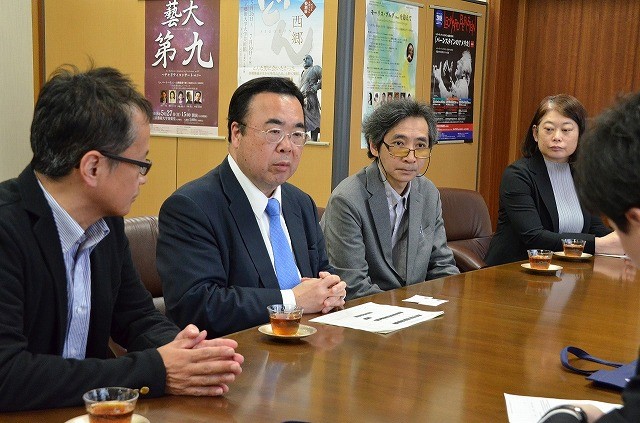 本学について説明する澤学長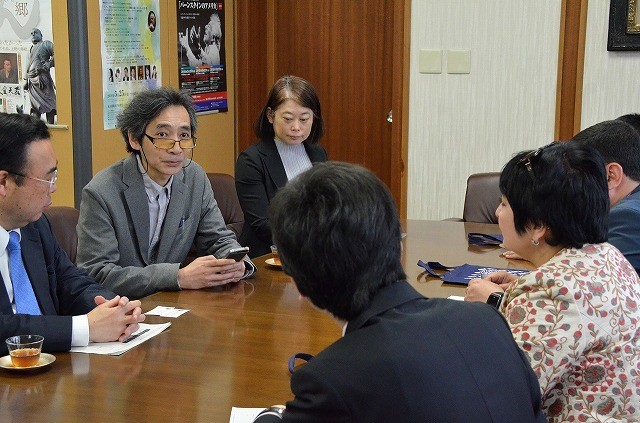 黒沢教授からのメッセージを伝える長嶌教授
最後に、AKILOVA副大臣より、日本の大学における芸術教育に関心があるため、学生交流や情報交換のほか、国際イベントを通じた交流を進めていきたいとの展望が述べられました。
会談の後には、AKILOVA副大臣からウズベキスタンの著名アーティストの作品が収められた図録が贈られ、ヴァイオリニストである澤学長からは自身の演奏が収録されたCDが贈られました。AKILOVA副大臣は澤学長と固い握手を交わし、本学とウズベキスタンの今後の協力の可能性への期待とともに、本学を後にされました。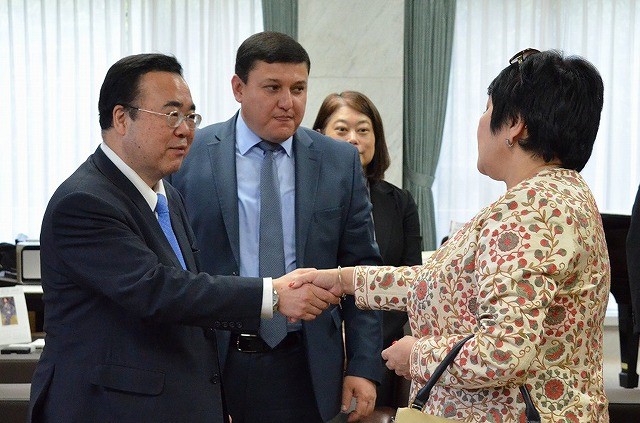 握手を交わす澤学長(左)とAKILOVA副大臣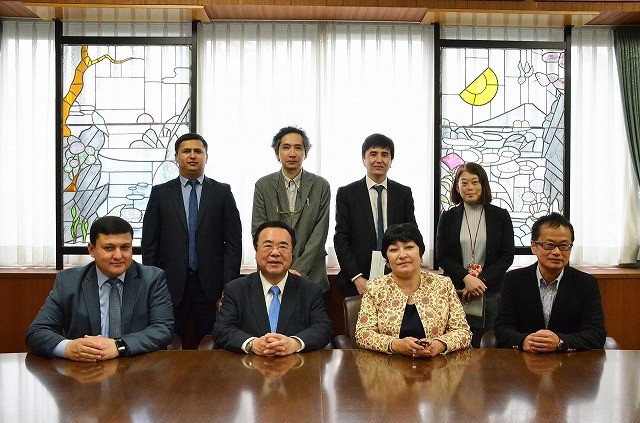 (上段左から)S.Foziljonov文化省国際担当官、長嶌教授(映像研究科)、Kh. Haydarov駐日ウズベキスタン大使館参事官、横田揺子特任准教授(グローバルサポートセンター)
(下段左から)Sayfullaev内閣府文化・芸術・青少年担当課長、澤学長、AKILOVA副大臣、桒原事務局長
On May 21, Deputy Minister of Culture of the Republic of Uzbekistan, Mrs Akilova, and her delegation visited Tokyo University of the Arts (Tokyo Geidai) to meet with President Sawa.
The meeting started with a warm welcome by President Sawa, who went on to say that Tokyo Geidai had strong ties with Uzbekistan. To make his point, he gave an example of the late Ikuo Hirayama, former President of Tokyo Geidai (December 21, 2001 – December 20, 2005), who worked devotedly to preserve cultural assets in the Silk Road region, including Uzbekistan. He also talked about Prof. Otanazar Matyakubov of the State Conservatory of Uzbekistan, who was awarded the 27th Fumio Koizumi Prize for Ethnomusicology in 2015, the award named after the late Faculty of Music professor Fumio Koizumi, in recognition of his contribution to ethnomusicology through historical research on Central Asian music. The Uzbek professor delivered a special lecture at Tokyo Geidai in 2016.
Deputy Minister Akilova responded by expressing her gratitude for the friendship between the two countries over the years. Then, she touched briefly on the purpose of her visit, saying that the new administration of Uzbekistan is promoting various cultural exchange programs such as collaborative concerts, while trying to learn from Japanese culture and educational experiences for further development of Uzbekistan, and that, therefore, she wanted to explore possibilities of collaboration with Tokyo Geidai.
To better understand the university, Deputy Minister Akilova asked about the fields of study available at Tokyo Geidai. In response, President Sawa stated that there are two Faculties – Fine Arts and Music – for undergraduate studies, as well as four Graduate Schools – Fine Arts, Music, Film and New Media, and Global Arts, which offers new programs that specialize in Art Produce, adding that all Graduate Schools have both master's and doctoral courses.
President Sawa further stressed the ties with Uzbekistan by saying that Japanese film director Kiyoshi Kurosawa, the screenwriter and director for the film currently being produced in Uzbekistan in collaboration between the two countries, is a professor from the Graduate School of Film and New Media. Then, Prof. Nagashima read a message from Prof. Kurosawa, who is now in Tashkent, the capital city of Uzbekistan, for shooting the film: I am very happy to be able to work here with cooperative staff, surrounded by such magnificent nature.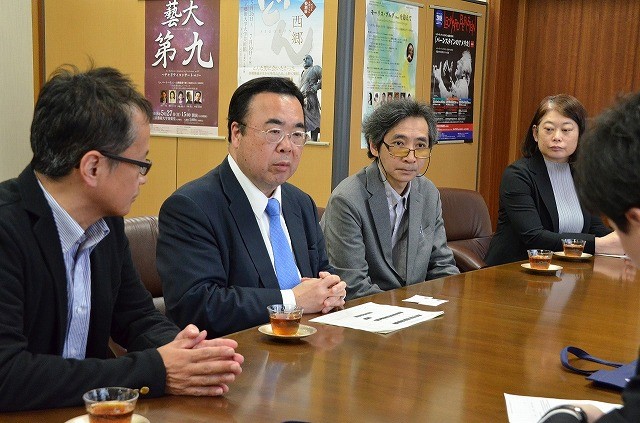 President Sawa talks about areas of study at Tokyo Geidai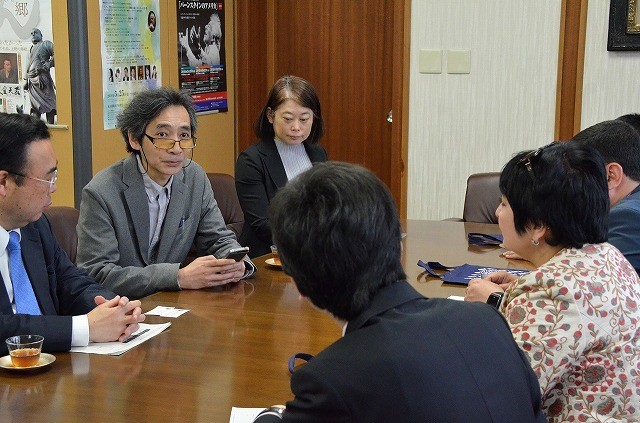 Prof. Nagashima conveys a message from Prof. Kurosawa
In closing, Deputy Minister Akilova expressed her wish to facilitate opportunities for cultural and information exchange as well as collaboration through holding international events with Japan, through which she hopes to learn more about art education in Japan.
After the talks, the Deputy Minister handed a catalogue of works by distinguished Uzbek artists as a gift to President Sawa, who, in return, presented her with two CD recordings of his performance as a violinist. With a firm handshake and expectations for collaboration in the future, Deputy Minister Akilova and her delegation concluded the meeting.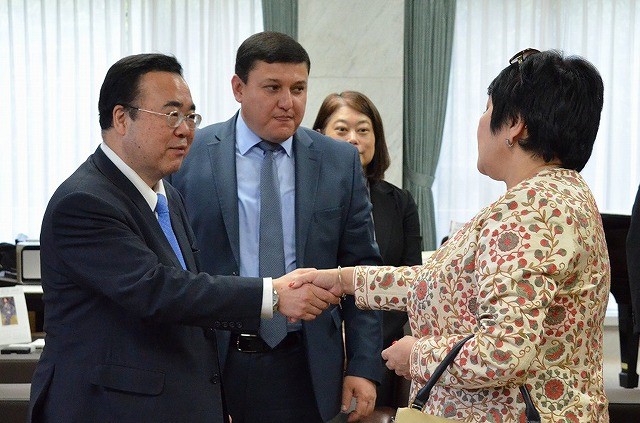 Deputy Minister Akilova shakes hands with President Sawa (left)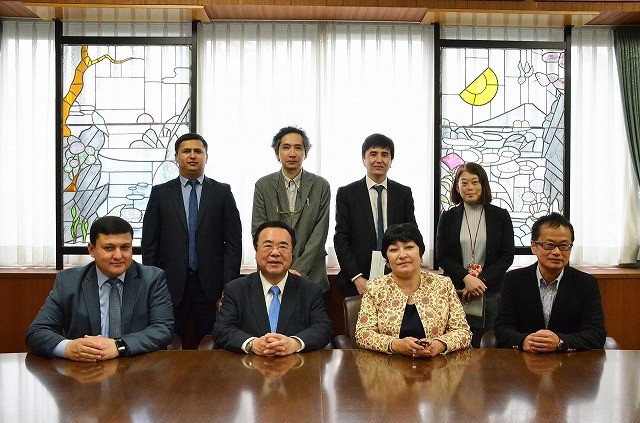 Upper row from left to right: Mr. S.Foziljonov from the Ministry of Culture of Uzbekistan, Prof. Nagashima from the Graduate School of Film and New Media, Mr. Kh. Haydarov from the Uzbek Embassy in Japan, Associate Prof. Yokota from the Global Support Center
Lower row from left to right: Mr. Sayfullaev from the Cabinet of Ministers of Uzbekistan, President Sawa, Deputy Minister Akilov from the Ministry of Culture of Uzbekistan, Secretary-General Kuwabara