ウエンディ・ティルビー氏&アマンダ・フォービス氏による特別講義及びコンテンポラリーアニメーション入門(第27回)
Introduction to Contemporary Animation (27): Special Lecture and Workshop by Wendy Tilby and Amanda Forbis
August 21, 2018
平成29年11月6日~17日にかけて、東京藝術大学映像研究科にて、ウエンディ・ティルビー氏&アマンダ・フォービス氏による特別講義及びコンテンポラリーアニメーション入門(第27回)が開催されました。両氏は、カナダ国立映画制作庁で創作に携わった後、世界中で30以上受賞した『ある一日の始まり』を共同制作し、日本ではサントリー天然水のTVCMで知られています。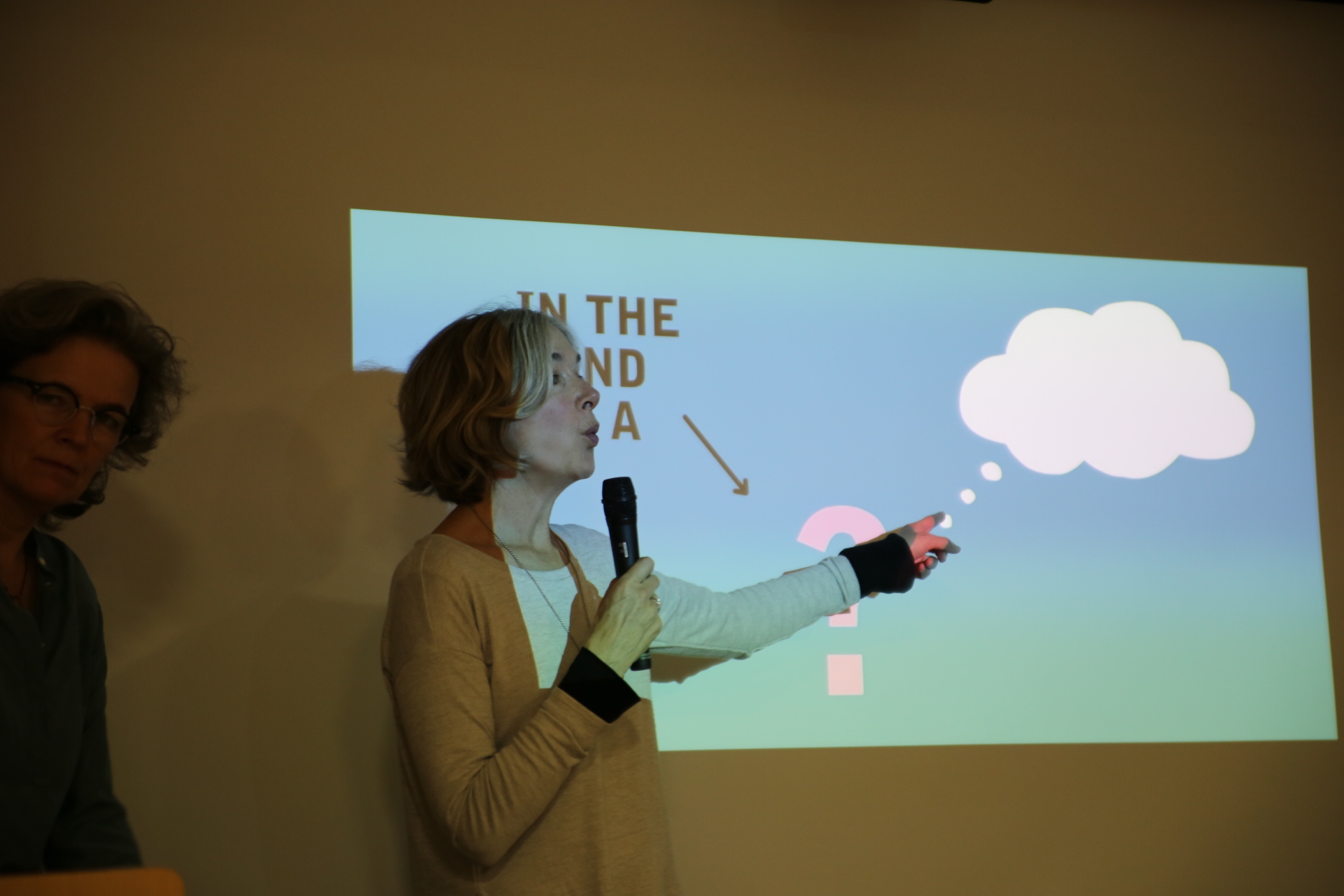 特別講義の初日は、ティルビー監督のバンクーバー・エミリーカー美術大学の卒業制作作品『Strings』、1999年制作『ある一日の始まり』(抜粋)、2011年制作『ワイルドライフ』の上映を行いました。ワークショップの課題は、物や、動物が何を考えているのか、主体の内面を考察し、伝えることができる短いアニメーションを構想するというものでした。まず紙の上で絵コンテを描き、参加者それぞれにアドバイスをいただきました。「メガネ」の視点、「歯」の視点、「壁」の視点、「ハムスター」の視点など様々なアイデアのビデオコンテが上がり、アイデアのユニークさ、課題内容の理解度の高さが評価されました。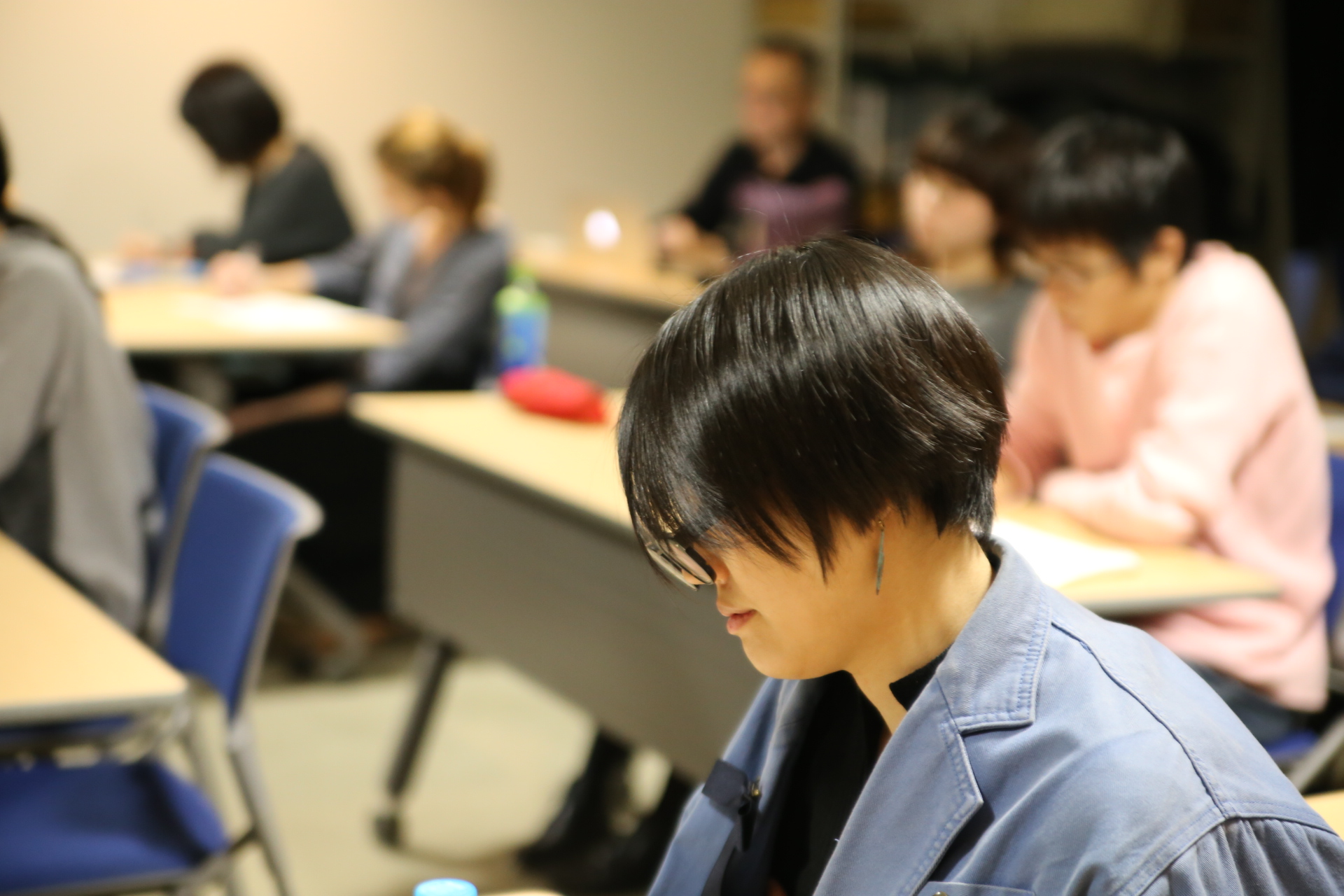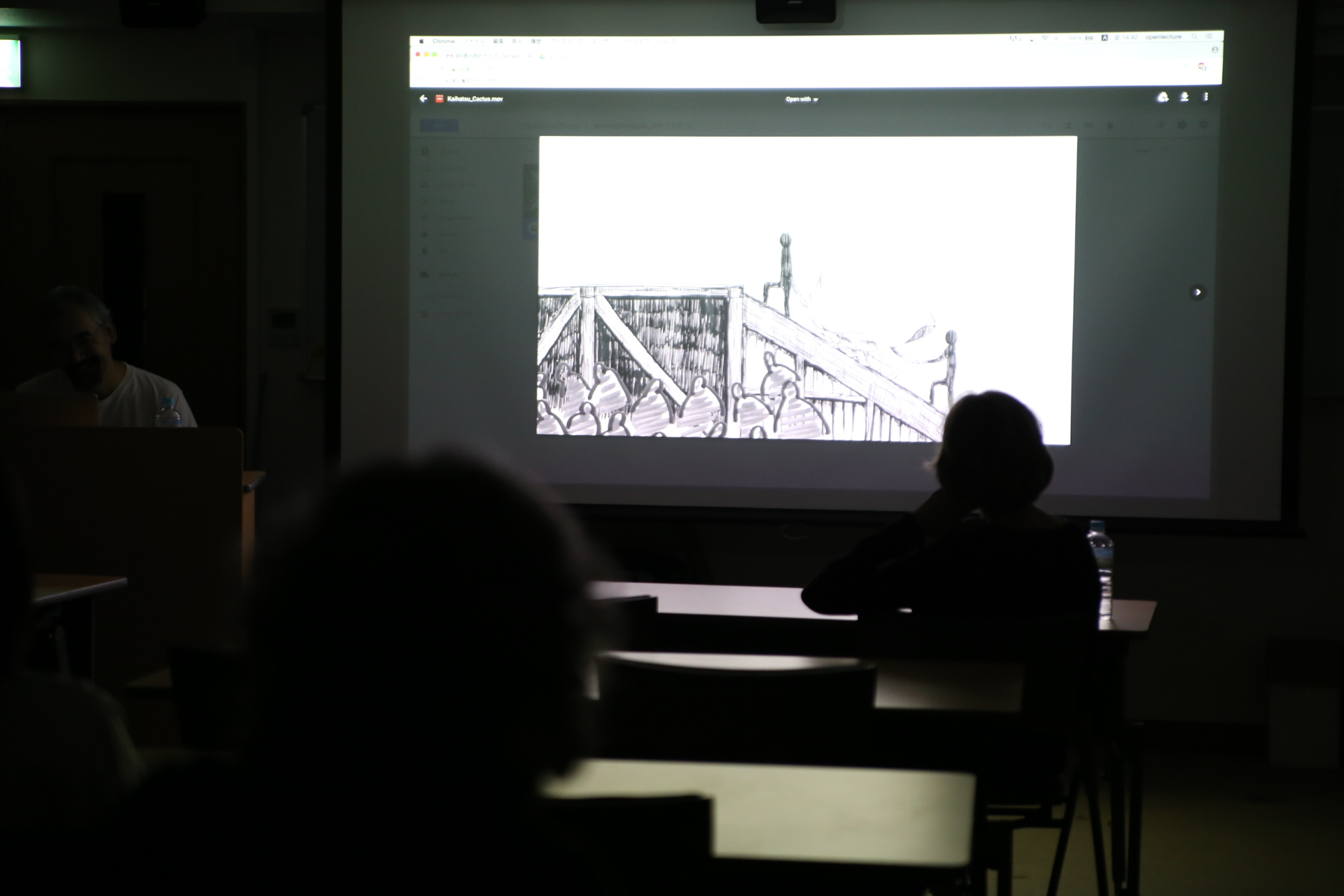 11月12日には、公開講座「コンテンポラリーアニメーション入門」(第27回)が開催され、「個と世界」をテーマに作品上映と解説が行われました。両氏が『ある一日の始まり』で広島国際アニメーションフェスティバルのグランプリを受賞している影響もあり、熱のある観客が多く集まり、会場が満席となったため別室で行われた中継放送を見る観客が出るほどの盛況となりました。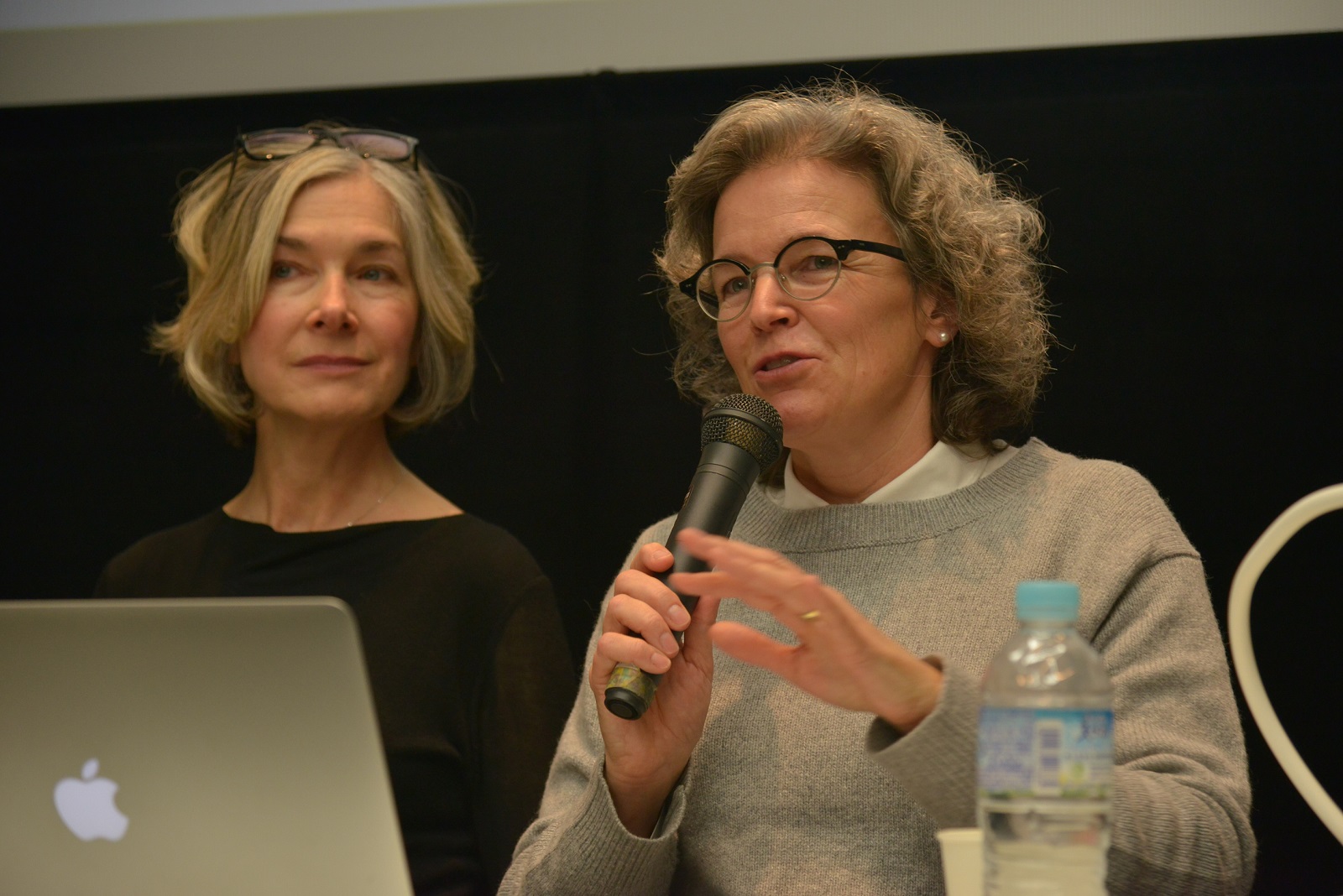 講義は三部構成の映像上映で、両氏自ら、各作品の自分自身の動機から制作過程までを明確に解説してくださいました。1999年に制作され、アヌシーグランプリ他、世界中で受賞歴のある『ある一日の始まり』については、カットに込められた画作りのコンセプトや制作においての技術的な解説などがスライドを交えながら行われました。その12年後に完成され、アカデミー賞にノミネートされた『ワイルドライフ』は、監督の出身地である西カナダにおける200年ほどのイギリス移民の歴史がベースになっていて、監督たちのバックグラウンドを垣間見ることができ、大変有意義なものとなりました。また、来年より制作予定の短編アニメーションについての情報もあり、観客からも音楽や発想についてなど多くの質問が寄せられ、作家のアイデアや思考に触れる貴重な機会となりました。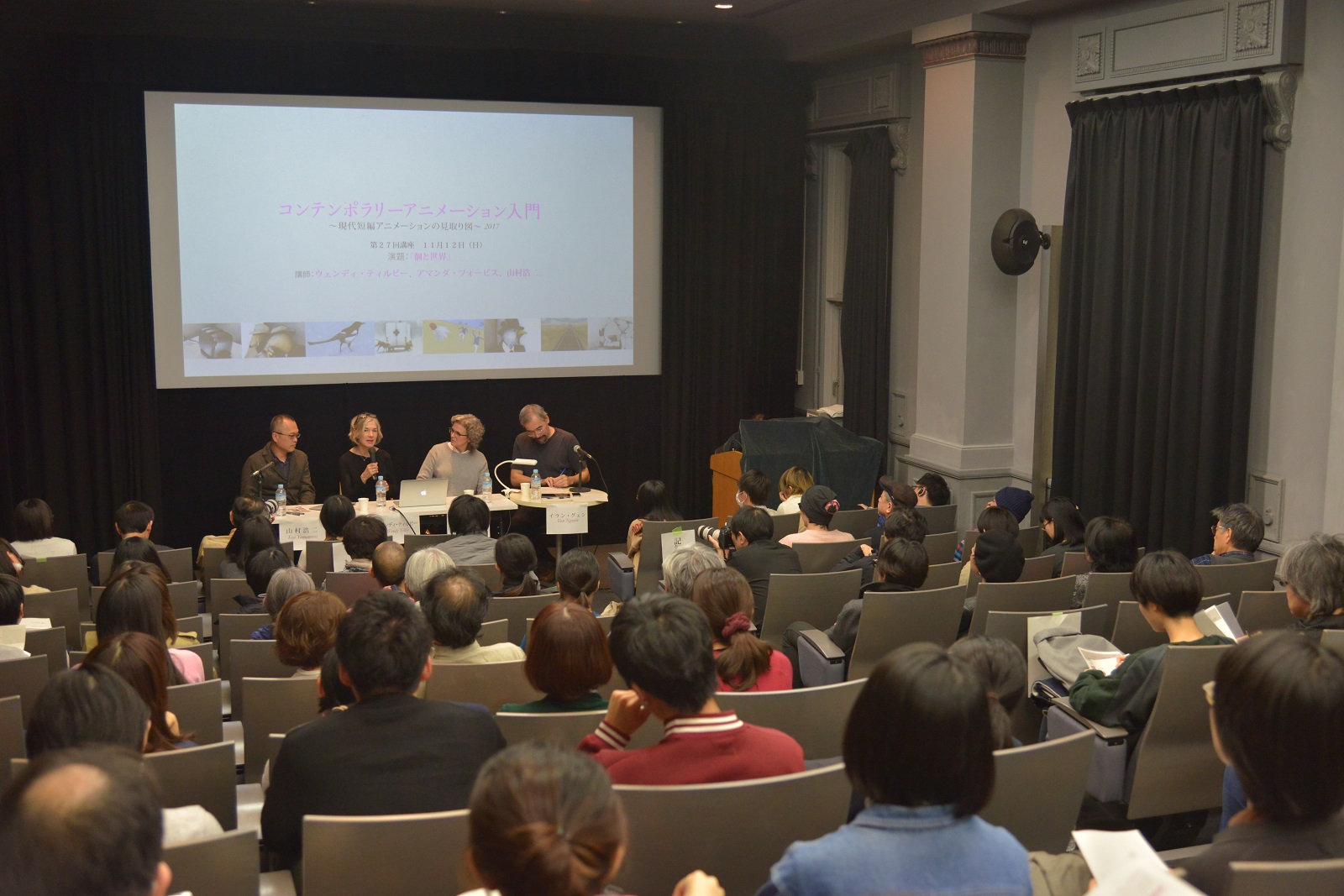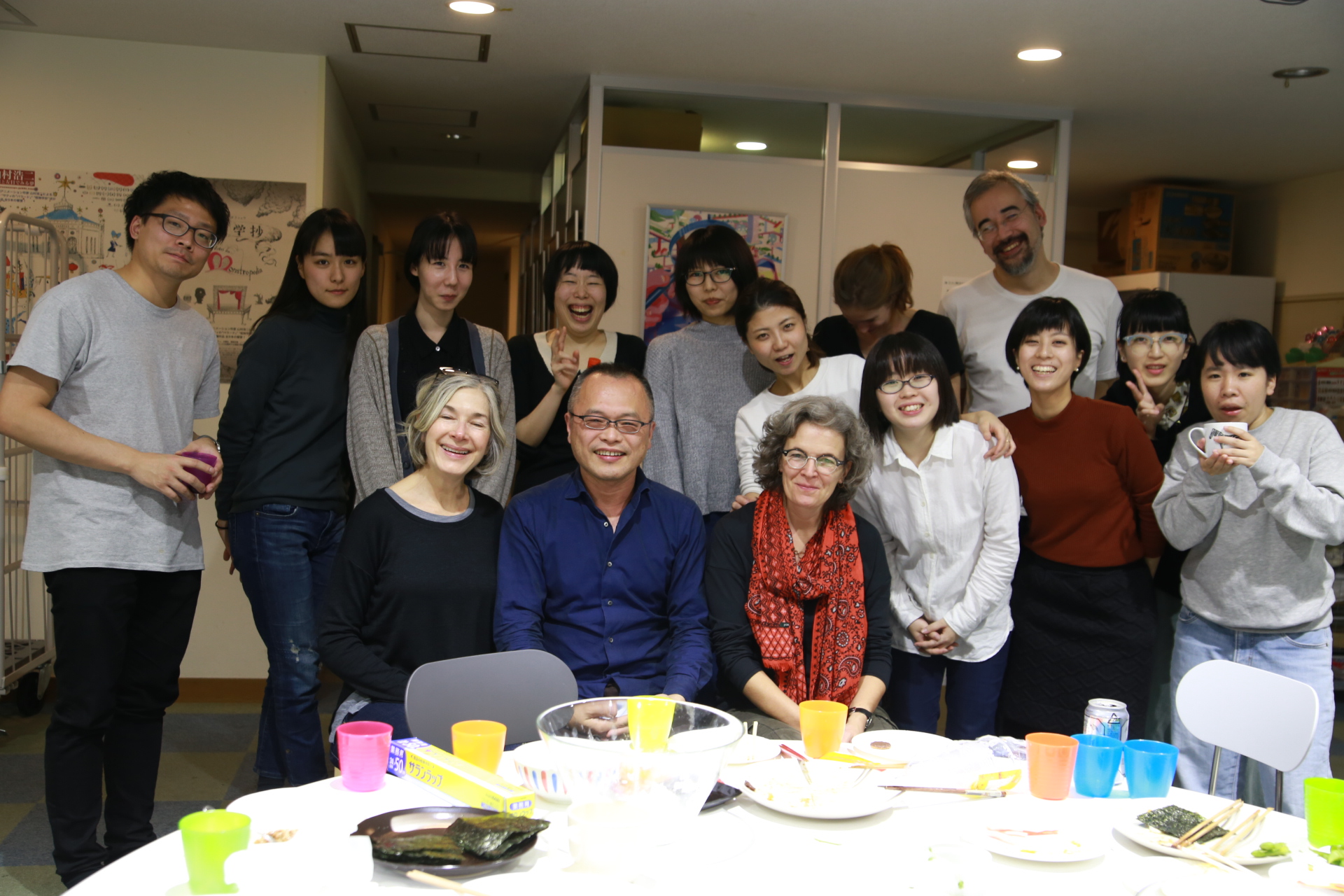 Graduate School of Film and New Media held a special lecture and workshop by Wendy Tilby and Amanda Forbis from November 6 to 17, 2017. After working for the National Film Board of Canada, they co-directed When the Day Breaks, the animated short film that won over thirty awards. In Japan, they are known for the TV commercial series of Suntory Natural Mineral Water.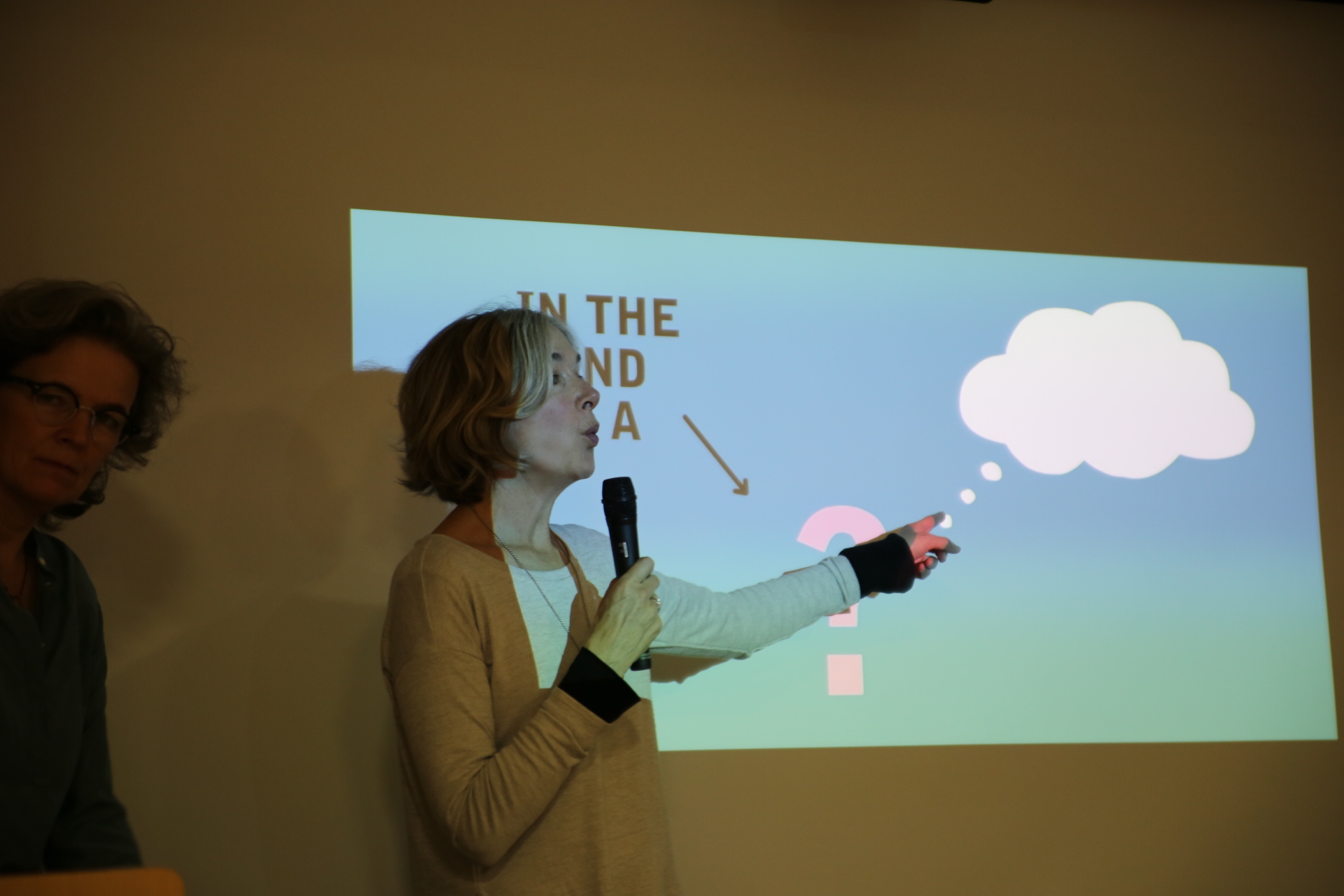 On the first day of the special lecture by the Canadian duo, their graduation work at the Emily Carr College of Art and Design Strings was shown, as well as an extract from When the Day Breaks (1999) and Wild Life (2011). The assignment of the workshop was to make the concept of an animated short film that can contemplate and communicate the inner aspects of objects or animals. The participants first created storyboards on papers, which individually received advice from the lecturers. Storyboards in motion that dealt with different viewpoints such as those of glasses, tooth, a wall, or a hamster were made by the participants, and their conceptual uniqueness and the degree of understanding of the assignment task were highly evaluated.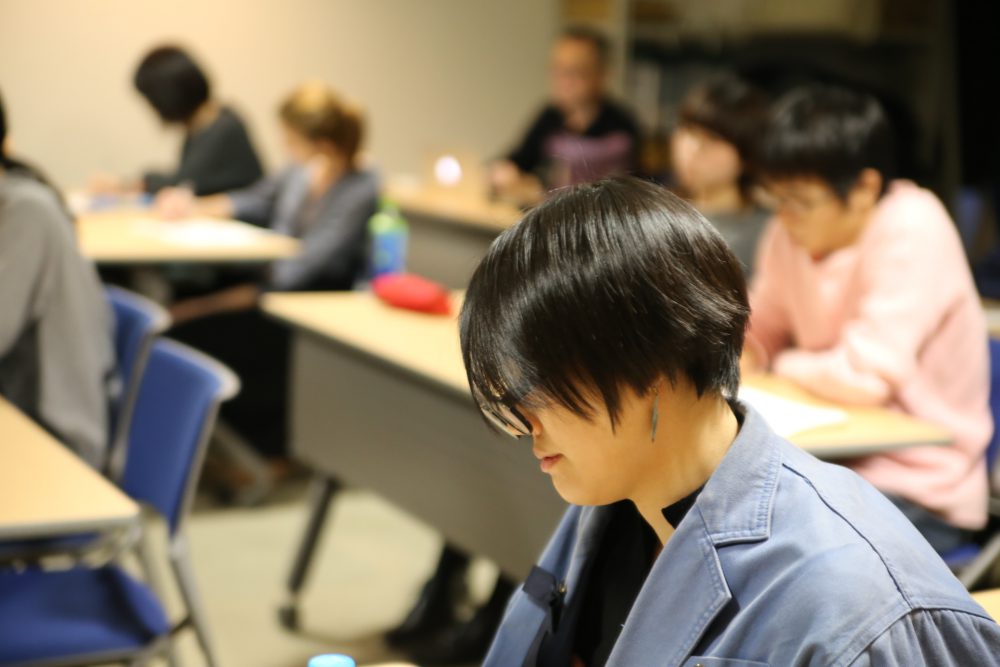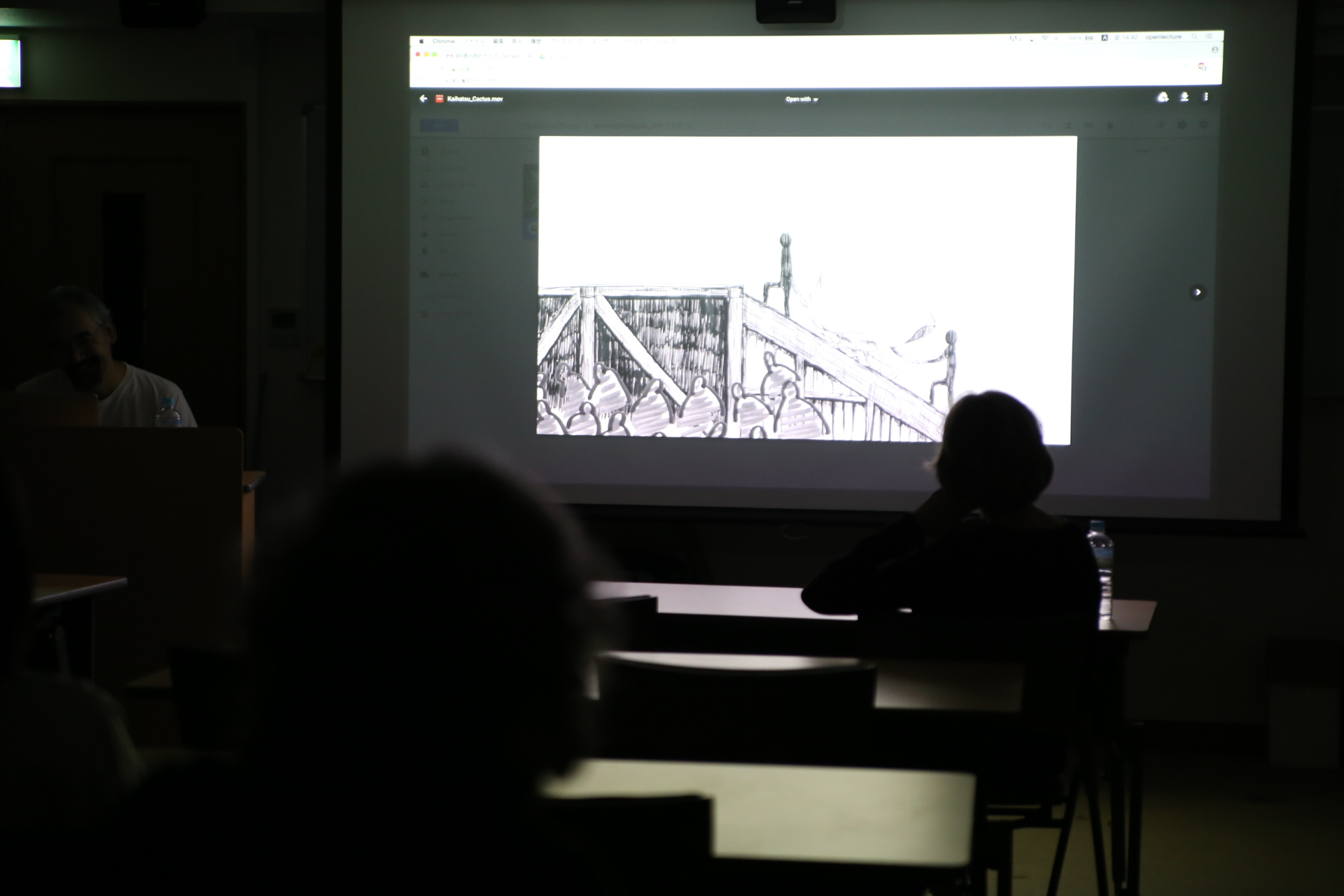 On November 12, the symposium, Introduction to Contemporary Animation (27) was held, during which some animated films themed on the individual and the world were shown with explanations. Partly because When the Day Breaks won the Grand Prize at Hiroshima International Animation Festival, so many enthusiastic fans attended the symposium. The event was so successful that the venue was packed with people, causing some of them to watch a live broadcast in another room.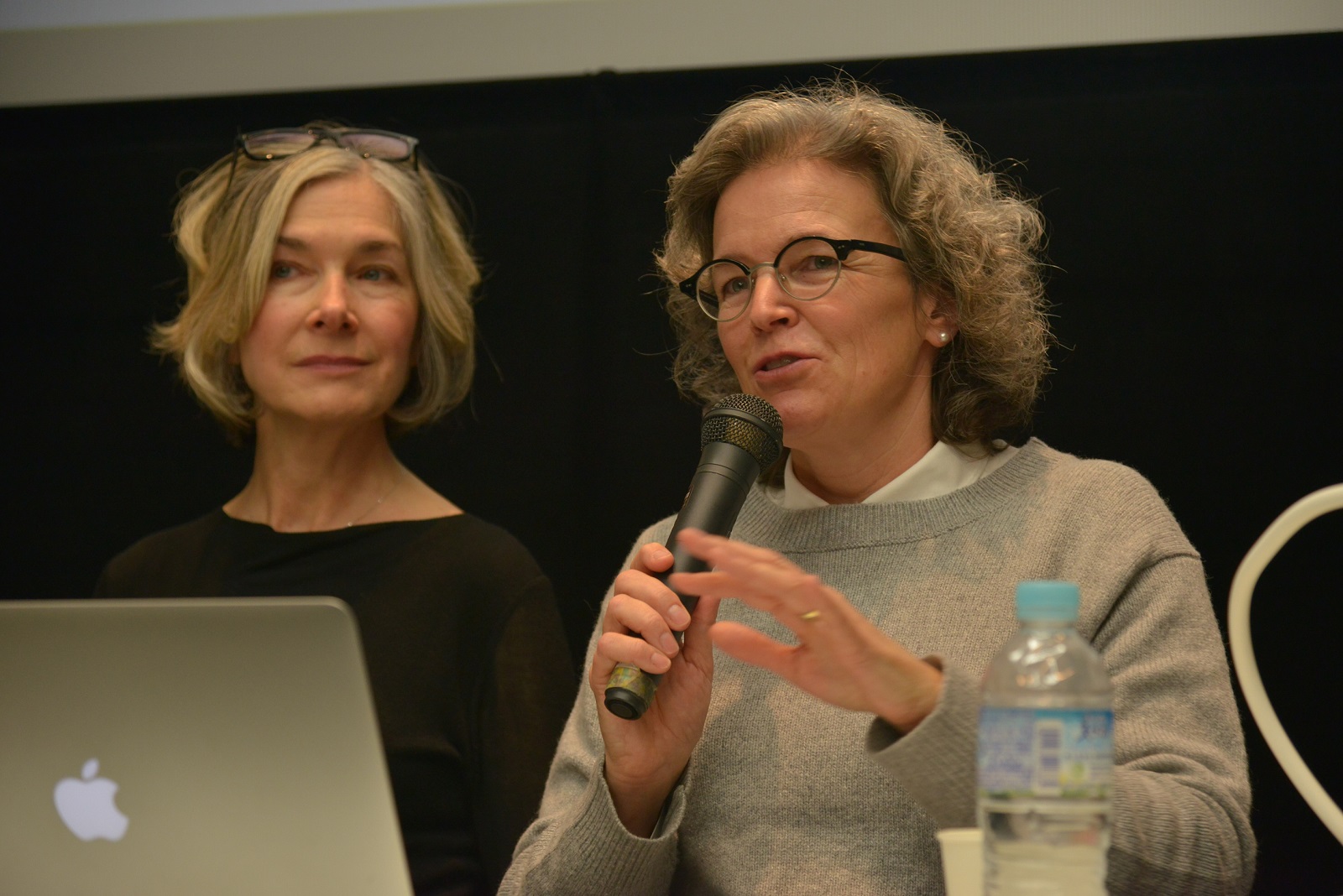 The lecture by the duo consisted of three film showings, during which Ms. Tilby and Ms. Forbis themselves provided clear explanations about their motivations for each work and the production processes. For When the Day Breaks, which was produced in 1999 and won many prizes across the world, including the Grand Prize at the Annecy International Animation Film Festival, they explained with slides the concept of drawing in each frame and the technical aspects of producing the film. Wild life, an Academy Award nominated film that was produced twelve years after the completion of When the Day Breaks, was created based on the 200 year history of British immigrants to western Canada where the director is originally from. It was a highly valuable opportunity to get a glimpse of the background of the duo. They also told the audience that a new animated short film would be produced next year. Asking a number of questions on the music and concept of the new film, the audience benefitted from the opportunity to learn about the ideas and thoughts of the producers.