「芸大×ダッカ大学 サマー共同 Social Project」〜異文化芸術とグローバル社会における影〜
Geidai × University of Dhaka Summer Joint Social Project –Foreign culture
September 07, 2018
基本情報
研修者:東京藝術大学 美術研究科油画専攻の学生 計6名
研修先:ダッカ(バングラデシュ)
研修期間:平成29年11月24日~11月29日
研修の成果
今回のプロジェクトに参加した学生は普段よりゴミ、環境問題、人々との交流、廃墟から受ける霊感等を作品にしています。そのため全員が同じ場所にいながら、全く異なる目線や方法でバングラデシュの状況を感じ、情報を得ていました。また、それらの諸問題に対して、バングラデシュの国民が日本や欧米諸国とは全く異なる価値観を持っていたため、とても濃密な取材を行うことが出来ました。またバングラデシュの風土なのか、朝食は全員そろってとったり、大勢でディナーを囲んだりと、人と話す機会が多くあり、学生も自然と意見交換を行っていました。
事前に現地のダッカ大学にて大学内ギャラリーを予約し、作品展示を行うことを学生には伝えていました。インスタレーションよりの研究室であるため、ただ日本で作った自分の作品を持って行って設置するというだけではなく、現地での交流によって完成するワークインプログレスの制作を行う学生もいました。現地の人々との交流、二つの都市のつながりをテーマに現地の人々に展示会場で無地のトートバックに絵を描いてもらい、それを帰国後に日本で使用するというものです。絵を描いてくださいという指示書はダッカ大学の職員の方にお手伝いいただき、ベンガル語に翻訳されました。また展示場を出て、街中にポスターを貼り出すといったパフォーマンス的な作品もありました。訪れて置いて終わりという展示ではなく、出国前から用意し、現地の状況を見極め、現地の人々を巻き込み、帰国してからも次の作品へと続いていくという、海外渡航をしていなければ出来ない作品制作を行うことが出来ました。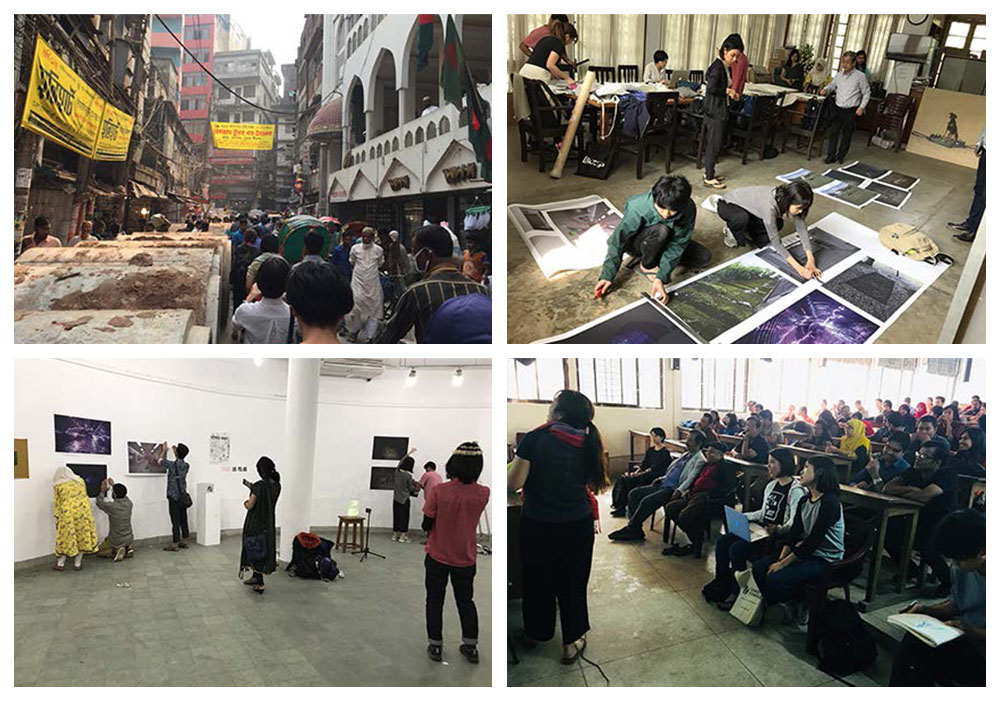 また、学生全員スライドを使用した自作品の英語でのプレゼンテーションを行いました。今回参加した学生でアメリカやヨーロッパ、オセアニア等に留学や旅行で滞在していた学生は多くいましたが、南アジアに渡航したことのある学生はいませんでした。
昨年日本人を含む大きなテロがあったダッカへの単身の旅行は難しいですが、今回の旅行ではダッカ大学の大きな協力のもと、地元の警察に護衛を依頼して、安全にプロジェクトを行うことが出来ました。
渡航困難な国なので、文化だけでなく根本的な人間性の違いを感じました。今回のプロジェクトを経て、体験が知識を追い越し、肌で文化の違いを覚えられるという貴重な経験を得ることが出来ました。

Basic Information
Participant:Six graduate students of oil painting
Location: Dhaka, Bangladesh
Period: November 24-29, 2017
Archievements
The project participants usually produce works inspired by different themes such as garbage, environmental issues, human interaction, or extrasensory perceptions evoked at abandoned buildings. For this reason, although they stayed in the same city of Dhaka, they were differently feeling and getting information about Bangladesh. Local people seemed to hold different views toward various human, environmental or social issues, compared to those held by Japanese, American, or European people, which made the students to conduct research in detail. Also, they had a number of opportunities to chat with local people over breakfast and dinner, which may probably be a Bangladeshi custom, allowing them to naturally exchange opinions with local people.
The students had known that a gallery on the campus of University of Dhaka (DU) had been booked for their exhibition. Because their studio encourages students to work on installations, they not only brought works from Tokyo for the exhibition but some of them also implemented a "work- in progress" project that was to be completed thorough interaction with local people. During the project, they asked local visitors to the exhibition to draw pictures on plain tote bags, which would be taken back to Japan for use, with the themes of exchange with Japanese participants and the relationship of Tokyo and Dhaka. The direction "please draw a picture" was translated into Bengali by a local university staff member. Furthermore, a student went out of the exhibition space to produce a performative work, where posters were put up all over the city of Dhaka.
They were engaged in activities that became possible only by travelling overseas; the project didn't finish only by visiting the site and exhibiting works. The students prepared before the actual trip, researched local circumstances, involved local people, and continued working even after coming back home to use the experience for their next works.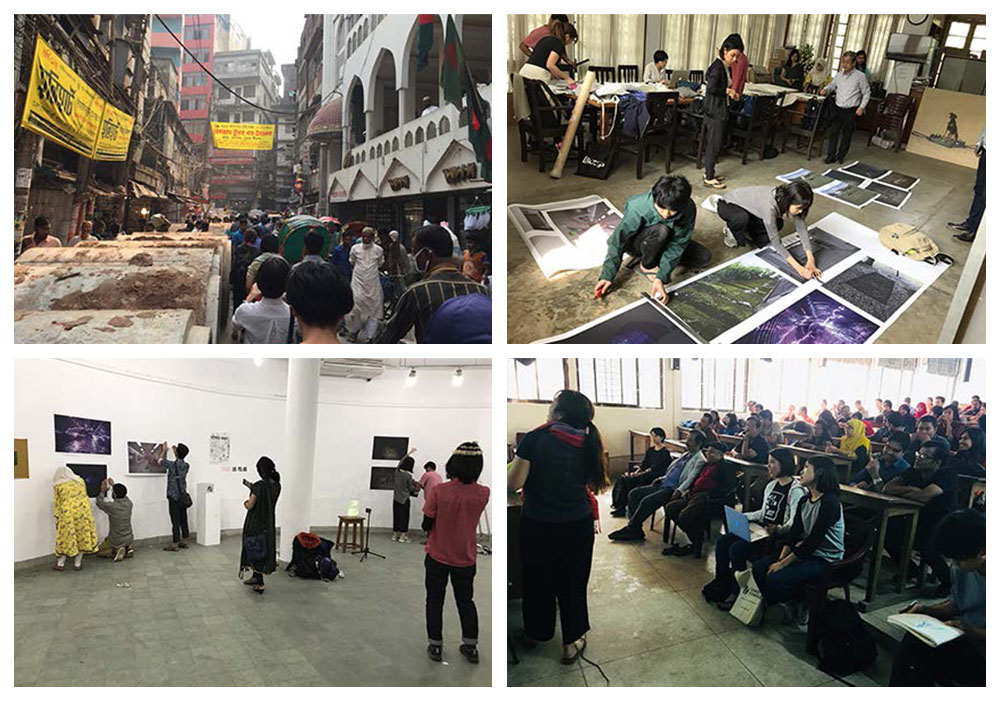 Furthermore, all the participants made presentations in English on their own works. While many of them had experienced studying or staying in countries in North America, Europe, or Oceania, none had ever visited a country in South Asia.
Dhaka, which had faced a major terrorist attack involving Japanese nationals in the previous year, is usually a difficult place for us to visit on our own but the project was safely carried out with substantial support from DU including the provision of guard by local police officers.
In the very country that is not easy to visit, the participants felt the fundamental difference of the condition of being human between in Bangladesh and Japan, let alone the cultural difference. Indeed, the project allowed them to have a valuable experience of feeling the difference of culture firsthand, where experience was prioritized over knowledge.