うるしワークショップ in カンボジア
Workshop on Urushi Arts in Cambodia
July 11, 2018
ASEAN諸国に置ける"うるし"を通じた文化交流を目的としたプロジェクトの中で、平成30年5月1日〜2日にプノンペンにあるカンボジア王立芸術大学(RUFA)において蒔絵のワークショップと、藝大の漆芸教育についてのレクチャーを行いました。本学からは漆芸研究室の小椋範彦教授と教員2名が、RUFAからは油絵を主に学ぶ学生が18名参加しました。
ワークショップでは、日本の漆芸伝統技法である平蒔絵の制作を、材料は日本のものを使い、図案はそれぞれ自由な発想で用意したものを使って行いました。RUFAの学生たちは初めて扱う漆という素材に臆さず、筆で細い線を器用に描いていました。学生によって図案は様々で、お互いに刺激し合いながら取り組んでいました。日本とは違う常に高温多湿な環境で漆の固化に不安はありましたが、無事に完成することができました。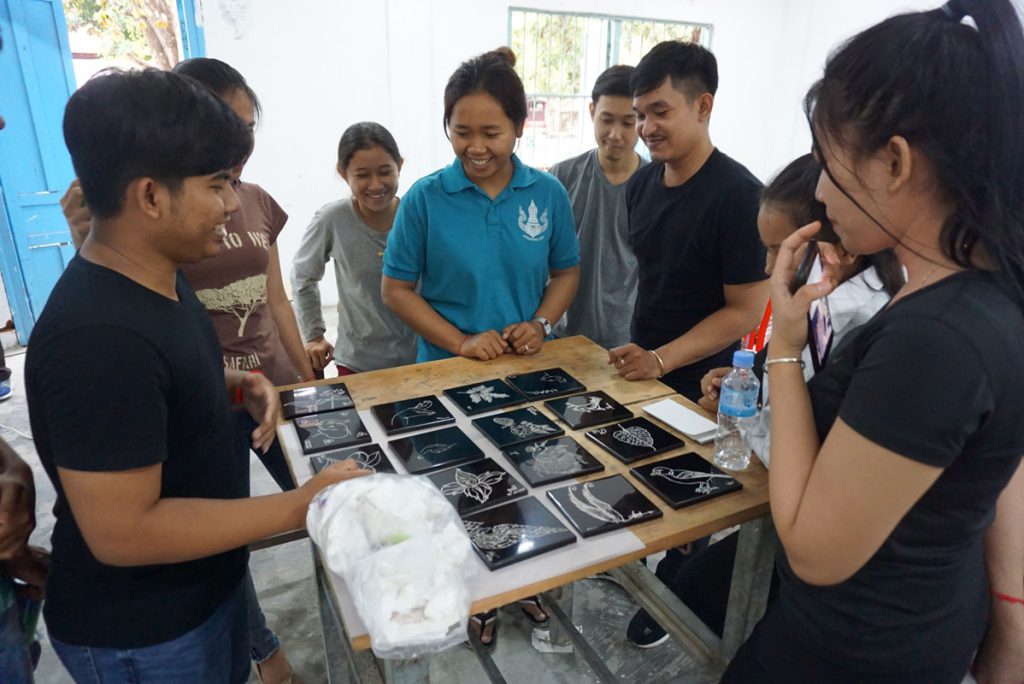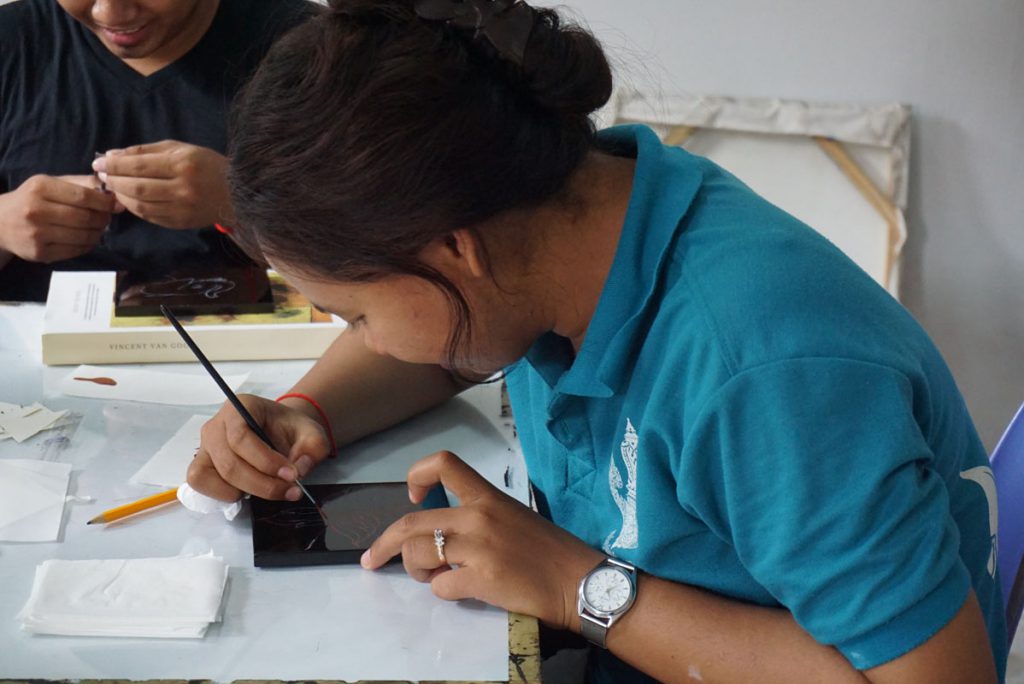 日本の漆芸の特色と教育の現場についてのレクチャーでは、藝大の漆芸教育について、また学生・教員の漆芸作品を、写真を交えて紹介しました。
最後に、参加した学生に日本の漆に触れてみた感想を尋ねると、「初めての工程で予測がつかなかったが、仕上がってみると、"もっとこうすればよかった"と分かった部分もあった」など、反省と向上心が伺える意見が多く聞かれました。本プロジェクトを通して、漆という素材の特徴・可能性を少しでも伝えることができたと思います。
現在RUFAに漆芸を扱う領域はありませんが、漆の生産地でもあるカンボジアの学生たちに漆芸に興味を持ってもらい、本ワークショップが今後の漆芸文化の交流のきっかけとなることを願っています。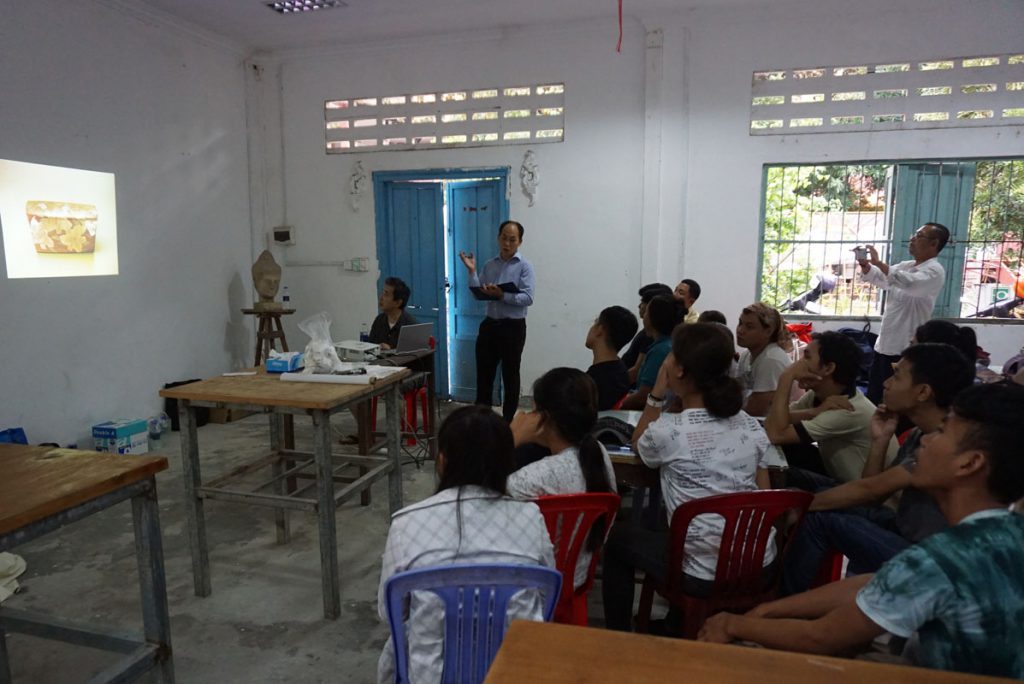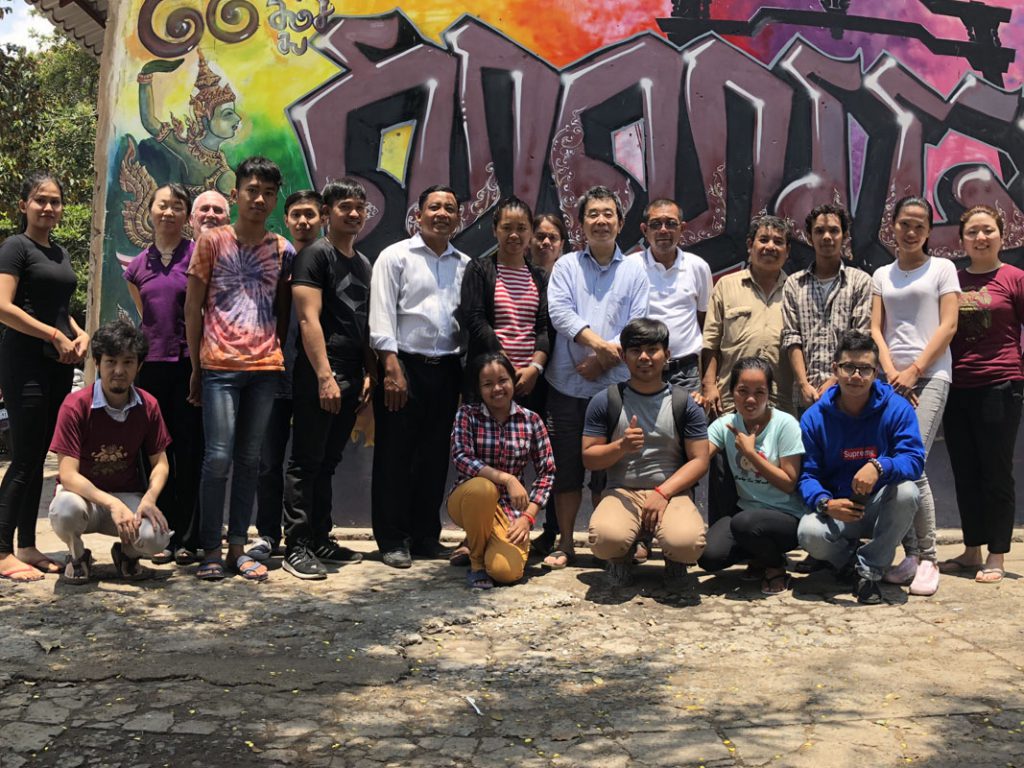 As part of a project focusing on cultural exchange through "Urushi" in ASEAN (Association of Southeast Asian Nations) countries, a silver lacquering workshop and an art education lecture on Japanese lacquering techniques taught at Tokyo University of the Arts (Tokyo Geidai) took place at the Royal University of Fine Arts (RUFA) in Phnom Penh, Cambodia on May 1 and 2, 2018.
From our school, Professor Norihiko Ogura from the Urushi Arts , two teaching staff attended and the 18 students participating from RUFA were mainly students of oil painting.
In the workshop, Hiramakie which is a traditional technique in Japanese lacquer work was carried out using Japanese materials and designs of the participants own conception. The students at RUFA were not afraid to try Urushi , though they had no prior experience of it, and drew thin neat lines with their brushes. The students' designs were varied and they a lot from one another during the creative process. There were concerns about the hardening of Urushi in an environment more equatorially hot and humid than Japan but it caused no problems.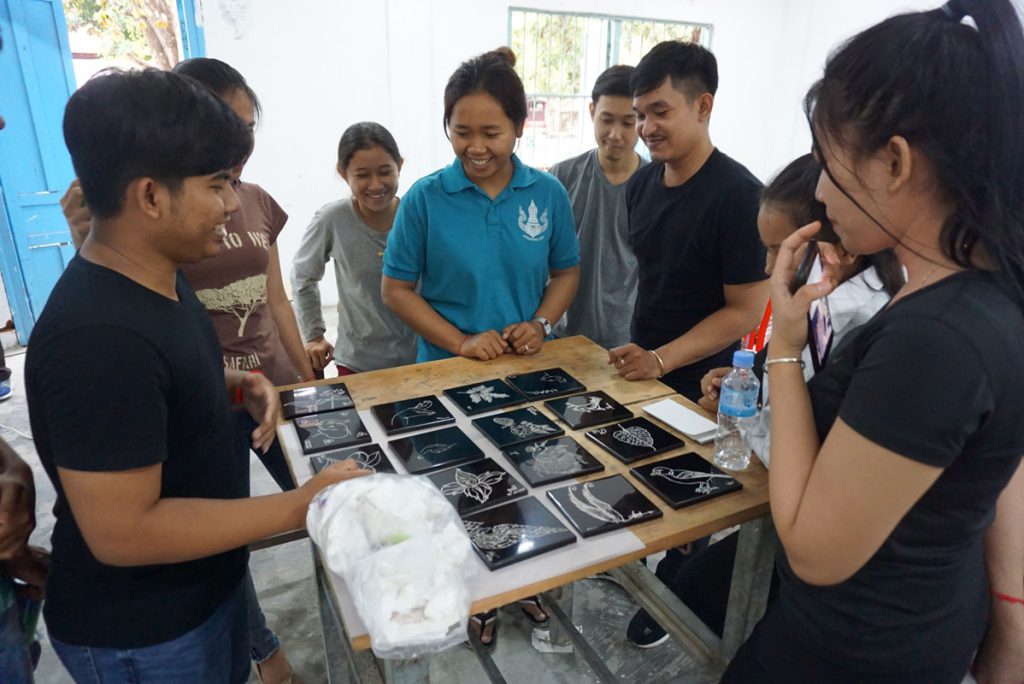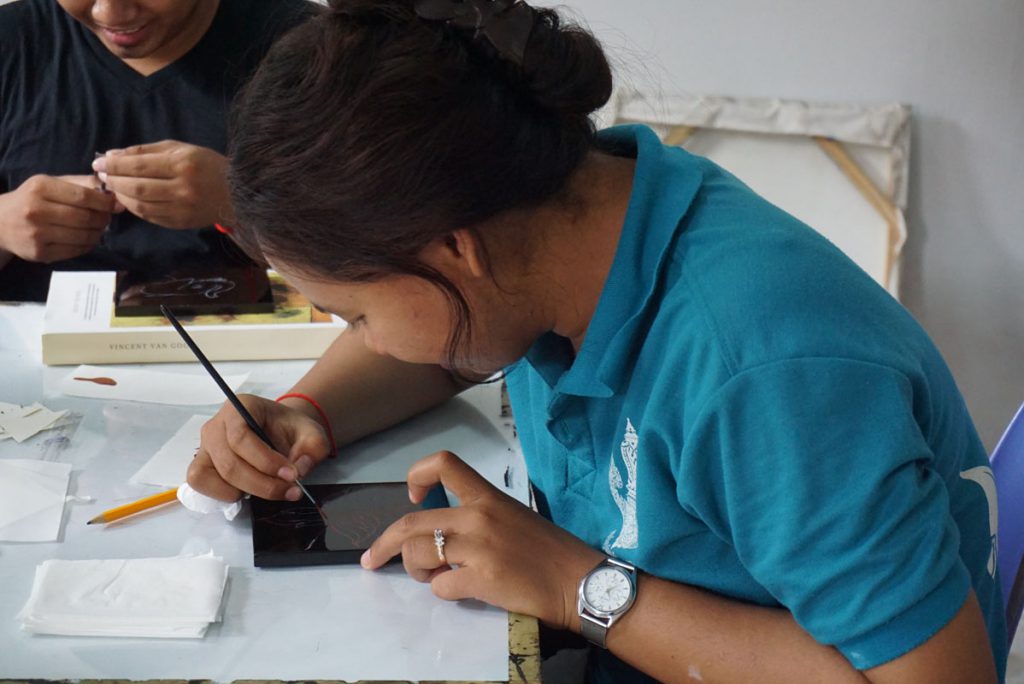 In a lecture regarding the study and characteristics of Japanese lacquer work an introduction was given to our lacquer work educative process. Lacquer work pieces produced by our students and staff were displayed to them as part of a presentation given.
Finally, when were asked what they thought about their experience of Japanese Urushi, one said "We didn't really know what to expect as it was our first time with the process but once it was done, I felt that I partially understood how I could have done it better." We think that through this project, we were able to pass on, even if just a little, the characteristics and possibilities of working with the Urushi material.
Presently, RUFA offers no programs in Japanese lacquer art but we hope that the students of Cambodia () would develop an interest in the Urushi arts and that this workshop may lead to future exchange of Urushi art culture.