カルロス・アルマーダ駐日メキシコ大使ご夫妻が「西郷どん」展を鑑賞
Mexican Ambassador and his wife visit the special exhibition "Segodon" held at the University Museum
August 13, 2018
7月13日、カルロス・アルマーダ駐日メキシコ大使ご夫妻が本学大学美術館を訪れ、NHK大河ドラマ特別展「西郷どん」(会期:2018年5月26日 – 7月16日)を鑑賞されました。
同展は、多くの謎に包まれた「西郷どん」の人物像と激動の時代を浮き彫りにするべく、NHKの大河ドラマ「西郷どん」と連動しながら、西郷隆盛ゆかりの歴史資料や美術品などを展示したものです。
アルマーダ大使ご夫妻は、澤学長、黒川教授の案内で一般の来館者とともに同展を鑑賞されました。アルマーダ大使は日本の歴史の特に幕末に関心があるとのことで、黒川教授から展示品について丁寧な解説があると、背景の歴史などを熱心に質問しながら貴重な歴史資料など1点1点を興味深く鑑賞し、西郷隆盛の時代や当時の日本の文化について理解を深められました。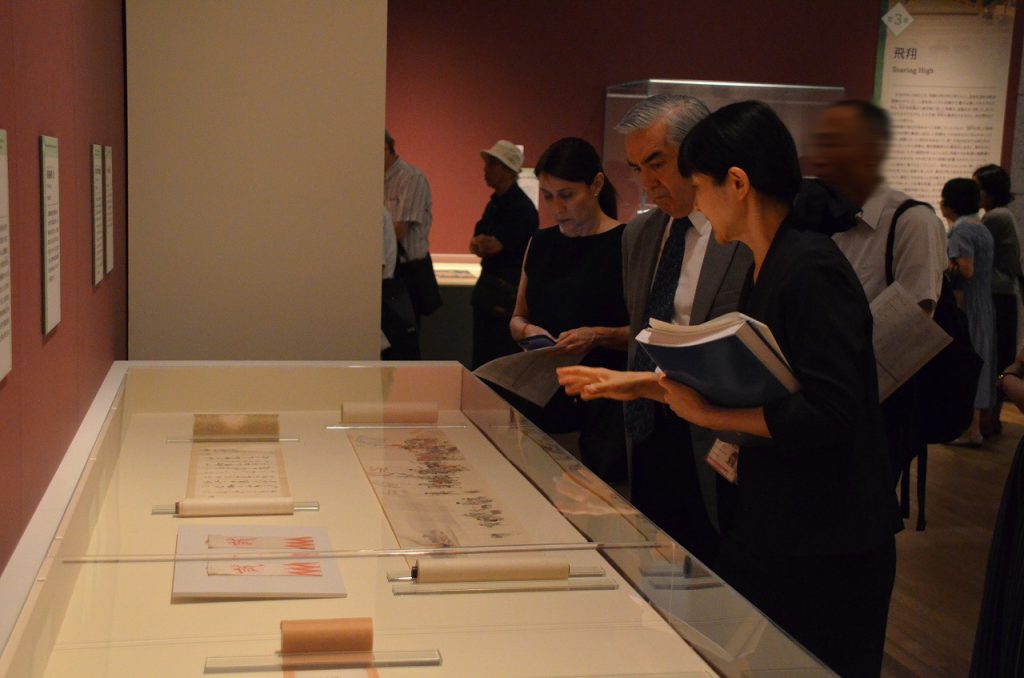 黒川教授(右)の解説を受けるアルマーダ大使ご夫妻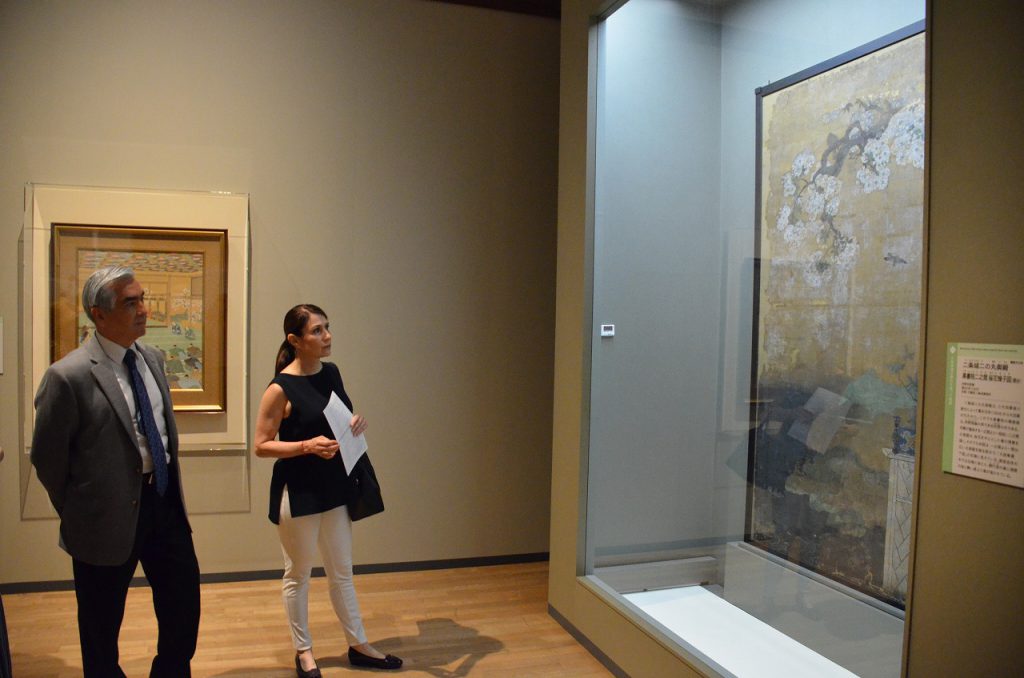 「大政奉還 下図」に見える障壁画
「二条城二の丸御殿 黒書院ニ之間 桜花雉子図(部分)」に見入るアルマーダ大使ご夫妻
On July 13, the Ambassador of Mexico to Japan, H. E. Mr. Carlos Fernando Almada López and his wife visited the University Art Museum and enjoyed a special exhibition on an NHK historical drama "Segodon" (held from May 26 to July 16).
The exhibition displayed historical documents and artifacts connected with Takamori Saigo in conjunction with NHK's historical drama "Segodon" in order to reveal the personalities of this very mysterious historical figure and his life in the volatile era. ("Segodon" is an expression in Kagoshima dialect which means "Mr. Saigo.")
Mr. and Mrs, Almada enjoyed the exhibition along with the other visitors, guided by President Sawa and Professor Kurokawa. With his interest in Japanese history, particularly in the last days of the Tokugawa Shogunate, Ambassador Almada looked at the precious historical documents one by one, while keenly asking questions regarding the historical background in response to the careful explanation of the exhibits provided by Professor Kurokawa. Through this visit, Ambassador Almada deepened his understanding about the period of Takamori Saigo and the Japanese culture at the time.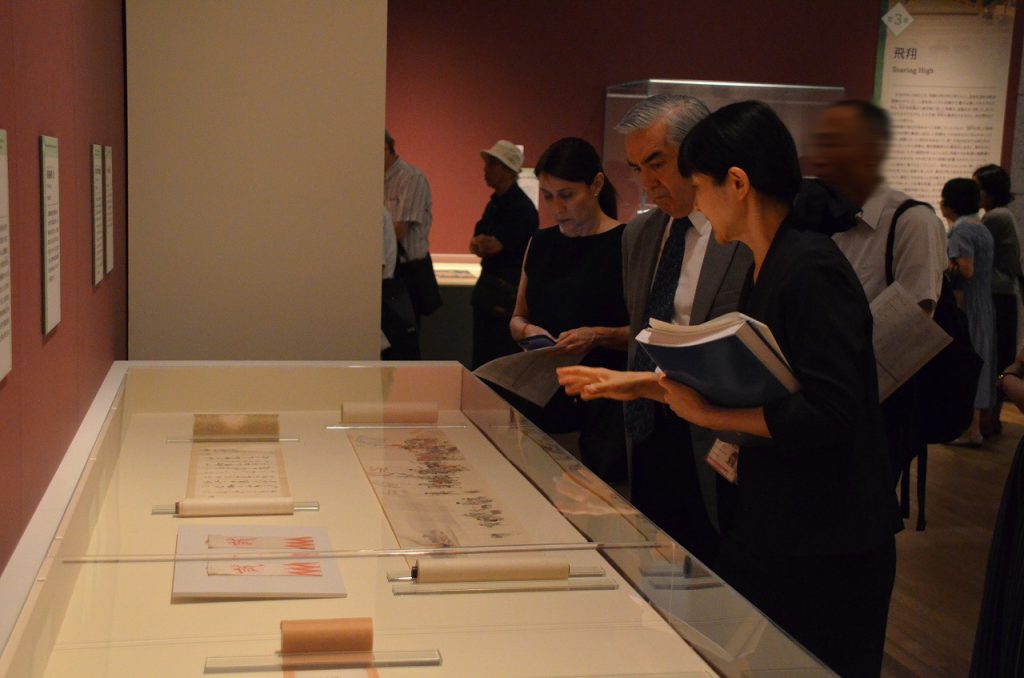 Mr. and Mrs. Almada listens to the explanations given by Prof. Kurokawa (right)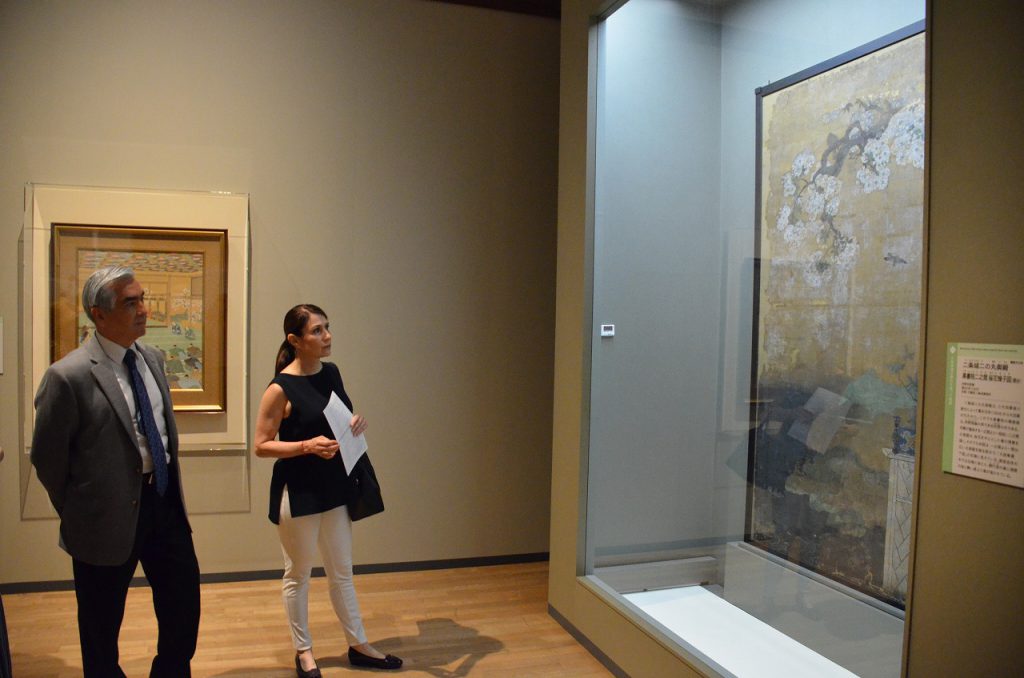 Mr. and Mrs. Almada gaze into the wall painting, Mural from Nijo Castle where Imperial Rule was restored, which can be seen in the other drawing work, Rough sketch for a painting of the Shōgun TOKUGAWA Yoshinobu during the ceremony to restore power to the Emperor at Nijō Castle