【レポート】留学生のための日本文化体験プログラム 「書道体験ワークショップ」
[Report] Japanese Culture Experience Program "Japanese Calligraphy Workshop"
November 30, 2021
2021年11月25日(木)に、東京藝術大学の留学生を対象とする「オンライン&対面 書道ワークショップ」を開催しました。
講師は芸術学科助教の柳田さやか先生、通訳はグローバルサポートセンター特任講師のヤマモトアン先生が担当し、会場はハイブリッド型授業に対応した上野キャンパス美術校地中央棟の第3講義室にて開催しました。
ワークショップはまず、講師の柳田先生から書道の歴史や、書道の道具・姿勢・筆の運び方に関するミニレクチャーから始まりました。書道の歴史では、日本でどのように書道の文化が浸透し、親しまれているかをお話しいただきました。また、世界における「書道(カリグラフィー)」にも触れていただき、留学生たちも興味津々の様子でした。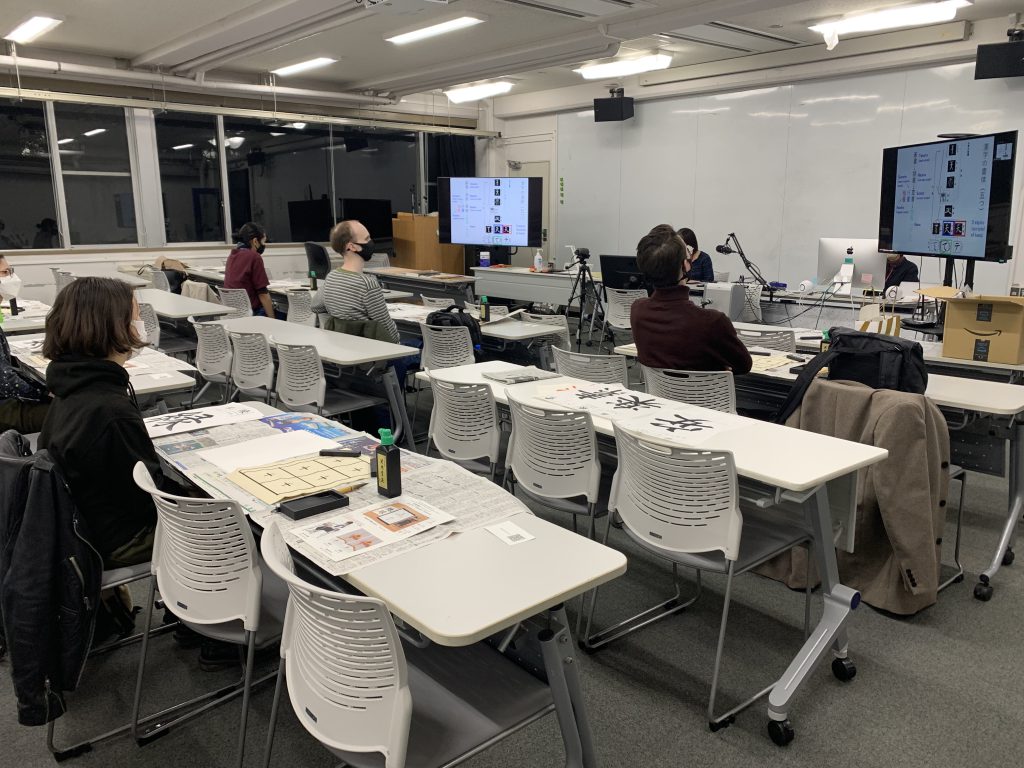 ミニレクチャーのあとは、実際に漢字を書くセッションに入りました。
書く漢字については、あらかじめ参加者から希望を聞き、当日までに講師の先生にお手本を作成していただきました。
お手本を見ながら書く学生もいれば、漢字の意味から独創的にアレンジをする学生もおり、それぞれ個性豊かな作品が完成しました。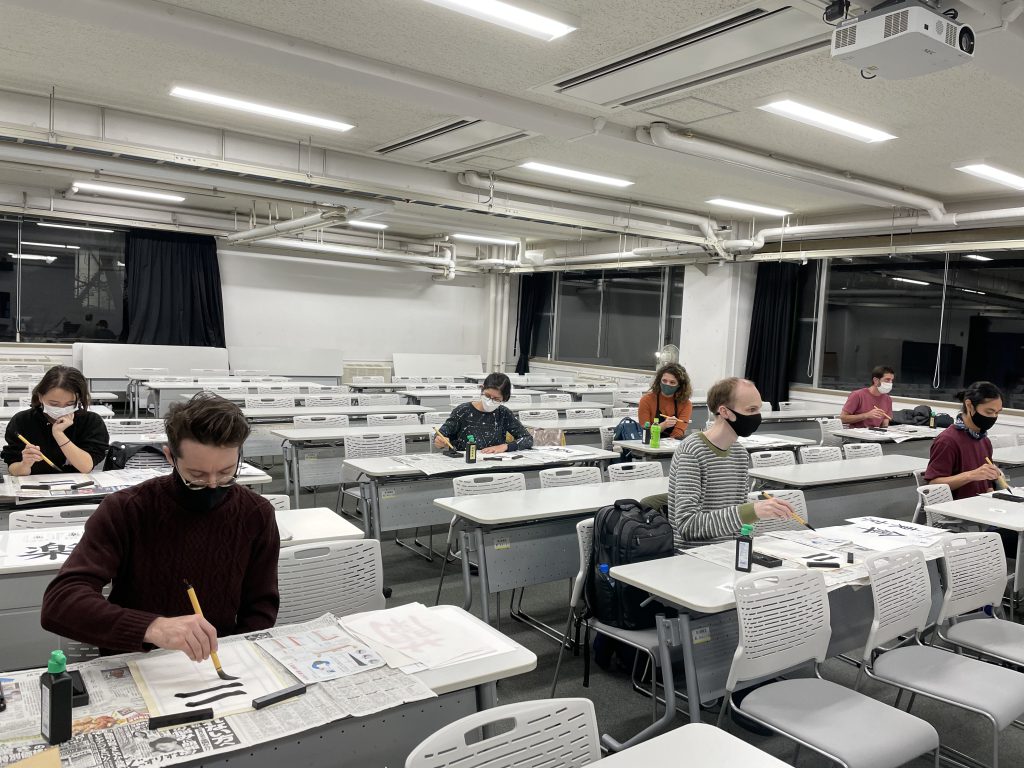 最後に、参加者同士で作品について漢字の意味やなぜこの漢字を選んだかなどを発表してイベントはお開きとなりました。
(グローバルサポートセンター)
On November 25, 2021, the Japanese Culture Experience Program "Japanese Calligraphy Workshop" was held online and in person at the Ueno Campus' Faculty of Fine Art Chuo Building utilizing the Lecture Room 3 video streaming facilities. The lecturer was Sayaka Yanagida (Assistant Professor, Graduate School of Fine Arts) with interpretation provided by Ann Yamamoto (Project Lecturer, Global Support Center).
The event began with a short lecture on the history of calligraphy and an explanation of Japanese calligraphy tools, posture and how to convey the brush. The lecturer covered how calligraphy has permeated Japanese culture, and international students especially seemed interested in the history of calligraphy around the world.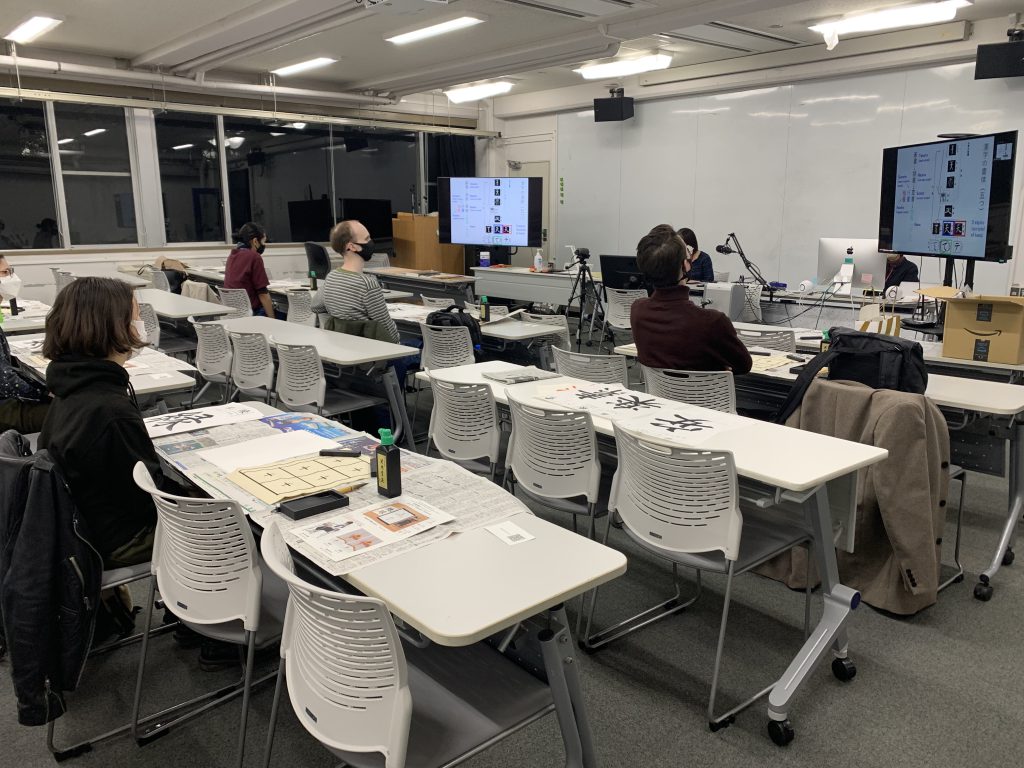 The writing practice session followed the lecture. Students selected kanji in advance and the lecturer prepared calligraphy samples. Some students did calligraphy based on a sample, while others made creative arrangements based on the meanings of the kanji characters, and all the works were full of individuality. The event concluded with student presentations of their work, including the meaning of the kanji and reasons for their selection.
Participants included both experienced calligraphers and beginners, and they all made satisfactory works thanks to the lecturer's overview and kanji samples. Students expressed their appreciation for getting a glimpse into the world of calligraphy, and some students wanted more time for the workshop. It was wonderful to see their serious engagement with Japanese calligraphy.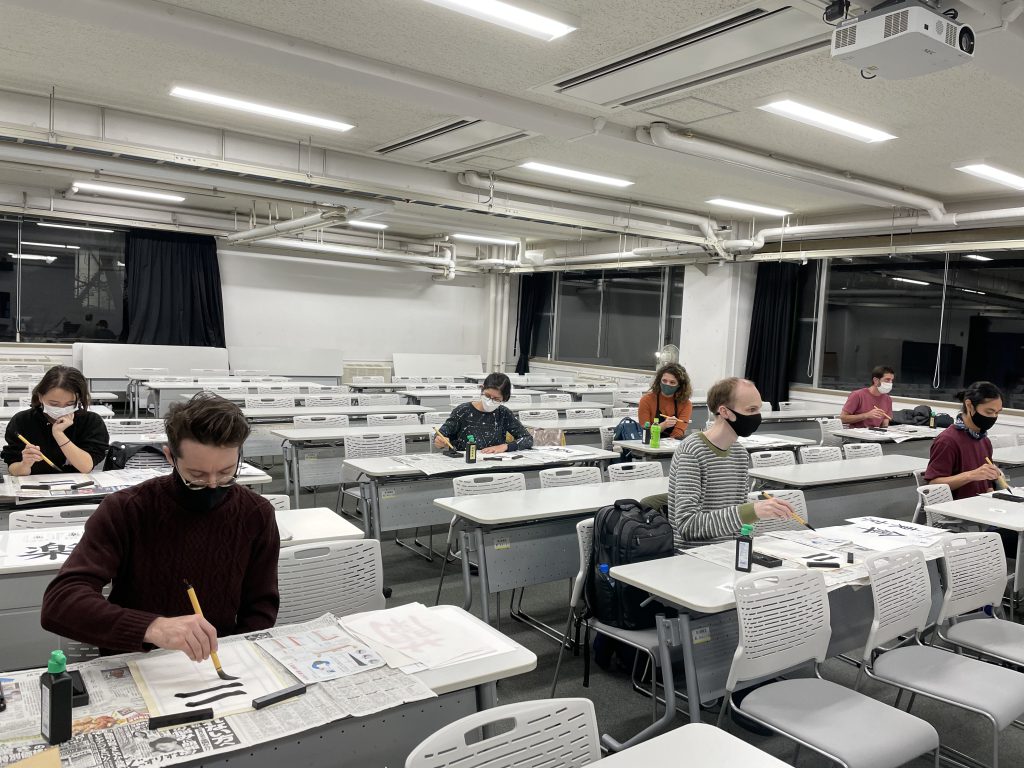 This workshop was the first in-person event for international students since COVID-19 and provided a great opportunity for students to get to know each other.
(Global Support Center)