留学生交流イベント:ジブリ美術館ツアー
International Students Event : A Tour of the Ghibli Museum in Mitaka
November 20, 2019
留学生交流イベントの一環で、2019年10月25日(金)に三鷹の森ジブリ美術館ツアーを実施しました。当日はあいにくの悪天候でしたが、館内に一歩踏み入れるとジブリの世界が広がり、参加者は入場券を受け取ると目を輝かせて語らいながら館内へと入っていきました。
入館を待つ参加者たち
まず、映像研究科のイラン・グエン特任准教授よりジブリ美術館についての説明を受けてから、地下1階の常設展示室「動きはじめの部屋」を見学しました。この部屋ではアニメーションの動きや奥行きを作る仕組みについて、実際の展示からいろいろな技法を知ることができます。
次に、同じ階にある映像展示室「土星座」にて上映されている、『水グモもんもん』という短編映像を観ました。台詞がなくてもストーリーがしっかり伝わる内容で、水や生き物の姿が生き生きと描かれている作品でした。上映前の待ち時間に、学生同士の会話は入場券の話で持ちきりでした。入場券にはジブリ作品のセル画3コマ分が付いていて、それをお互いに見せ合い、どの作品のセル画なのかを話していました。
1階にある常設展示室「映画の生まれる場所」では、作品のできる様子を実際の絵コンテなどの展示物などで見ていくことができます。イラン特任准教授の説明を聞いたり、質問をしたりと、参加者たちは熱心に学んでいました。
企画展示室では『映画を塗る仕事』展が展示されていて、1つの作品に使われる色の種類を実際に見ることができ、キャラクターや作品によって同じ顔のパーツでも違った色を使っていることや同じキャラクターでも陰影を表すために違った色合いを出していることなどが実際のセル画とともにわかりやすく説明されています。ここでも学生たちからイラン特任准教授にたくさんの質問がありました。
企画展示室を見終える頃には雨もほとんど上がっていたので、最後に屋上庭園にも出ることができました。
参加者たちからは、「とても興味深かった。」という声をたくさん聞くことができました。今回のツアーがいろいろな形の学びにつながったのではないでしょうか。
(グローバルサポートセンター/国際企画課)
As part of a series of cultural events arranged for international students, a tour of the Ghibli Museum in Mitaka was conducted on Friday, October 25, 2019.
Despite the unfortunate weather, the participants' faces lit up with excitement once they got their admission tickets and stepped into the world of Ghibli that spreads out inside the museum.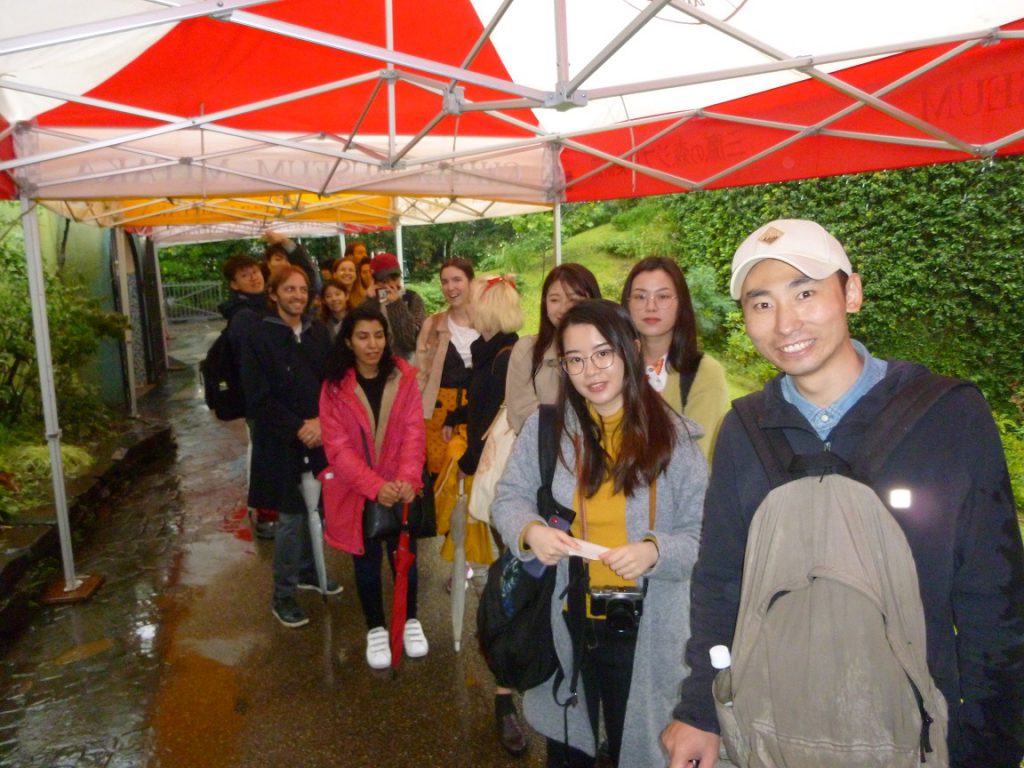 First, Project Associate Professor Ilan Nguyen of the Global Support Center, who specializes in animation history, gave an explanation about the Ghibli Museum. Then, the participants visited the permanent exhibition room "The Beginning of Movement" on the base floor. In this room, you can learn about the mechanism of movement and depth of space created by animation by viewing various techniques on actual displays.
After wandering through the room "The Beginning of Movement," the group moved to the video exhibition room named "The Saturn Theater" and watched a short video called "Mon Mon the Water Spider." Even without dialogue, the story was well told, and the ways the water and creatures move were depicted in a very lively way.
Each unique admission ticket to the theater contained three celluloid frames of scenes from a Ghibli film. While waiting to enter the theater, the students enjoyed comparing their tickets with other students' to see which animation scenes they have on their tickets.
The permanent exhibition room on the first floor, "Where a Film is Born," showcases techniques and the actual process of creating an animated film, demonstrating examples of actual work, such as storyboard drawings. The participants were able to learn a lot about animation from listening to Associate Professor Ilan Nguyen's explanations and actively engaging in discussions where many questions were asked.
In the exhibition room "Painting the Colors of Our Films," the students could see all the colors on celluloid drawings that were actually used for a film. The exhibition explains how different colors are used for bringing touches of reality to each scene. For example, different colors are selected for expressing the character's emotions, or for depicting the time and place of the story. Again, many questions were asked of Associate Professor Ilan Nguyen.
It had almost stopped raining by the time everyone had finished viewing the exhibitions, and everyone could go out onto the rooftop garden.
Many of the students expressed how interesting and fun the museum tour was.
We hope this tour enhanced their learning experiences in many ways.
(Global Support Center / International Affairs Division)