言語・音声トレーニングセンター
国際舞台で活躍するために必要な語学力を養成するためのさまざまな授業や学習支援プログラムを提供しています。また、各種外国語の学習に役立つ教材を所有しており、それらの教材を自由に利用できます。
英語、フランス語、ドイツ語、イタリア語の授業を開設しており、美術・音楽の学部・大学院、映像研究科のいずれの学生も履修可能です。(履修要件があります。)
教材は開設授業を受けていなくても、申請書を記入して申し込みをすれば利用できます。一部の教材は持ち出しができませんがセンター内での閲覧が可能です。
開設授業や教材の利用方法等、詳細については以下にお問い合わせください。
言語・音声トレーニングセンター
場所:上野校地 音楽学部 4 号館 2 階 4-201(教員室)
利用時間:月曜日~金曜日 10:00~17:00
電話:050-5525-2461
※利用時間は、日によって異なる場合があります。教員室(4-201)扉にある、開室日時カレンダーで確認してください。
※春期、夏期、冬期の休室に関しては、学部の休暇に準じます。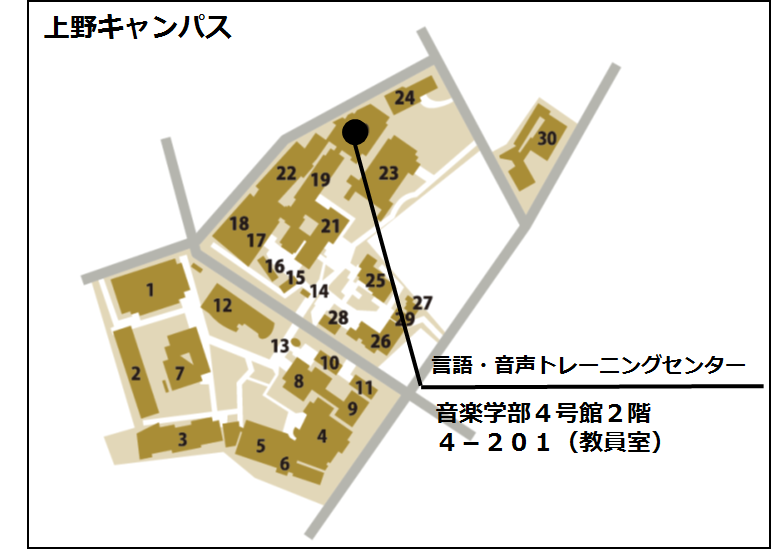 Training Center for Foreign Languages and Diction
The Training Center for Foreign Languages and Diction offers a variety of classes and support programs for students to develop foreign language skills that are essential for global competence. Students at the university have free access to the educational resources provided by the center, for the study of various foreign languages.
The center offers language classes of English, French, German, and Italian. They are available to students in any of the university's programs who meet certain eligibility requirements.
Education materials are available, even if the student is not taking a class at the center, by submitting an application form. While some materials are not allowed to be taken out of the center, they are available for use inside the center.
For more details, please inquire at:
The Training Center for Foreign Languages and Diction
2nd Floor, Faculty of Fine Arts Building 4, Ueno Campus(Faculty room)
Open on weekdays, from 10:00-17:00
050-5525-2461
*The opening hours may vary from day to day. Please check the calendar on the door of the faculty room.
*The center is closed during the university holidays (i.e. spring, summer, winter vacations).