フランスからの贈り物
A gift from France
November 27, 2015
11月19日、本学の附属音楽高校で、フランス首相夫人マダム・グラヴォワンから届いた贈り物の授与式を開催しました。
この贈り物は、去る10月5日に来学されたマダム・グラヴォワンから、そのときに歓迎の演奏を披露した学生・生徒及び教員の一人ひとりに対して贈られた記念の品であり、首相夫人からの感謝の手紙と共に本学に届きました。
(10月5日に関する記事:https://global.geidai.ac.jp/reports/034/)
授与式では澤和樹音楽学部長が、台湾演奏旅行から帰国した翌日にもかかわらず首相夫人の歓待に快く協力してくれた生徒達を改めて労いつつ、便箋に綴られたマダム・グラヴォワンからのお礼の言葉を読み上げた後、一人ひとりに記念品の包みを手渡しました。
期待と感謝で表情を緩ませた高校生達は、包みを開いて4色の色違いの腕時計を目にすると歓声を上げ、中にはお目当ての色の時計を求めて侃々諤々の交渉を行う生徒の姿もありました。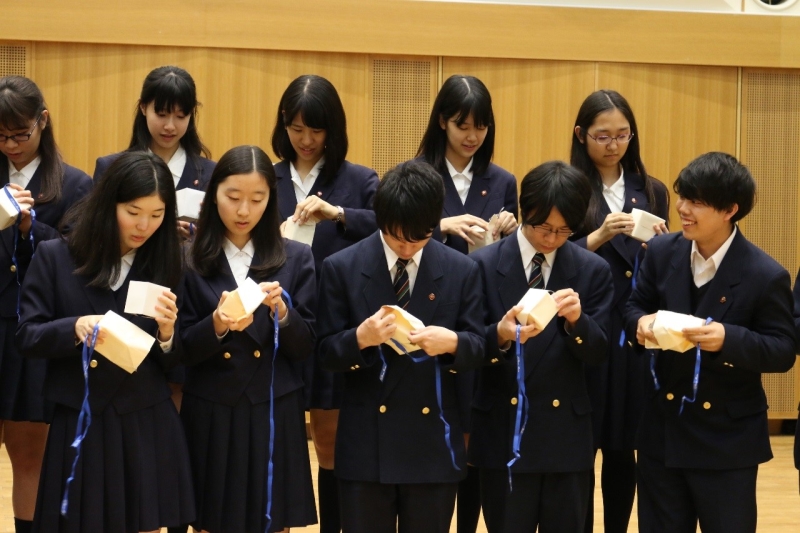 記念品の包みを開封する生徒たち
パリ・コンセルヴァトワール出身の優れた音楽家でもあるフランス首相夫人を演奏でお迎えするという貴重な機会に加え、素敵な記念の品までお贈りいただき、マダム・グラヴォワンのお心遣いには重ねて感謝申し上げます。この経験は、お贈りいただいた時計のリズムにあわせて、高校生の心に深く刻まれていくものと思います。
いつか本学を再訪され、あるいは本学がフランスを訪れ、豊かな時間を経てさらに磨かれた演奏をお聴かせする日が来ることを、心待ちにしております。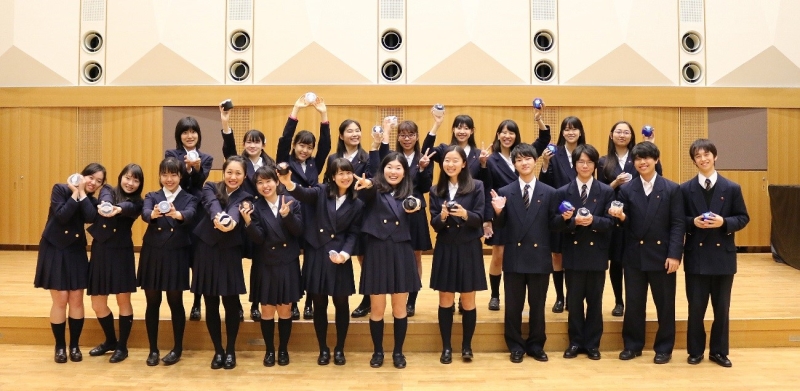 On November 19, 2015, a ceremony was held at Tokyo University of the Arts' Senior High School of Music to present a gift from Ms. Anne Gravoin, the wife of the French Prime Minister.
Ms. Gravoin was here a month before, on October 5, and the university has recently received a commemorative gift from her for every one of the students and the faculty members who were there to welcome her with instrumental performances on that occasion.
(The article on Madame Gravoin's October 5 visit can be found here: https://global.geidai.ac.jp/e/reports/034/)
At the ceremony, Prof. Sawa, Dean of the Faculty of Music, acknowledged the students once again for their collaborative work to welcome Ms. Gravoin, noting that they had just got back from their performance trip from Taiwan the day before. He then handed a gift box to each student after reading the words of appreciation from her.
The students brightened their eyes with expectations and gratefulness, and burst into excitement to find a watch inside the box they each received. The watches came in four different colors, and some of the students started negotiations with others to trade their watches so that they could get the color they wanted.
Students unpacking their gift boxes
We are very grateful that we had the privilege to perform in front of the wife of the French Prime Minister, Madame Gravoin, who is a graduate of the Conservatoire de Paris and an excellent musician herself. On top of that, we are honored to have received such a wonderful gift from her and greatly appreciate her thoughtful gesture. As the watches tick by, the memories of this experience will be imprinted even more deeply on the minds of the students.
We hope that there will come a day when Ms. Gravoin will revisit our university or we will have a chance to pay a visit to her in France after years of more experience to give a polished performance in front of her again.