C/WS 2: Double Perimeter/二重の周縁性
C/WS 2: Double Perimeter
October 28, 2016
基本情報
研修者:美術学部建築学科 大学院美術研究科建築専攻修士課程学生 計6名
研修先:イギリス(ロンドン)
研修期間:2016年4月29日~2016年5月9日
※この研修は、平成28年度「海外派遣奨学金制度」のご支援により行われました。
海外研修の成果
今回の研修では、昨年度と同様にロンドン中心部キングスクロス再開発地域を対象地とし、「全ての人間、存在、肉体、生物、無生物を、空間―時間、場、そして住宅、建物、町、景観になりかけるところで交響的、異拍子的に掴む」としたルフェーブルの視点を援用し、人・建物・都市空間のリズム分析の記述を目的としました。
「人・建物・都市空間のリズム分析の記述が都市的身体・直接環境を表象しうる」という仮定をもとに、都市空間のー時間を増大させる日常的な直接行動に着目し、その連続表記と、都市の二重の周縁とリズムの関係に対する戦略的な検証を、ロンドン芸術大学セントラルセントマーチンズ校(CSM)の教員2名、およびAAスクールの教員2名と共に以下の手順で行いました。
作業1:漂流;再開発計画地における計画しえない部分、またはヒューマンスケールでの都市構造の齟齬・衝突を問題発見型の手法である状況主義の「漂流」の概念をもとにフィールドワークをおこない6つの敷地を各自が最も得意とする表現形式(パース、平面図、アクソノメトリック等)で記述。
作業2:コリオグラフィ;敷地での反復性を持った日常的、非日常的行為・行動を記述。
作業3:エスノグラフィ;作業1,2で見出された敷地と人の関係性を周辺エリアまで拡張し痕跡を記述。
作業4:リズム分析;作業1,2でのヒューマンスケール、作業3での建築スケールの記述をもとに、それら二つのスケールと都市スケールとの提案的関係を記述。
中間発表では、人・建物・都市空間に介在する物的、社会的構造に対する中立的視点による記述が評価され、また最終発表では、提案的記述としてのリズム分析、およびそれらの審美的表現述が高く評価されました。CSMからは、今後の作業・発表場所の提供、および協同ワークショップの展開等の提案を受け、AAスクールからは継続的展開の要望を受けました。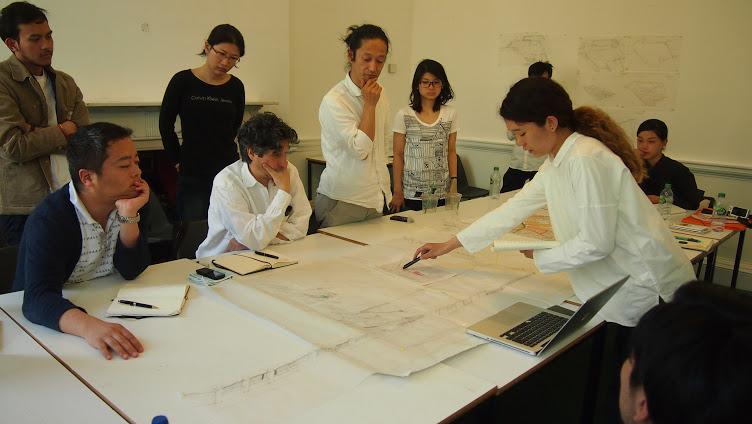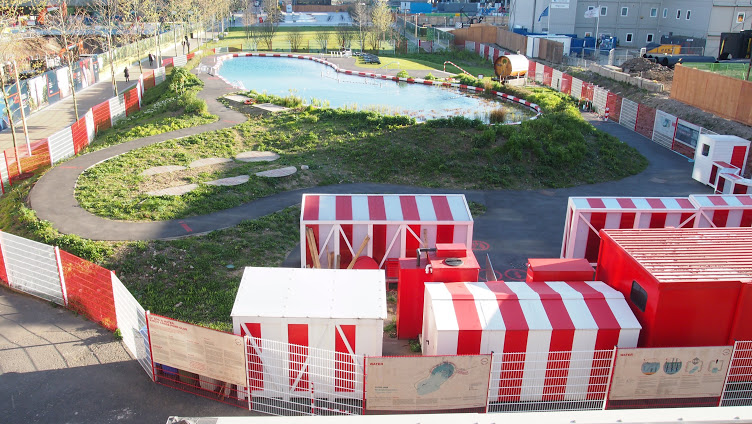 参加学生のコメント
・ワークショップの中間と最後に、CSMとAAスクールの教授に英語でプレゼンテーションを行った。英語での言語化に苦労したが、良い経験になったし、批評も的確で、勉強になった。
・海外という環境では、自分が考える建築がどう解釈されるのか、というテーマが大きくあります。また、見知らぬ地で行うワークショップだからこそ、自分の興味が浮き彫りになるような事がありました。

Basic Information
Participants: Six master's students in Architecture, Graduate School of Fine Arts
Location: London, UK
Period: April 29 – May 9, 2016
Achievements
Drawing on points made by the French philosopher Henri Lefebvre, the participants in this program aimed to describe the "rhythmanalysis" of humans, architecture, and space. Similarly to the program carried out during the previous year, this program's focus of study was the King's Cross redevelopment site in central London.
With the support of two academics from Central Saint Martins (CSM) of the University of the Arts London and two others from the Architectural Association School of Architecture (AA School), the participants attempted to document human actions in everyday life that would expand the perception of time in urban space, while strategically examining the city's double perimeter and its relation to urban rhythms. Their hypothesis was that a description of the "rhythmanalysis" of people, architecture, and urban space is a description of the physical environment of the city. To examine this hypothesis, they pursued the following procedures:
Work 1:
Drifting; The participants' fieldwork explored areas that cannot be planned for redevelopment, and the contradictions and conflicts in the city structure as they are perceived at a human scale. This work was based on the Situationist concept of "drifting" as a way to identify urban problems.
The six participants then applied a similar analysis to areas on the redevelopment site, expressing their understanding through the precise drawing of varying architectural views (such as perspective, plan, axonometric, etc).
Work 2:
Choreography; The participants researched and analyzed the actions and practices that are both ordinary (in a sense that they occur on the site repeatedly) and extraordinary.
Work 3:
Ethnography; The participants expanded their descriptions of the relationship between the site and its human users, which was identified in Work 1 and 2, to include the periphery of the site.
Work 4:
Rhythmanalysis; Building on the findings at human scale from Work 1 and 2 and the findings at architectural scale from Work 3, the participants made descriptions of a proposed re-working of the relationships between these two scales.
At the interim report session, the critics appreciated the ways in which the participants had taken a neutral stance regarding the physical and social structures that exist between people, architecture and urban space. At the final presentation the participants were praised highly for their use of "rhythmanalysis" as a method for describing their proposals, and as an aesthetic representation of their observations. In concluding the program, the CSM members offered to provide the students with a studio for their future work and presentation, and proposed to conduct a joint workshop. The AA School members also expressed their interest in continuing this program and supporting its further development.