ウィーン音楽演劇大学 200周年記念交流演奏会
Commemorative Concert with the University of Music and Performing Arts Vienna
September 05, 2017
2017年5月24日、東京藝術大学奏楽堂にて、ウィーン音楽演劇大学との共催による交流演奏会 が開催されました。この演奏会は、長年交流関係を培ってきたウィーン音楽演劇大学の200周年という大きな節目をパートナー校として一緒に祝うという目的のもと、東京藝術大学130周年行事の一環として、また文部科学省の国際共同プロジェクトとして行われたものです。
開演に先立ち、河野文昭音楽副学部長の挨拶があり、続いてクリスティアン・マイヤー ウィーン音楽演劇大学副学長 からご挨拶がありました。マイヤー副学長は藝大とウィーン音大の長い交流の歴史に触れ、東京藝大の創設にあたってもウィーン音大が参考にされたことから、両校の交流が130年の長きに渡るものであり、今後も変わらぬ両校の友好関係を望むと述べられました。
演奏会は、ウィーン音大に在籍中のジョコーゾ弦楽四重奏団を中心に、藝大ピアノ科に交換留学生として在籍しているシルビア季実子クルツ、弦楽専攻の坪井夏美、城戸かれん(ヴァイオリン)、髙梨瑞紀(ヴィオラ)、蟹江慶行(チェロ) が共演しました。
3日間の集中リハーサルの成果は600名を超える聴衆の心をとらえ、ウィーン音楽演劇大学の200周年と東京藝術大学の130周年を飾るのに相応しい演奏会となりました。
*ウィーン音楽演劇大学HPに掲載された記事はこちらから読めます(ドイツ語/英語)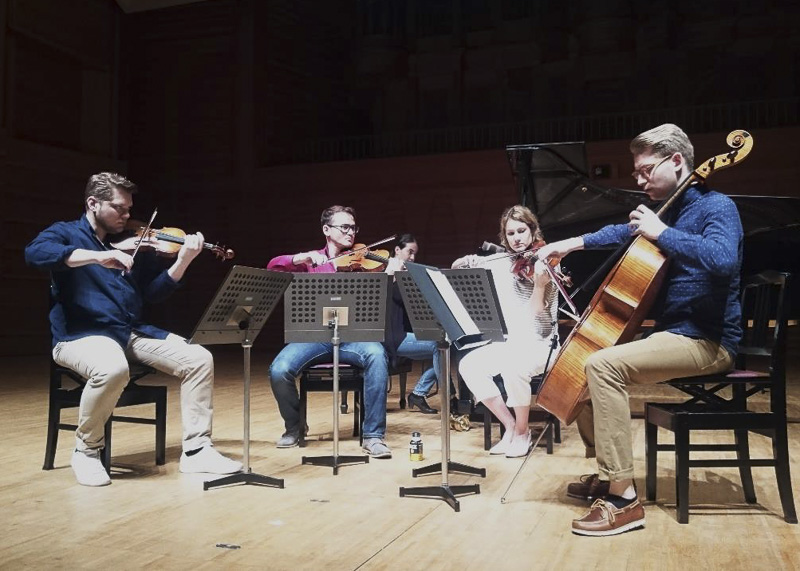 ジョコーゾ弦楽四重奏団のリハーサル風景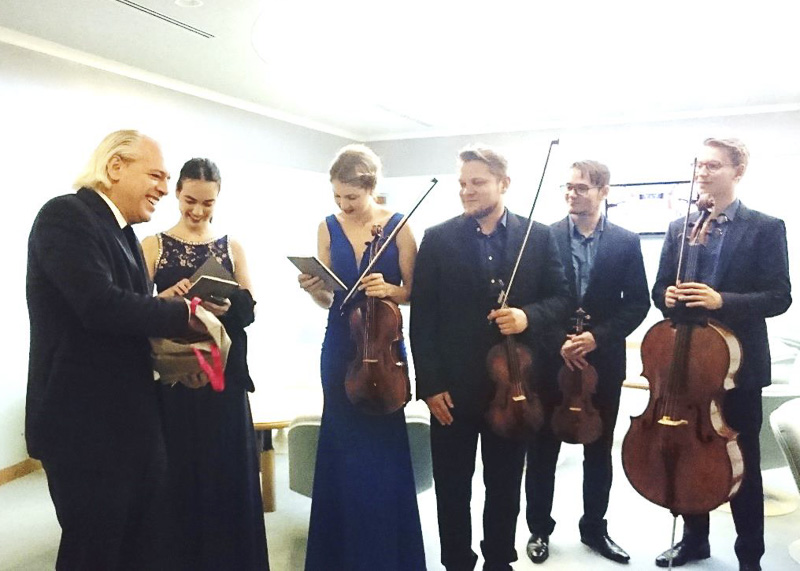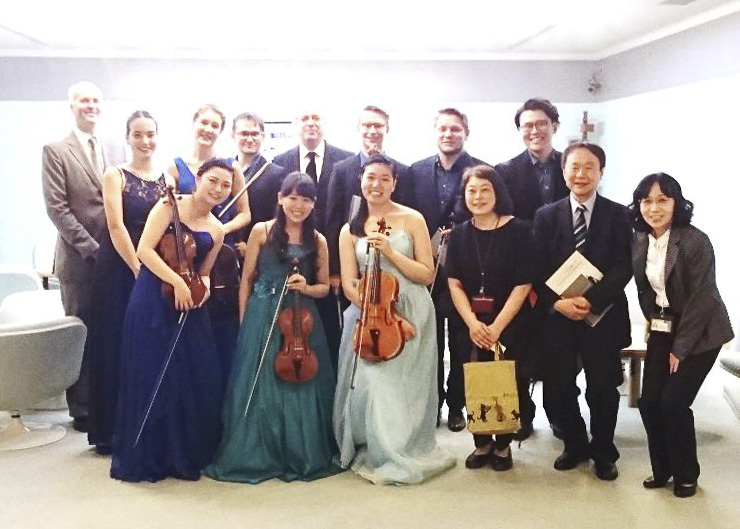 マイヤーウィーン音楽演劇大学副学長と、演奏会終演後の楽屋にて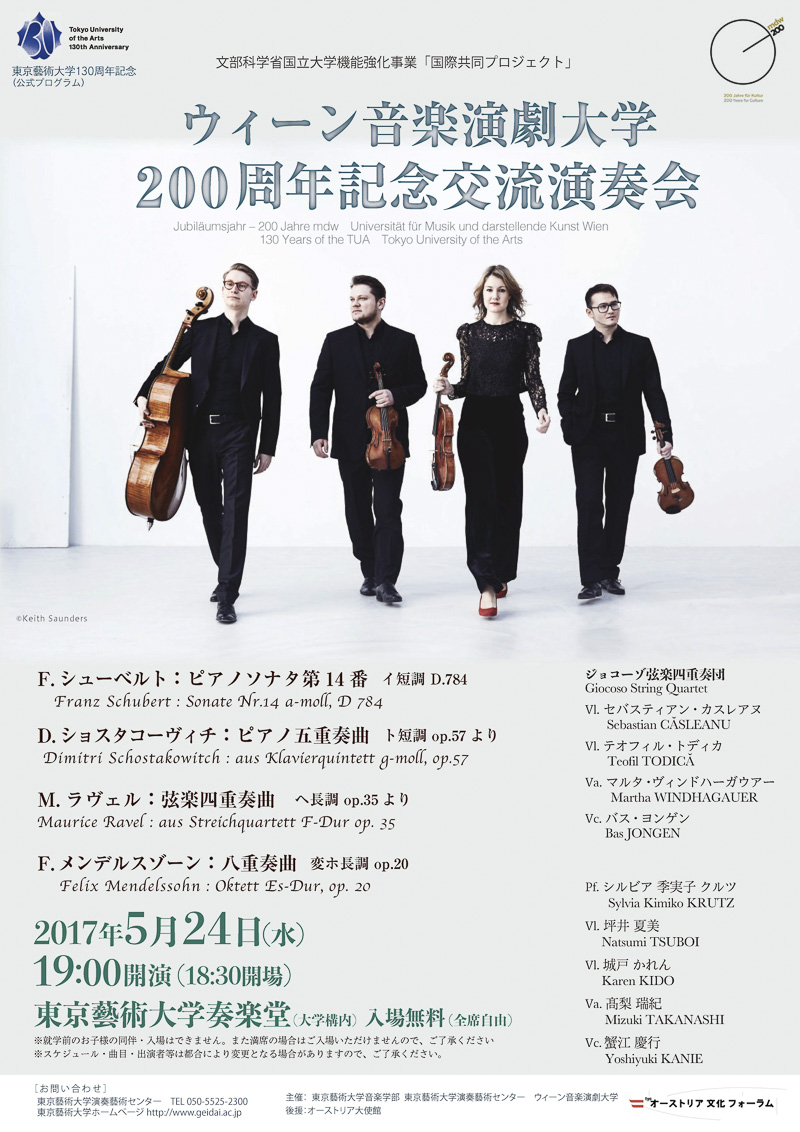 (公演情報 http://www.geidai.ac.jp/container/sogakudo/56524.html)
On May 24, 2017, Tokyo University of the Arts (TUA) held a commemorative concert at the Sogakudo Concert Hall jointly with the University of Music and Performing Arts, Vienna (MDW: Universität für Musik und darstellende Kunst Wien). TUA has enjoyed a long-term partnership with MDW and joined in celebrating the 200th anniversary of the Austrian university. The concert was also positioned as part of the events for the 130th anniversary of TUA as well as an international joint project subsidized by the Ministry of Education, Culture, Sports, Science and Technology Japan (MEXT) under the Enforcing the Function of National Universities scheme.
The concert opened with welcome remarks by TUA Faculty of Music Vice Dean Professor Fumiaki Kono, followed by greetings by Dr. Christian Meyer, Vice Rector of MDW. Dr. Meyer referred to the long history of exchange between TUA and MDW saying that the partnership is as old as 130 years since Tokyo Music School, the predecessor of the Faculty of Music at TUA, was established following the models of foreign music institutions including MDW. "I hope our long-time partnership will be as thriving as ever before." He stated in his speech.
The Giocoso String Quartet, which consisted of students from MDW, played a leading role at the concert. TUA students who performed with them were Sylvia Kimiko Krutz, an exchange student of piano from MDW, Natsumi Tsuboi (Violin), Karen Kido (Violin), Mizuki Takanashi (Viola), and Yoshiaki Kanie (Violoncello).
All the players went through intensive rehearsals for three days prior to the concert, which resulted in a great performance that fascinated over six hundred audience in the hall. The concert made a big success, meeting the objective of celebrating the long histories of both institutions.
*Here is the article posted on the website of The mdw – University of Music and Performing Arts Vienna (Germany/English).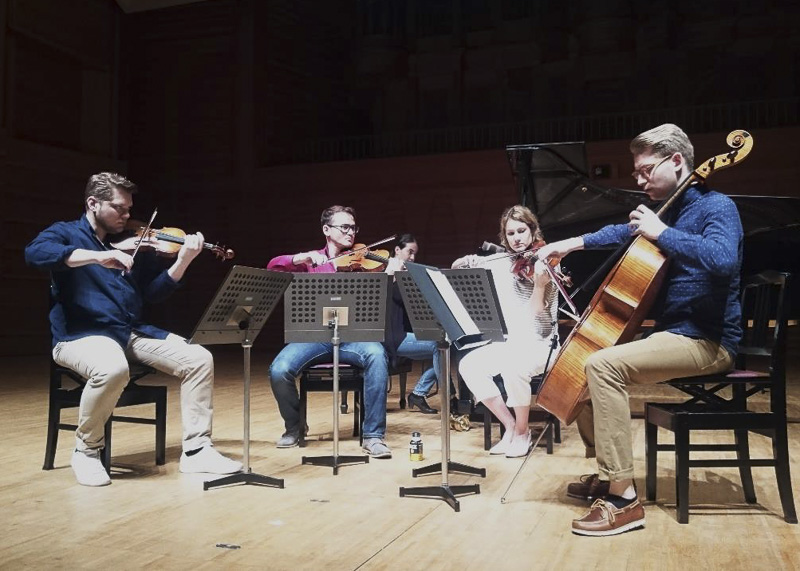 Giocoso String Quartet rehearsing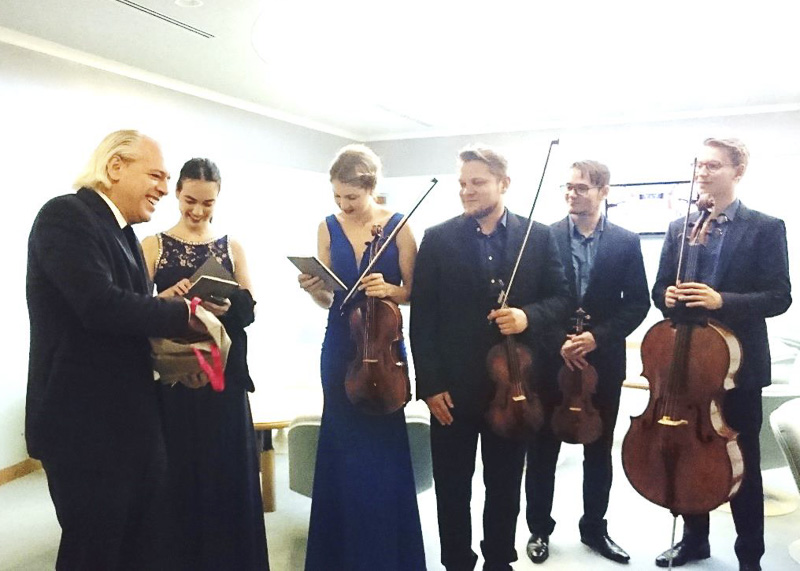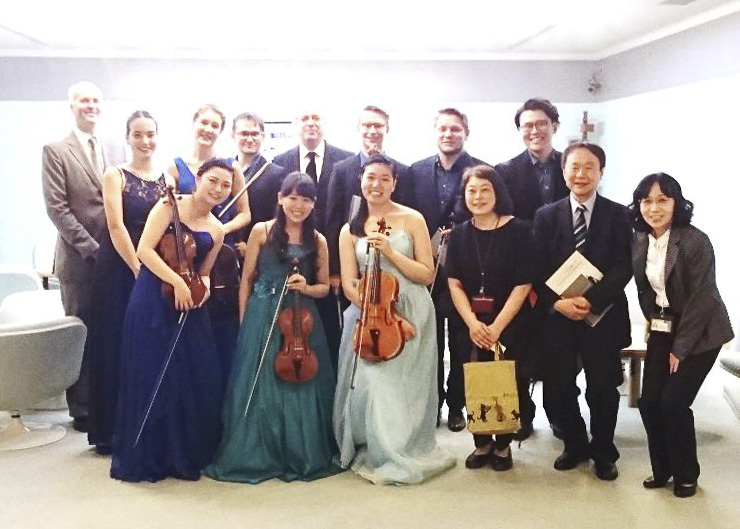 Dr. Christian Meyer and the participating players in the backstage room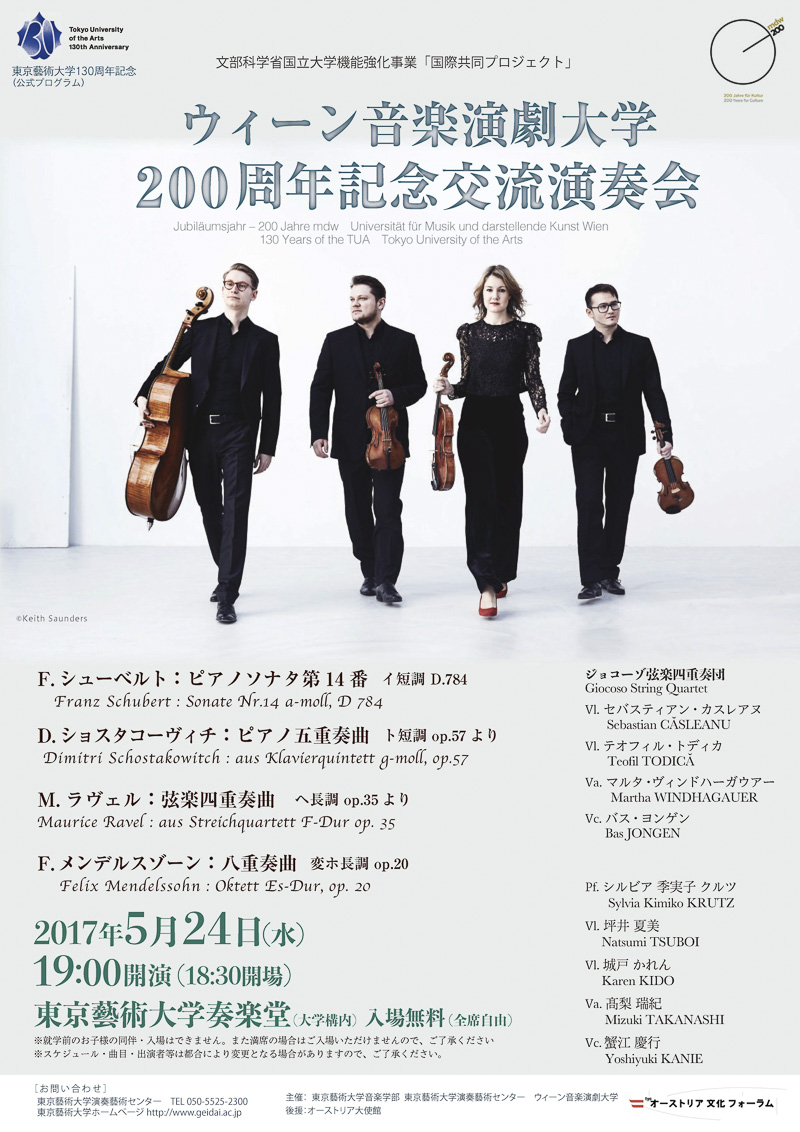 Concert Information http://www.geidai.ac.jp/container/sogakudo/56524.html