Leベトナム文化スポーツ観光省局長一行の来学
Visit by delegation of the Ministry of Culture, Sports and Tourism of Viet Nam
December 07, 2017
[:ja]11月27日、ベトナムよりLe Thi Thu Hien文化スポーツ観光省研修局長他が本学を訪問しました。本学からは、岡本美津子副学長(国際・ダイバーシティ推進担当)、青木宏憧准教授(美術学部)、植村幸生教授(音楽学部)が一行をお迎えしました。
はじめに、岡本副学長より一行を歓迎する旨の挨拶があり、続いて、本学が130年の歴史を持つ2学部4研究科から成る国立の総合芸術大学であることが紹介されました。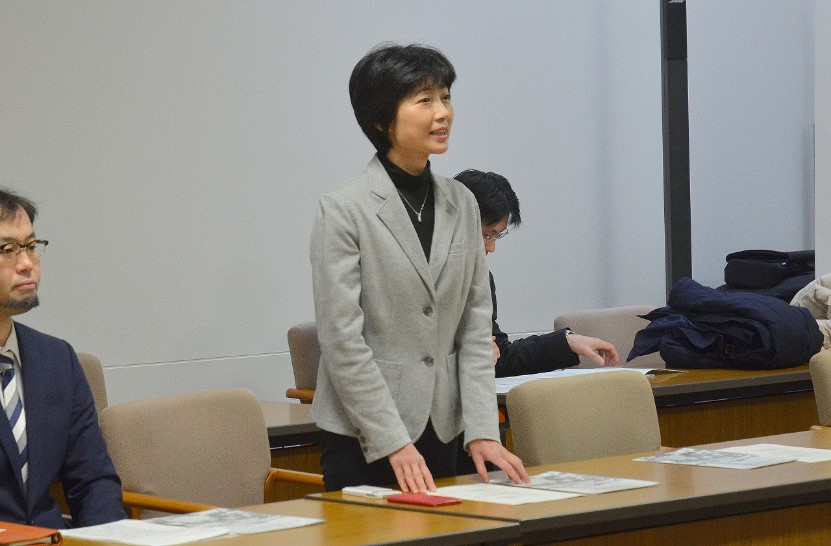 一行を歓迎する岡本副学長
Le局長からは、ベトナム政府は文化芸術の優秀な人材を選抜し、海外へ派遣して研修を行うことを計画しており、同計画の実施にあたり、派遣先の一つに想定している藝大との協力の可能性を模索するべく情報交換をしたいという訪問の目的が述べられました。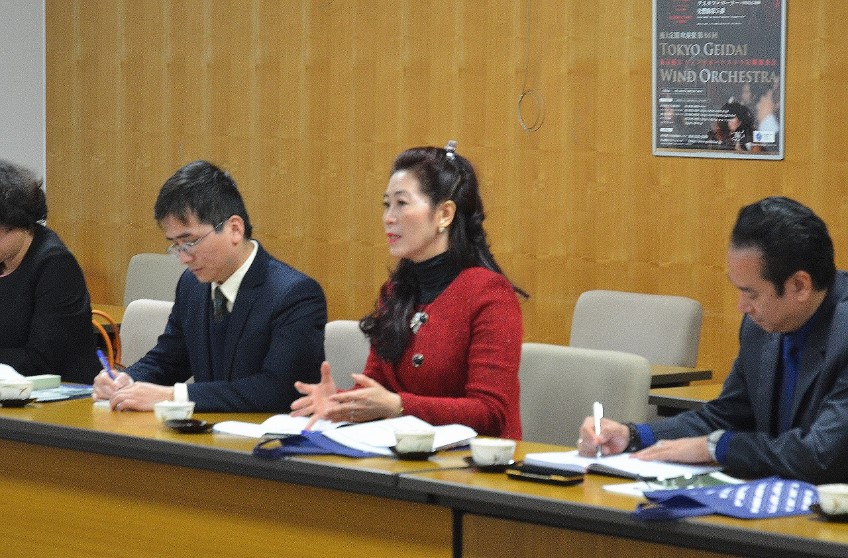 熱心に質問をするLe局長
続いて、Le局長より藝大の特色について質問があると、青木准教授から美術学部では少人数の学生に対して教員が親身に指導していること、たとえば工芸科漆芸専攻では学生が1学年あたり6人程度に対して教員は6名いることなどが紹介されました。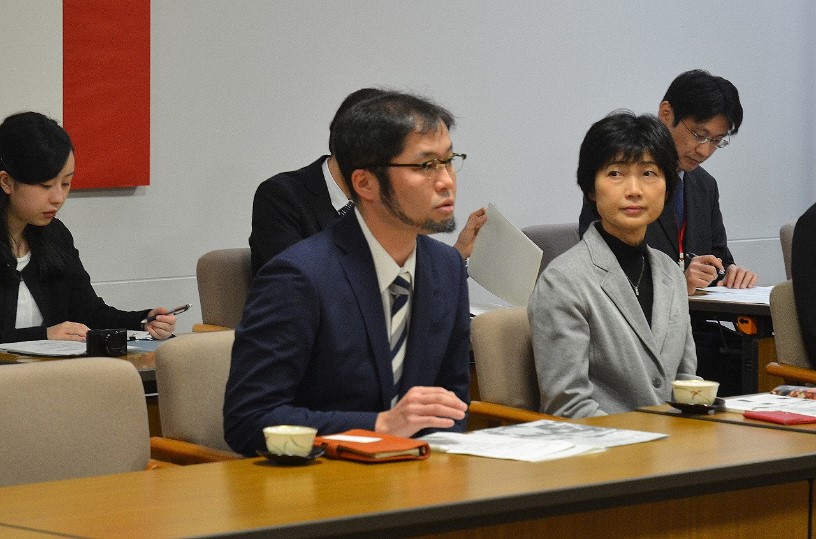 美術学部の現況を説明する青木准教授
植村教授からは、音楽学部には西洋音楽だけではなく全国の芸術大学で唯一邦楽科があること、理論系の楽理科があることが紹介されました。また、岡本副学長からは映像研究科について、映画、アニメーション、メディア映像の3つの専攻で構成され、映画専攻では学生がカンヌ映画祭で入賞するなどの高い実績があることが紹介されました。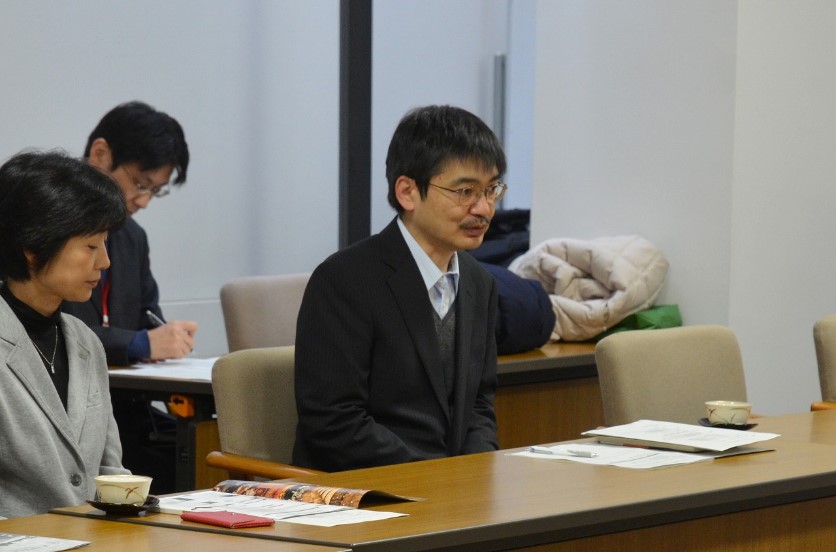 音楽学部の特色を説明する植村教授
そのほか、留学生の入学時期や藝大への留学の方法などについて具体的な質問があり、青木准教授、植村教授による美術学部や音楽学部の現況説明を交えながら、岡本副学長が一つひとつ丁寧に答えました。
最後に、Le局長からベトナムの優秀な人材を是非藝大へ送り出したいという強い意欲と、同計画に対する藝大のサポートを得たいとの高い期待が述べられました。岡本副学長は、より詳細の情報を書面にまとめて提供いただければ大学として検討していきたいと応え、引き続き協力の可能性について模索していくことを確認し合いました。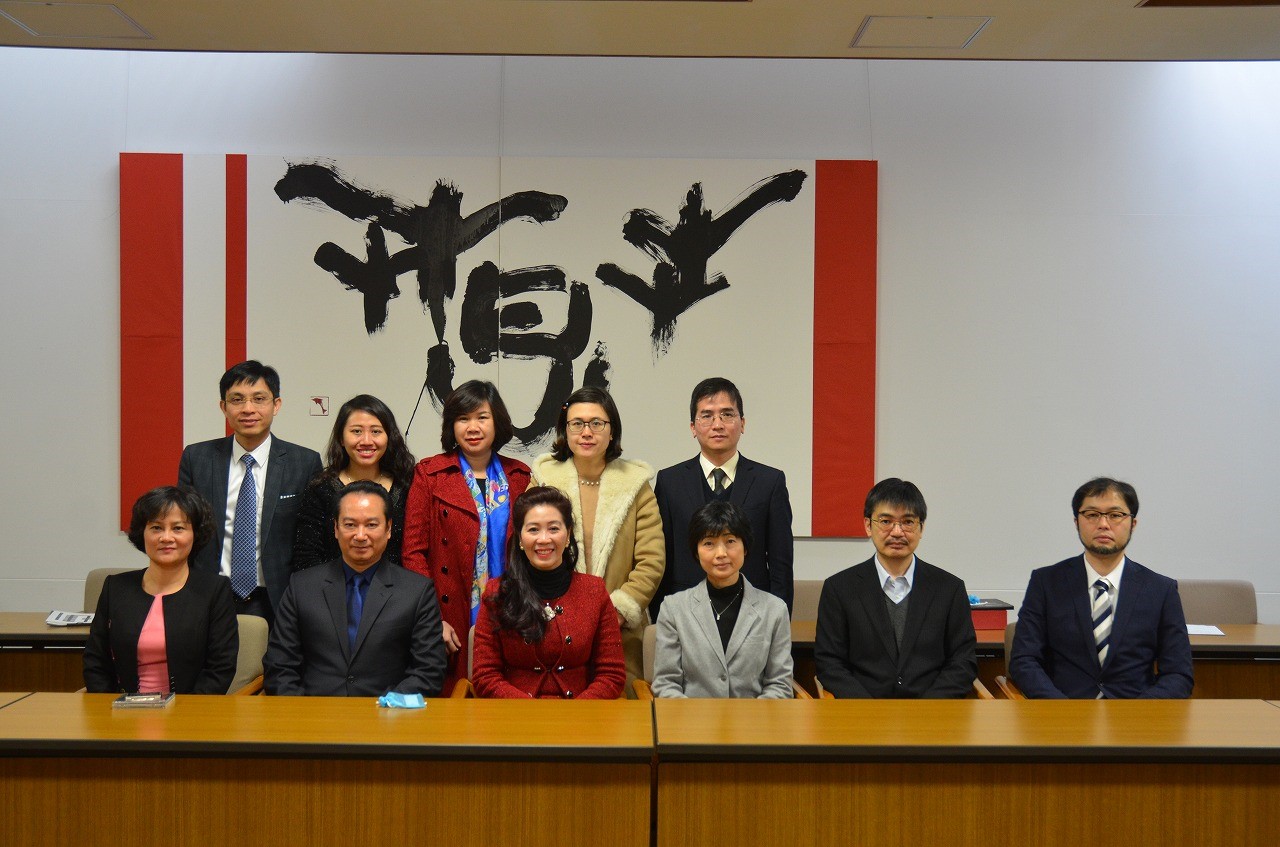 [:]
On November 27, 2017, a delegation of the Ministry of Culture, Sports and Tourism of Viet Nam (MoCST) headed by Mrs. Le Thi Thu Hien, Director General, Department of Training, visited Tokyo University of the Arts (Tokyo Geidai). The Vietnamese visitors were welcomed by Professor Mitsuko Okamoto, Vice President for international affairs and campus diversity, Associate Professor Kodo Aoki of the Faculty of Fine Arts, and Professor Yukio Uemura of the Faculty of Music.
Following her welcome remarks, Professor Okamoto introduced that Tokyo Geidai is the national university of arts with a 130-year history, comprised of two faculties and four graduate schools.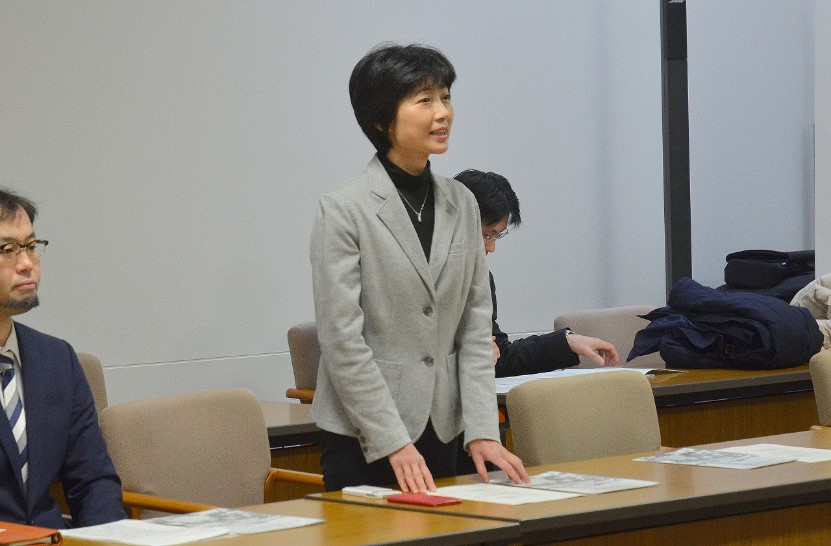 Vice President Okamoto welcomed the Vietnamese delegation
Director General Le provided the contest of the visit as follows; the government of Viet Nam plans to select talented individuals who are engaged in cultural or artistic activities and send them for training at overseas institutions. To this end, she wished to exchange opinions and seek the possibility of collaboration with Tokyo Geidai, which is one of the destination universities for the training plan.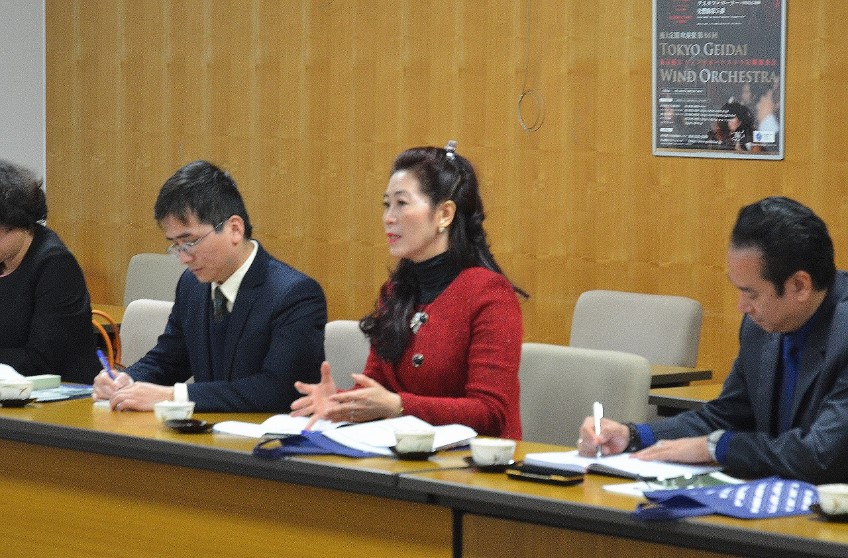 Director General Le eagerly asked questions
When Director General Le asked about the characteristics of Tokyo Geidai, Associate Professor Aoki answered that the students are well taught in small-size classes, citing an example of the Urushi-Art program at the Department of Crafts, where six teaching members are allocated to a year group of six students.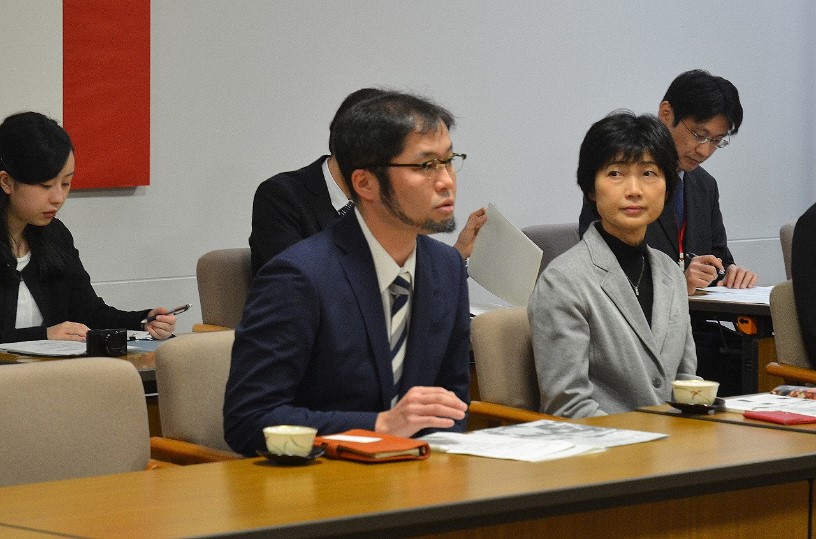 Assoc. Prof. Aoki spoke about the Faculty of Fine Arts
Professor Uemura introduced that the Faculty of Music is the only arts university in Japan that teaches both Western and traditional Japanese music and that it offers a research-based musicology program. Professor Okamoto explained that the Graduate School of Film and New Media has the three departments of film production, new media, and animation. She added that the film production program is so successful as to produce a student who won a prize at the International Film Festival in Cannes.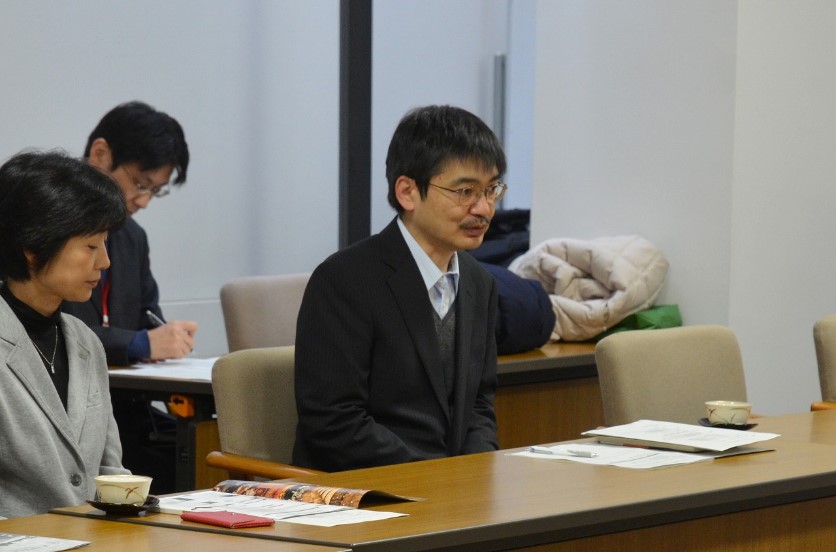 Prof. Uemura spoke about the Faculty of Music
The Vietnamese delegation asked detailed questions such as when a new year starts for international students and how to apply to Tokyo Geidai as an international student. With the support of Associate Professor Aoki and Professor Uemura, who gave inputs on the actual situations of their faculties, Professor Okamoto carefully answered to each question from the guests.
As her last comments, Director General Le said that she was strongly willing to send talented Vietnamese students to Tokyo Geidai and expressed high expectations for support from Tokyo Geidai to the training plan. Professor Okamoto replied that the university would examine possibilities if the Vietnamese side provides a written proposal with more information. The both parties confirmed that they would continue to seek possibility for collaboration.