留学生イベント:特別講演「作品で見る日本アニメーション映画百年史の概略」の開催
International Students Event: Special lecture "Animated Film in Japan: An Overview of a One Hundred Year History"
January 16, 2018
2017年11月2日横浜キャンパスにおいて、特別講演「作品で見る日本アニメーション映画百年史の概略」を開催しました。
同講演はアニメーションの研究者であるイラン・グエン グローバルサポートセンター特任准教授を講師として、横浜に来る機会の少ない映像研究科以外の留学生のキャンパス見学と併せて実施しました。
講演では、イラン・グエン准教授が、大正期から現在に至る日本アニメーション映画百年の歴史を解説し、初期のアニメーション技法である「切り絵アニメーション(背景画の前で、切り絵をずらしてコマ撮りする制作方法)」・「影絵アニメーション」から「セル画」、「CG」への制作技法の流れや、各時代の代表的な制作会社・アニメーション作家を紹介しました。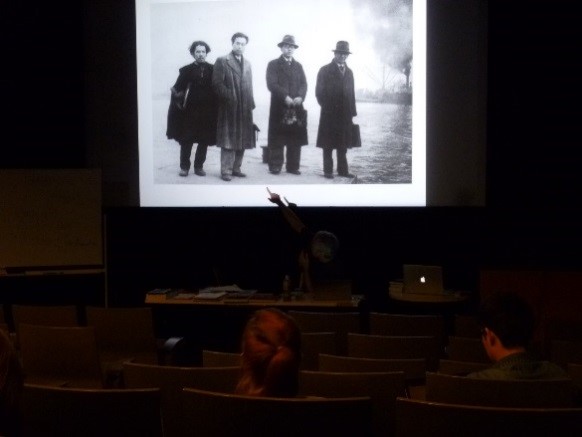 また、講演中随所において各時代・技法を代表するアニメーション作品の一部を上映し、日本アニメーション映画の流れを体感しました。
主な上映作品
・幸内純一作 切り絵アニメーション「なまくら刀」
・大藤信郎作 影絵アニメーション「鯨」「幽霊船」
・おとぎプロダクション作「ふくすけ」など
講演会の終了後、参加者は映像研究科のアトリエやスタジオを見学し、映像研究科学生との交流を行いました。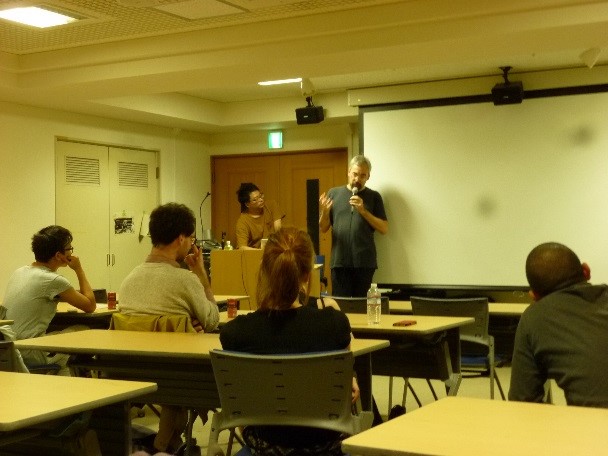 また、映像研究科学生が制作したアニメーション作品を鑑賞し、制作者と意見交換を行いました。
音楽研究科の留学生からは、映像作家の作曲者への注文方法について、また、美術研究科の留学生からは、アニメーション作家の経済的な自立状況についてなど、それぞれの専門に応じた質疑応答が繰り広げられました。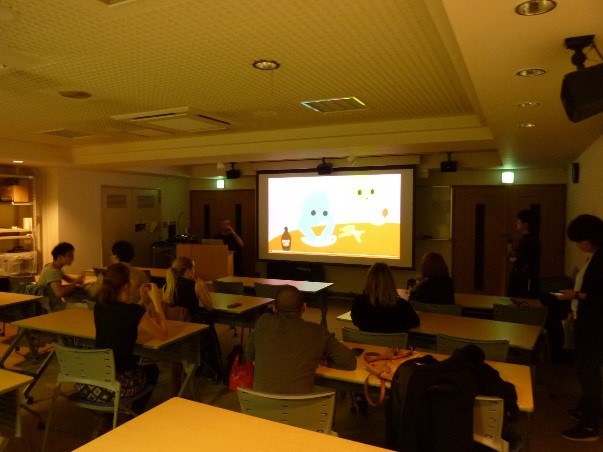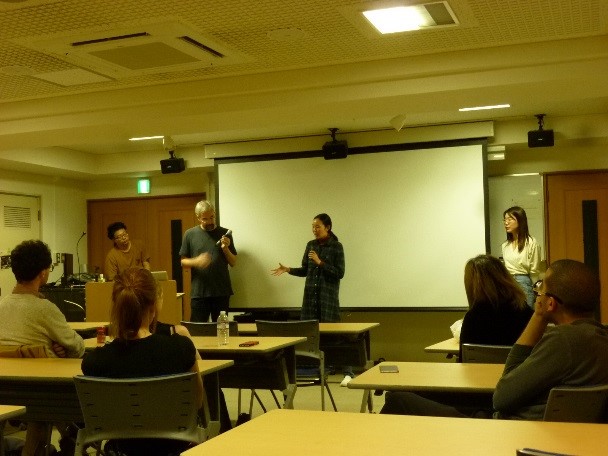 普段はそれぞれのキャンパスにおいて専門の勉強で忙しい毎日を送る留学生ですが、今回のイベントは、自分の専門以外に目を向け、互いの理解を深める機会となりました。
国際企画課では、今後もキャンパス・専門を超えた交流イベントを開催してまいります。
On November 2, 2017, a special lecture "Animated Film in Japan: An Overview of a One Hundred Year History" was held at Yokohama Campus of Tokyo University of the Arts (Tokyo Geidai).
Project Associate Professor Ilan Nguyȇn of Global Support Center provided the lecture, which was followed by a campus tour for international students who don't study in Yokohama and therefore have little chance to visit the campus.
During the lecture, Associate Professorac Nguyȇn talked about a history of animated film in Japan from the Taisho period to the present, while chronologically introducing amination techniques such as cutout, shadow, cel and CG, as well as production companies and animators that represented each time point.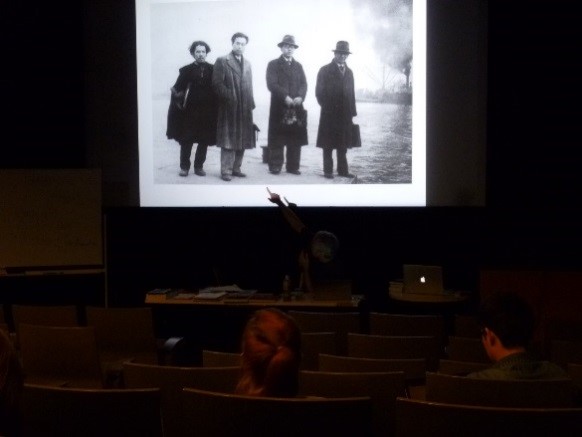 Portions of the animated films representing respective times or techniques were also shown throughout the lecture, which helped the participating international students understand the course of development of animated film in Japan.
Following films were shown in the lecture:
・Namakura Gatana(The Dull Sword) , a cutout animation film by Junichi Kouchi
・Kujira(The whale) and Yureisen(The Phantom Ship), silhouette animation films by Noburo Ofuji
・Fukusuke (The Top-Heavy Frog) by Otogi Production founded by Ryuichi Yokoyama
After the lecture finished, the participating international students took a tour of the campus visiting ateliers and studios of the Graduate School of Film and New Media, where they socialized with students studying there.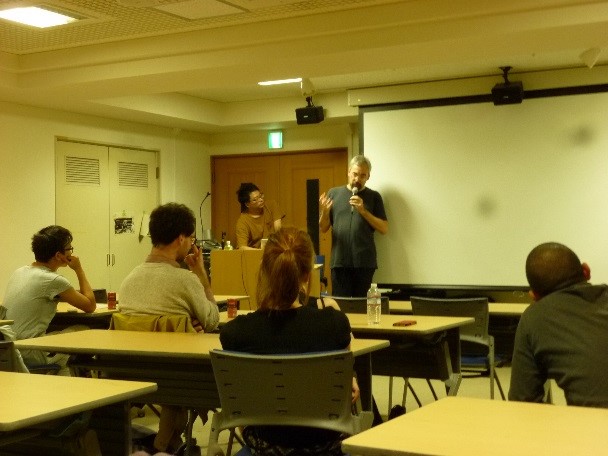 They also saw some works by students, with whom they also exchanged opinions.
The questions and answers exchanged reflected their respective academic interests; a music graduate student questioned what film producers would require of composers, while a graduate student of fine arts asked how many animators can make a living from animation making.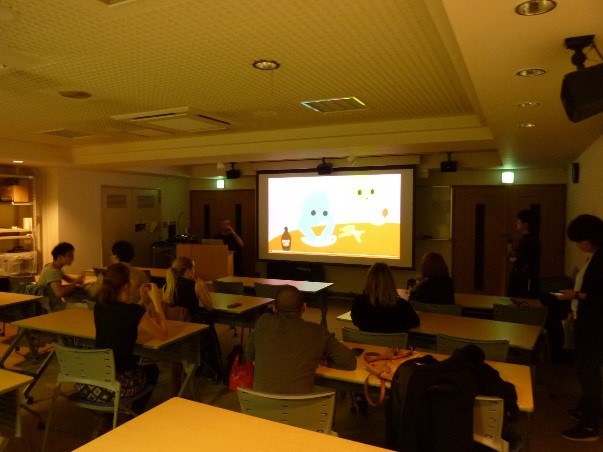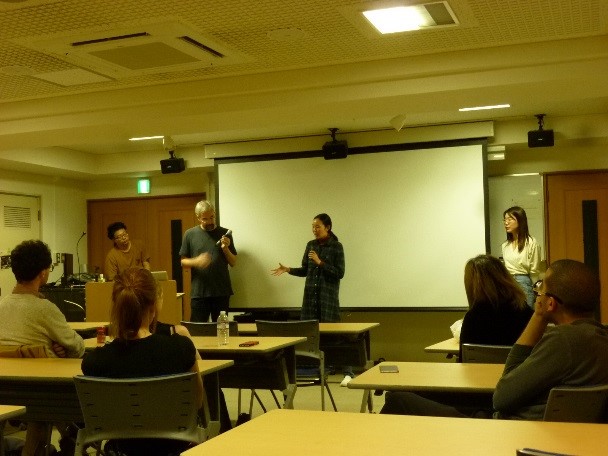 This event served as an opportunity for the international students, who are usually busy with their own work on other campuses, to turn their eyes to other fields of studies. It also helped to promote mutual understanding among students. The international office will hold more events, where students studying different academic subjects on different campuses can come together.