2019年度 東京藝術大学国際交流会館の入居者と地域の方々との交流会
Social Event for Residents of the International House and Local Community Members of Matsudo City 2019
December 23, 2019
2019年12月21日(土)に東京藝術大学国際交流会館(千葉県松戸市)に入居する留学生や外国人研究員と地域住民の方々の親睦を深めるための交流会を開催しました。
今年は新松戸市民センターのホールを会場に、入居者と本学教職員が一丸となって準備を行い、松戸市の国際交流協会や町内のコミュニティ団体、そして本学取手キャンパスが所在する茨城県取手市の国際交流協会の方々をご来賓としてお迎えしました。
まず、来賓の方々のご紹介の後、入居者を代表して美術研究科建築研究専攻でモロッコ出身の留学生が、地域住民の方々に対する日頃からの感謝の意をお伝えしました。
続いて、岡本美津子館長が挨拶し、留学生代表にちなんでモロッコ語で乾杯の発声を行い、歓談が始まりました。初めは入居者同士だけで集まってしまう様子も見受けられましたが、懇談が進むにつれてご来賓の方々と談笑する姿があちこちで見られました。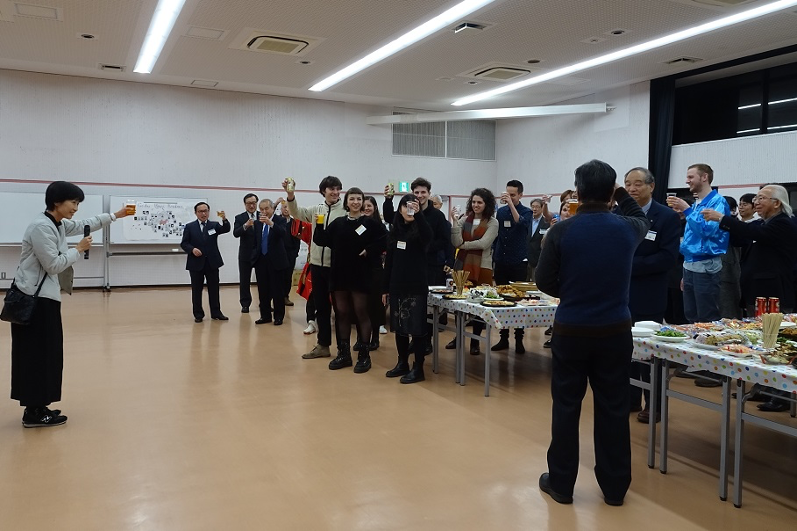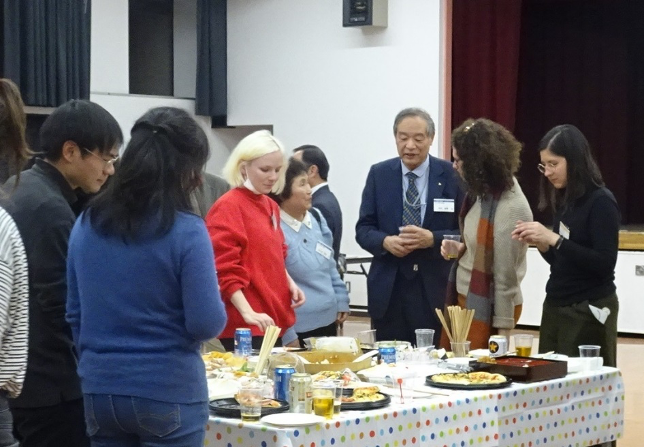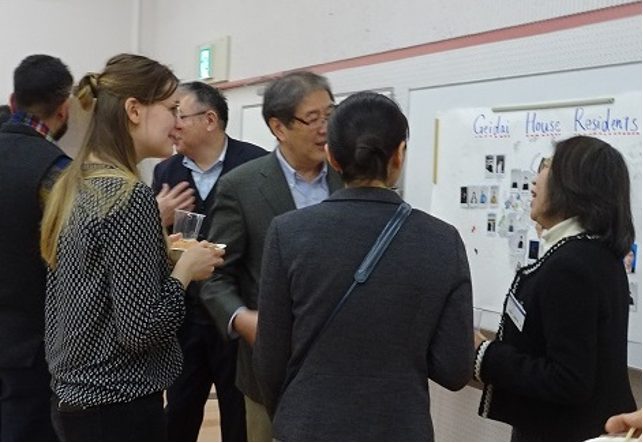 来賓の方々からも大正琴の演奏や日本の踊りをご披露いただき、参加者全員で輪になって盆踊りを踊るなど、留学生たちにとって普段あまり触れる機会が少ない日本の文化の体験の場ともなり、会の終了後、入居者からは楽しかったという感想が多数あがりました。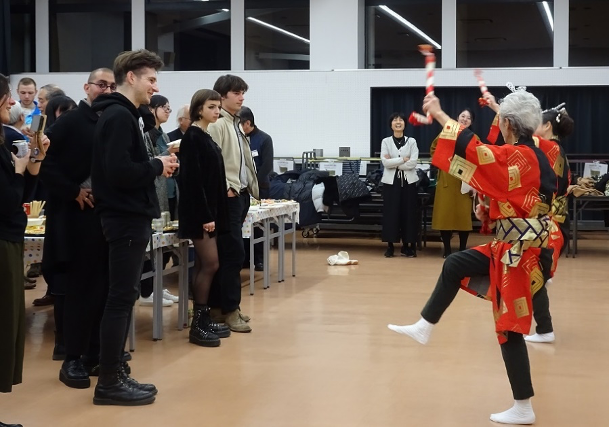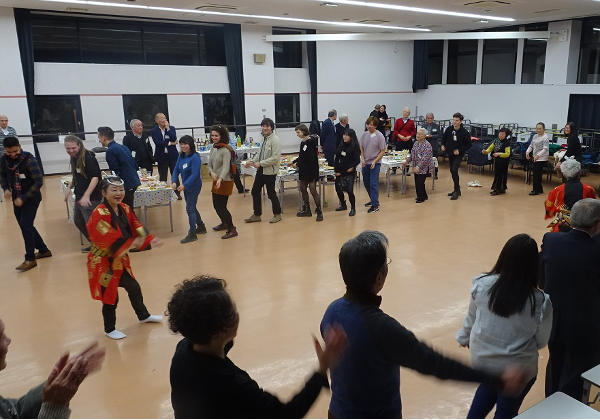 閉会にあたり、入居者代表として、音楽学部楽理科の学生によるピアノ伴奏に合わせて、音楽学部音楽環境創造科の学生がイタリア歌曲を歌い、音楽研究科音楽文化専攻と音楽研究科作曲専攻学ぶ韓国出身の留学生夫婦がピアノの連弾演奏を行いました。美しい歌声と2人の息の合ったピアノの音色に皆聴き入っていました。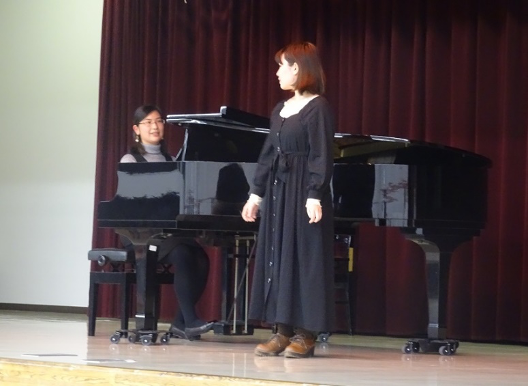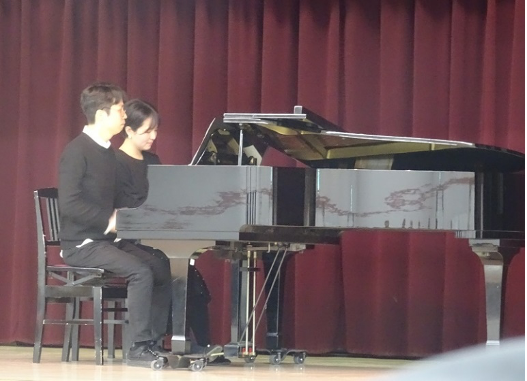 石田恵里子会館主事よる閉会の挨拶で、交流会は盛況のうちに終了しました。
この交流会を通して地域住民の方々と入居者との交流が深められ、今後の地域生活においてもよりよい関係を築けるきっかけとなることを期待しています。
(国際企画課)
On Saturday, December 21, 2019, to promote friendly relations, a social event was held for the residents of the International House, a dormitory of Tokyo University of the Arts, and for local community members of Matsudo.
The event was held at the Shin-Matsudo Civic Center, with residents and university staff working together to prepare. Guests of honor were from the Matsudo City International Association, community groups, and the International Exchange Association of Toride City, Ibaraki Prefecture, where our Toride Campus is located.
After introducing the guests, an international student from Morocco, majoring in architectural studies at the Graduate School of Fine Arts, spoke on behalf of the residents, expressing gratitude to the residents of Matsudo city.
Following that, Ms. Mitsuko Okamoto, Director of the International House, made a toast in Moroccan in honor of the international student representatives, and then social interaction began. At first, the residents gathered mainly amongst themselves, but they began to interact with the guests after a while.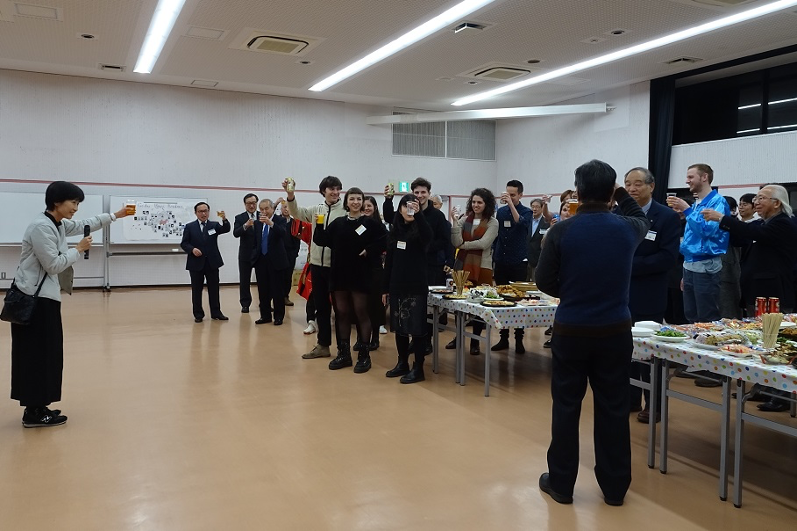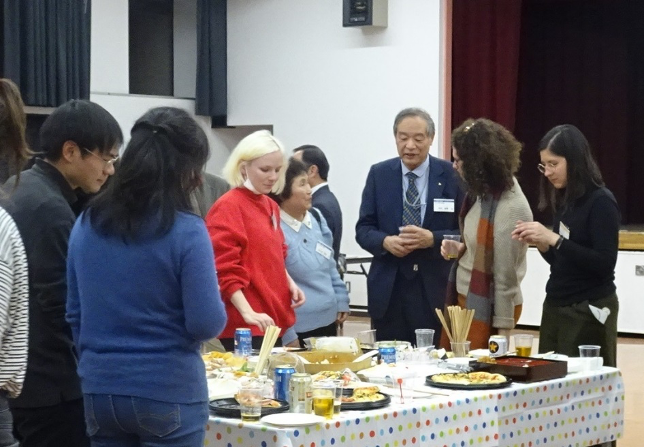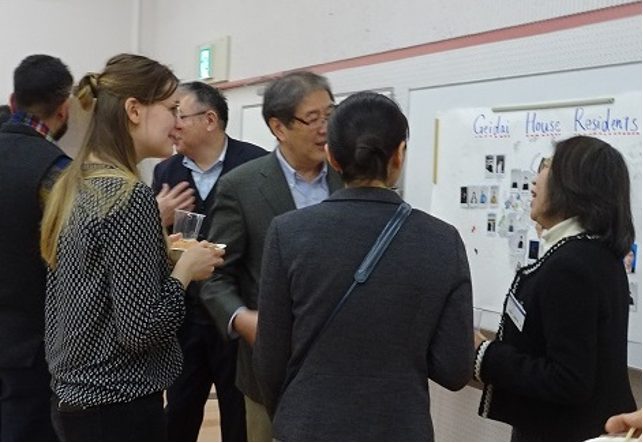 Guests played the Taisho Koto and performed a Japanese dance, with participants dancing in a circle, providing an opportunity for the students to experience Japanese culture which they are rarely exposed to.
After the meeting, many residents commented on how much fun they had.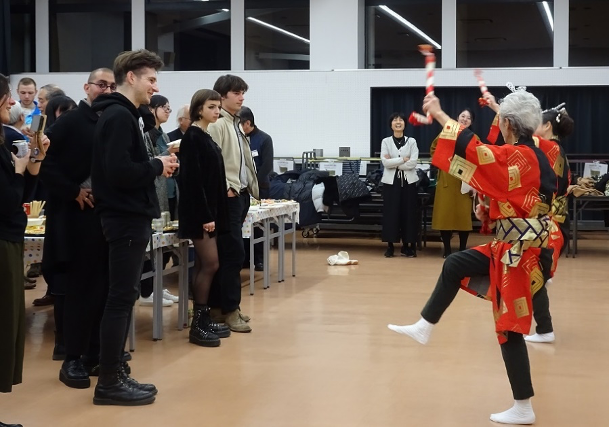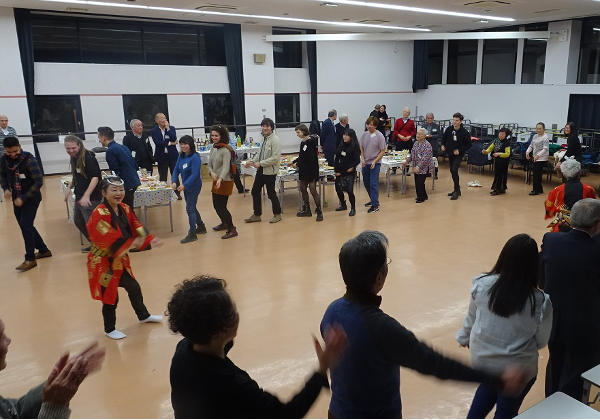 To close the event, as representatives of the residents, a student from the Department of Music Environment Creation in the Faculty of Music sang an Italian song to the piano accompaniment of a student from the Department of Music Science in the Faculty of Music. Also, a couple from South Korea, studying in the Department of Music Culture and the Department of Composition in the Graduate School of Music, performed a piano duet. Everyone was attracted to their beautiful singing voice and the piano performance in perfect sync.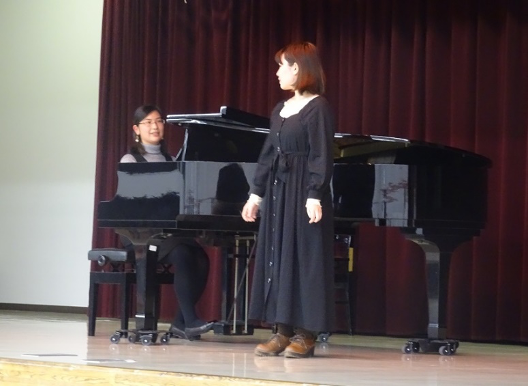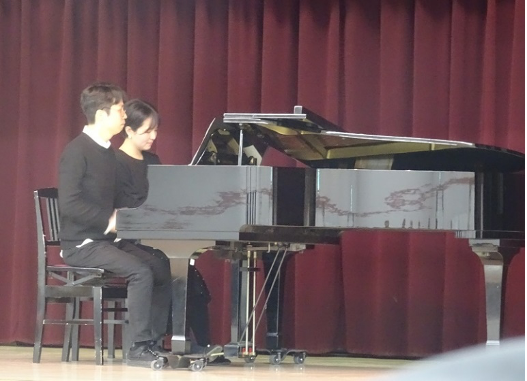 The event was a great success, with closing remarks by Eriko Ishida, Director of the Hall.
It is hoped that this event will deepen the relationship between the residents and the local community and help them to build a great relationship in the future.
(International Affairs Division)