清華大学美術学院60周年記念式典への出席
TUA representatives joined in the celebration of the 60th Anniversary of Tsinghua University Academy of Arts and Design
November 24, 2016
10月31日(月)から11月2日(水)の3日間、本学美術学部と国際交流協定を結んでいる清華大学美術学院の60周年記念式典が開催され、本学からは三田村有純学長特命・美術学部工芸科教授および鈴木太朗デザイン科准教授が出席しました。
初日には、清華大学美術学院長と会談や記念品の交換を行い、その夜に開かれた懇親会では、演奏や中国茶のパフォーマンスが披露されました。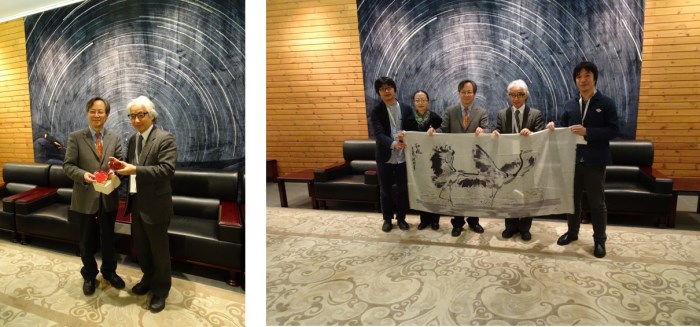 2日目の午前には、清華大学の学長による講演や、「美術・デザイン教育の将来目標」をテーマにしたセミナーが開かれました。セミナーでは、イギリスのRoyal College of Artの副学長、School of the Art Institute of Chicago: SAICの学長、清華大学美術学院長らがプレゼンテーションを行い、「地球市民としてどんな能力が求められるか」「モビリティ向上に伴う費用負担は誰が果たすべきか」といった問い掛けや、「大学と社会や産業とのコネクションをもっと深めていく」「科学と芸術を融合させていく(先端技術をアートに取り入れていく)」といった方向性が提示されました。

午後からは、「未来志向の美術・デザイン教育の選択肢」と題したパネルディスカッションが行われ、海外および中国国内から招聘されたゲストが、各大学の最新の取組や、今後のビジョンを語り合いました。三田村有純教授は、本学が2016年度に新設した美術研究科グローバルアートプラクティス専攻および国際芸術創造研究科アートプロデュース専攻について紹介し、他大学の発表では、芸術と科学技術やエンジニアリングを融合させる、といった内容が多く見受けられました。

その夜には、アートミュージアムにおいて、美術学院の服飾専攻学生の作品がファッションショーという形で披露されました。また、野外の広場では、投光器とドローンを組み合わせた光のショーが展開されました。

最終日には、キャンパス見学が行われ、視覚伝達、人間工学、繊維系、撮影実験室、色彩研究室、自動車模型工芸室、金属美術実験室、彫刻系、漆芸研究室等を案内していただき、各研究室では、産業界とのコラボレーションの話などを伺うことができました。

東京藝術大学と清華大学美術学院とは、今回の式典を契機として更に連携を深め、今後も様々な形で交流を続けていきます。
The commemorative ceremony for the 60th anniversary of the Academy of Arts and Design of Tsinghua University, which is an overseas partner university to Tokyo University of the Arts (TUA), was held over the course of three days between Oct 31 and November 2, 2016. Professor Arisumi Mitamura of the craft department, who serves as the assistant to the TUA president in charge of international exchange and overseas student, accompanied by Associate Professor Taro Suzuki of the design department, attended the ceremony on behalf of TUA.
On the first day, TUA representatives held a meeting with Dean of the Academy of Arts and Design and exchanged gifts with him. In the evening, a reception was held, where the guests were welcomed with music performances and a Chinese tea ceremony.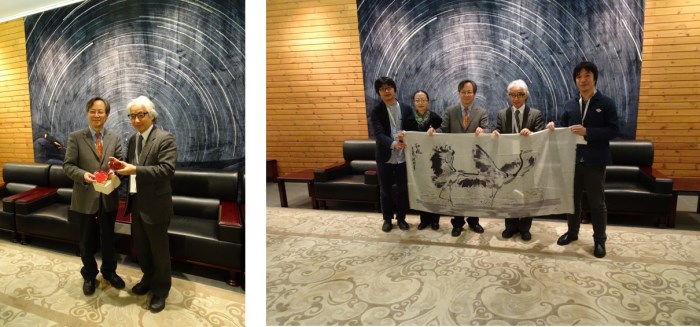 The morning of the second day opened with a speech by President of Tsinghua University, followed by the forum themed on "The Future Mission of Arts and Design Education". In the forum, Pro-rector of Britain's Royal College of Art (RCA), President of the School of the Art Institute of Chicago (SAIC), and Dean of the Academy of Arts and Design made presentations. They raised questions regarding matters such as creative education and global citizenship for the 21st century and funding responsibility for the improvement of student mobility, and also showed future goals for respective institutions such as deepening the connection between our community and industry organizations and integrating science with the arts (taking cutting-edge technologies into the arts)".

In the afternoon, the panel discussion titled ""Multiple choice"-Future-oriented arts and Design Education" was held, where Chinese and overseas guest universities introduced their latest initiatives and visions. Professor Mitamura introduced TUA's two new graduate programs, Global Art Practice and Arts Studies and Curatorial Practices, which started in 2016. Many universities made presentations with a focus on the integration of the arts with science, technology and engineering.

On that night, a fashion show was held, where students of textile and fashion design at the Academy of Arts and Design showcased their works. Also, in an open space outside, there was a lighting show using projectors and drones.

On the last day, a campus tour was held to invite the guests to the laboratories and studios of visual communication design, design and ergonomics, and fashion design, photography, light and color, transportation design, metal art, sculpture, and lacquer art. It was a good opportunity to hear about university-industry collaborations from members of respective laboratories and studios.
Having attended the commemoration, TUA is now more committed to promoting collaboration with the Academy of Arts and Design, Tsinghua University, and keeping mutual exchanges in various forms.